In today's world, startups and individuals face various challenges as they grow their businesses. One major setback has always been funding. This week, we have curated a list of opportunities for funding and expect you to make good use of it.
HealthTech Innovation Challenge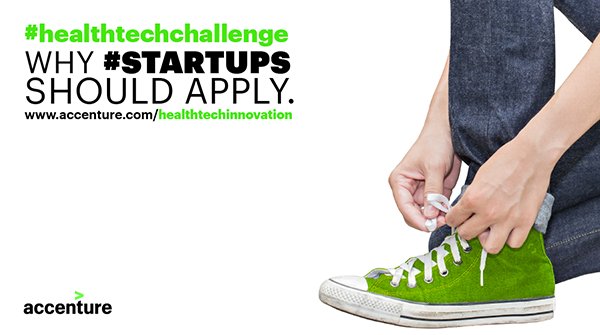 Applications are open for HealthTech Innovation Challenge which is a part of Accenture's broader HealthTech Innovation program. This initiative include acceleration and venture opportunities, innovation labs and more. The program supports innovative technologies and drives creative solutions to improve the way people access and manage healthcare. The Accenture HealthTech Innovation Challenge is in full swing to recognize early stage start-up businesses that can play a major role in improving the way people around the world manage their health and associated costs.
Program Benefits
The opportunity to identify and engage with cutting-edge startups with a focus on solving healthcare and life sciences problems.
Network with peers, investors and leading influencers.
Access to the StartUp Health Festival (invites only) during the JP Morgan Healthcare Investor Conference in San Francisco.
Media exposure as a partner to the program.
The opportunity to build deeper relationships with dynamic industry-shapers and industry innovators; including collaboration and co-innovation.
Practical experience with Accenture's Innovation Architecture and design-thinking approach.
The application process is open to all companies, regardless of size, provided you meet the following criteria:
A growth stage company where access to executives at large, established life sciences and health companies is critical to your business.
A beta product to demonstrate and are prepared to share access to program partners under NDA (and where reasonable for no additional cost).
If selected as one of the ­finalists, one can attend the StartUp Health Festival final event in San Francisco on Monday, January 8, 2018 to present your solution.
How to apply
Interested applicants must apply online. For more information, please visit Healthtech Innovation Challenge.
GSMA Ecosystem Accelerator Innovation Fund ( £100,000 and £250,000)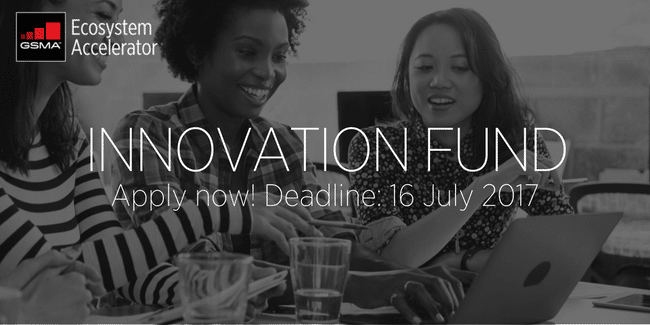 The GSMA Ecosystem Accelerator Innovation Fund ("the Fund") supports innovative start-ups in emerging markets to achieve sustainable growth and improved socio-economic impact. The Fund is open to projects from start-ups registered and operating in Africa and Asia-Pacific.  The funding is between £100,000 and £250,000  and application deadline is July 16th, 2017.
Program Benefits
Establish partnerships with mobile operators and start-ups in order to increase the reach of innovative mobile services.
Test business models with the greatest potential for growth and impact.
Get lessons and examples on the ways in which mobile is driving positive socio-economic change. The
Fund supported by the UK Department for International Development (DFID), the Australian Government, the GSMA and its members.
The Fund will run a number of rounds between 2017 and 2020. For each round, there will be specific areas of focus. The area of focus for the second round ('Round 2') are:
Sharing economy: for mobile-based platforms, products or services which enable low-income citizens in emerging markets to generate income from 'underutilized assets' through sharing those assets with their peers.
Services for SMEs: for mobile-based solutions, products or services designed for micro, small and medium Enterprises (MSMEs) – formal or informal – in emerging markets which unlock improved productivity and growth.
How to apply
Applicants are expected to submit and justify their requirements for the project to be funded, as well as funding amount and duration. Visit the homepage to apply .
Africa Prize for Engineering Innovation Awards for 2018

The Africa Prize for Engineering Innovation, founded by the Royal Academy of Engineering, is looking for talented sub-Saharan African engineers, from all disciplines, to develop local solutions to challenges in their communities and stand a chance to win £25,000 equity-free, to bring their businesses to the market.
Program Benefits
The Prize selects a shortlist of innovators from across the continent and provides training and mentoring to help turn engineers with incredible ideas into successful entrepreneurs.
The Prize aims to stimulate, celebrate and reward engineers who have developed innovations that will benefit Africans.
Crucial commercialisation support is awarded to a shortlist of innovative applicants through a six-month period of training and mentoring.
Following this period of mentorship, finalists are invited to present at an event held in Africa and a winner is selected to receive £25,000 along with runners-up, who are each awarded £10,000.
How to apply
If you would like to know more or are interested in being involved apply here.
 Google/CcHub Pitch Drive For African Entrepreneurs (€20 Million)

Join fifteen elite start-up founders from across Africa to explore the incredible world of European start-up ecosystems through the eyes of the Google for Entrepreneurs partners in London, Amsterdam, Berlin, Zurich and Paris. You get to pitch to investors, explore global opportunities and learn from frontier markets. An adventure of a lifetime through five of Europe's top start-up destinations hosted by the prestigious Google for Entrepreneurs partners. PitchDrive will showcase the best of African start-up ecosystems selected from across the continent and all on a mission to inspire and be inspired to grow.
Program Benefits
Meet and share experience with other pioneering start-up founders from across Africa
Opportunity to showcase your business to over 300 investors
Explore international opportunities and learn from Europe's frontier tech markets
Be part of a drive aiming to collectively raise a minimum of €20 million
Participate in carefully curated training sessions facilitated by renowned experts
Build a strong business network across Europe and expose your start-up to millions of viewers through the PitchDrive Diary show on Youtube.
How to apply
Visit the official homepage here to apply now.
LAGOS STARTUP DEALDAY 2017

The Lagos StartUp DealDay is a three times a year investment round process run by the Lagos Angel Network (LAN). Lagos StartUp DealDay brings together LAN members, other angel investors and Lagos startup ecosystem players in a process where the most worthy startup ventures (in target sectors) are guaranteed funding. As an investment vehicle, Lagos StartUp DealDay raised over N100 million from LAN members and the early stage investment community for Lagos startups in 2016. LAN partners for the DealDay are VC4A, the Africa Business Angel Network (ABAN), Lagos tech hubs, incubators and accelerators.
Shortlisted startups will be contacted/announced on July 17th and entrepreneurs from the shortlist will be invited to make formal pitches at the Lagos StartUp DealDay pitch event on Friday July 28th. Pitches will be delivered to a small, closed panel of Angel investors.
Qualification criteria
N50-100m funding requirement
Post-revenue stage (i.e. existing customers)
In operation for up to 2 years and less than 5 years
Incorporated with CAC in Nigeria
Full Time Leadership Team
How to apply
Applications without a venture profile and pitch materials will be automatically excluded. Apply here
---
Editor's note: Are you launching an opportunity? Tell us about it by filling this form.