Have you ever wondered what makes a startup tick, but never had the chance to ask or talk to the right person? Do not worry, we have got you covered. Techpoint Inspired is an arena where startup founders will be able to tell the human story behind their companies.
A handful of these companies have been chronicled on Techpoint and we are excited to introduce them to you. Muyiwa Matuluko will be asking these founders what it takes to run a business, their challenges and what those starting out need to avoid.
Speakers on this panel include;
Adeleke Ojikutu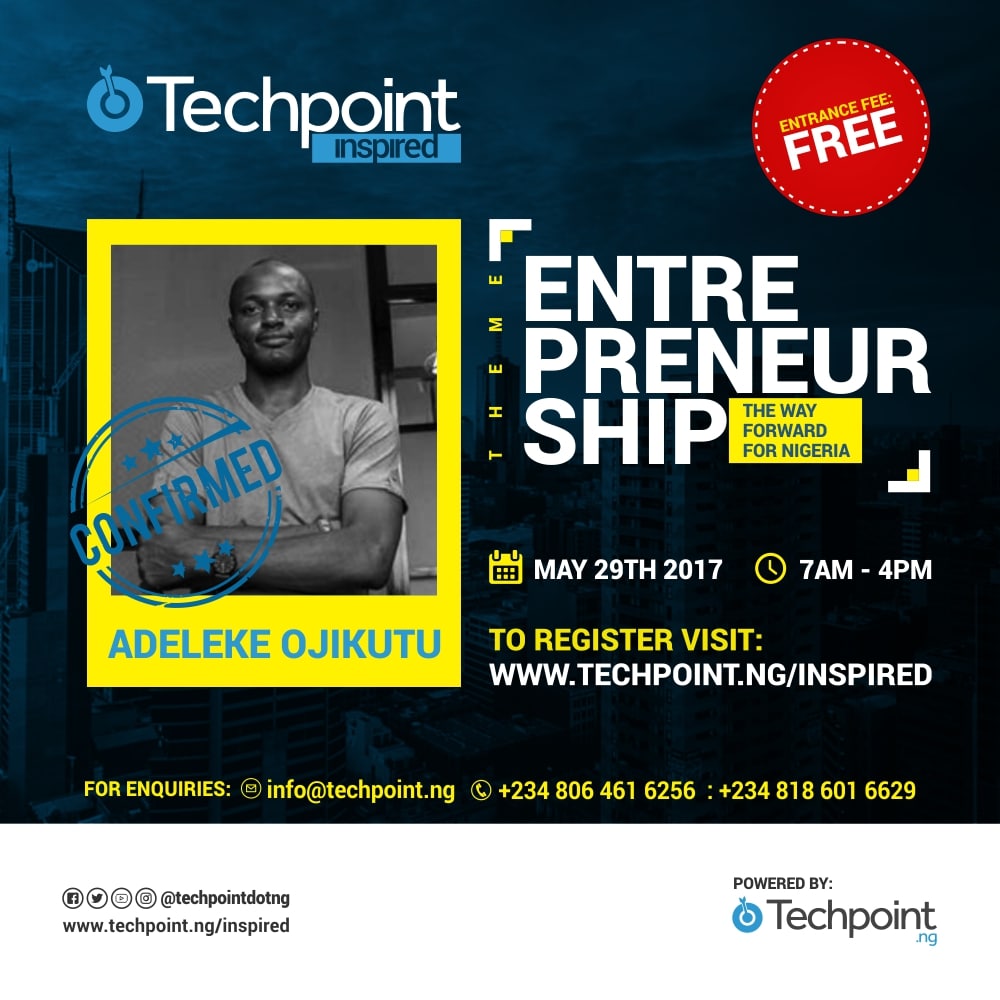 Adeleke Ojikutu is a creative Nigerian entrepreneur with interests across financial technology solutions, software development and manufacturing. He is a seasoned software developer with over 14 years experience. Under his leadership, VougePay has won several industry awards including the best payment platform in Africa.
In addition to his success with VoguePay, Leke has contributed extensively to software development in Nigeria and Africa. He has successfully completed projects like the Lagos State Tax Audit Database, West Africa's first ever Commercial Bible Software (Biblica), Africa's first ever children's educational (interactive and animated) software and Asset Management Database Application for Nigeria's Largest Hydro-Electric Power Station, Kainji dam.
Iyinoluwa Aboyeji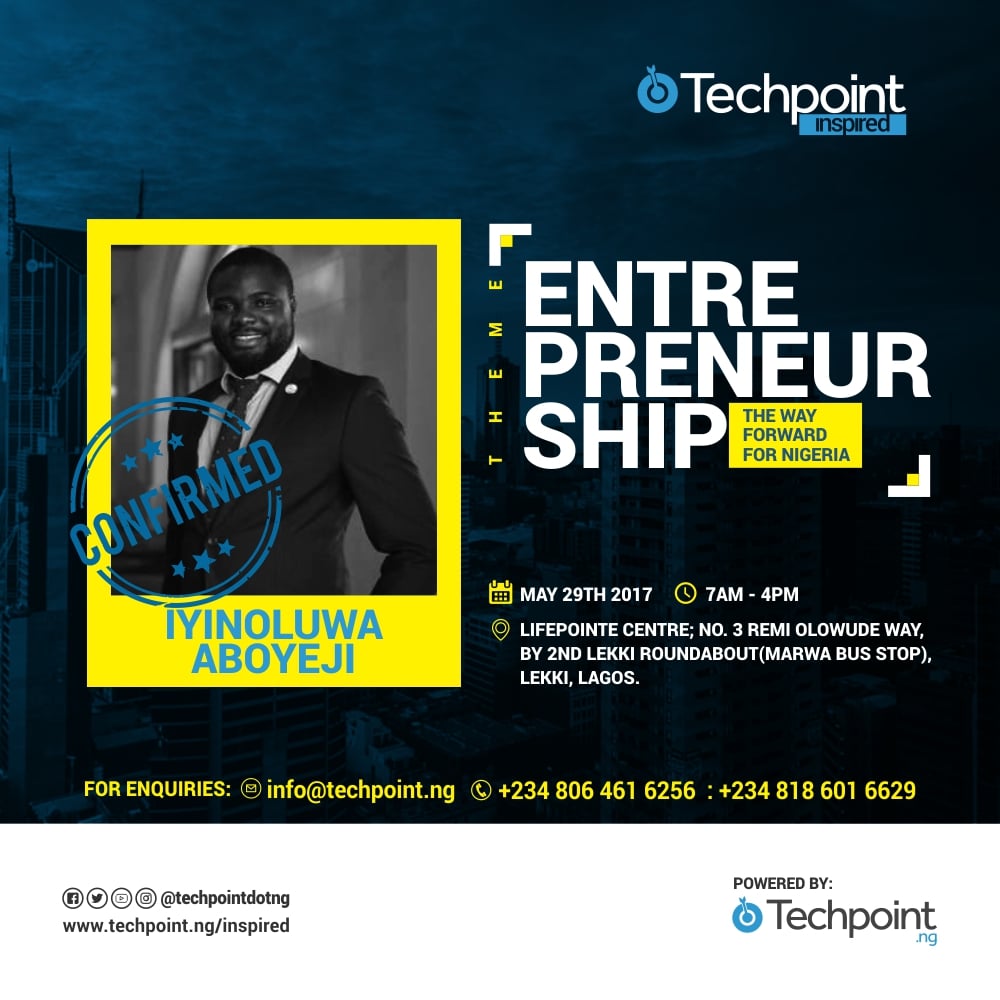 Iyinoluwa is a Nigerian serial entrepreneur with several years of experience running social ventures in education, technology and publishing. He is the brain behind Andela and Flutterwave, two promising ventures.
At 18, Iyinoluwa interned for the World Youth Alliance in the United Nations Headquarters. He went on to run Canada's largest student-owned publishing houses, Imprint Publications as President of the Board. Iyinoluwa helped found and run Bookneto Inc, a social e-learning platform for university professors to teach online courses. Bookneto Inc. was acquired in 2013.
Iyinoluwa holds a Bachelors Degree in Legal Studies from the University of Waterloo in Waterloo, Ontario, Canada. He also contributes significantly to several efforts to build sustainable impact enterprises by bringing together financial, social, political and human capital together to support other impact entrepreneurs as an Entrepreneur, Angel Investor and Advisor.
Chioma Ifeanyi- Eze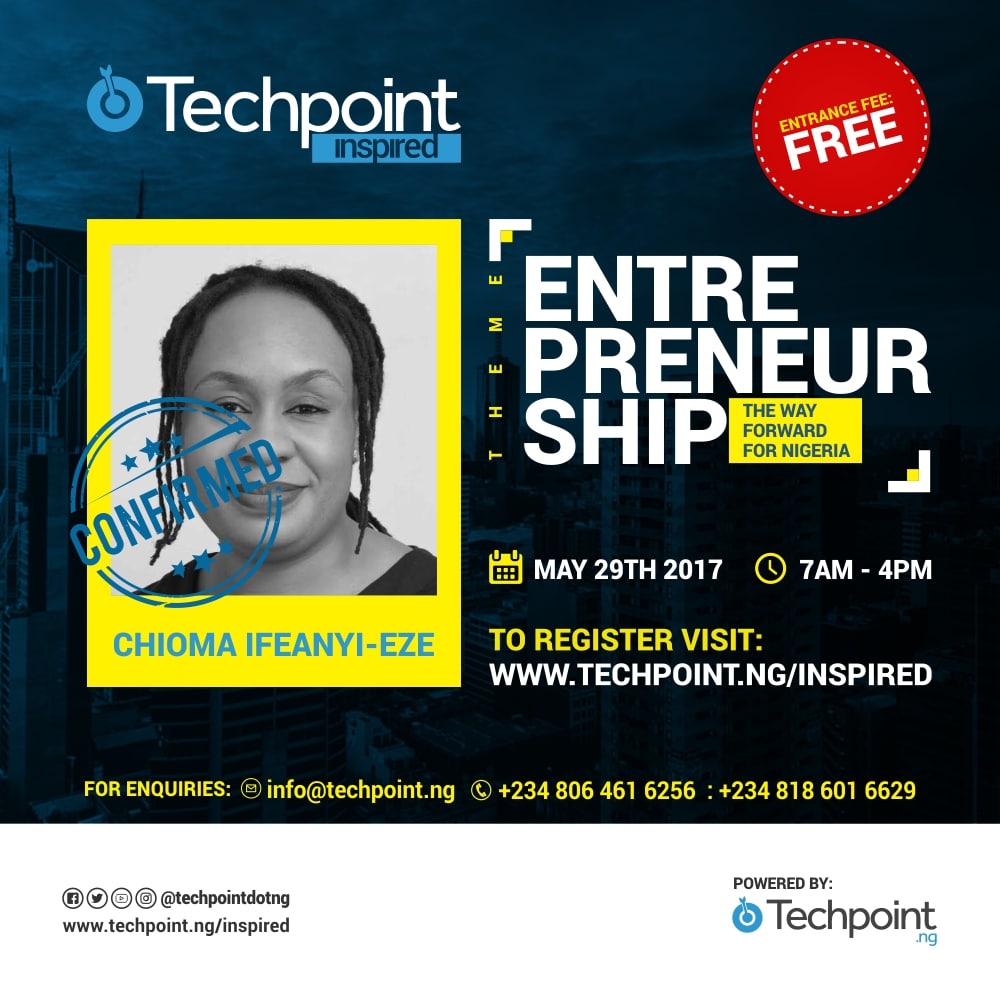 Chioma is the founder of Accountinghub.ng, Nigeria's premier professional services online shop focused on offering bookkeeping and tax support to startups and small businesses at affordable prices. Chioma is a lover of accounting with over 11 years of finance, bookkeeping and business consulting experience spanning over several industries.
An expert in start-ups, she has been involved in starting up finance functions for several companies and projects. Trained in Pricewaterhouse Coopers, Chioma was Jumia Nigeria's former head of finance and also headed the finance function in several other businesses.
She is a Chartered Accountant and Chartered Tax Practitioner with nearly 2 decades of experience combined and also holds a degree in Accounting and a Masters in Accounting and Finance.
Chioma is a super-accountant, teaching young companies and people to embrace financial management in their personal lives, businesses and vocation. She has a passion for improving the 99% failure rate of small businesses in Nigeria. She will be talking about the importance of bookkeeping for startups.
Oshone Ikazoboh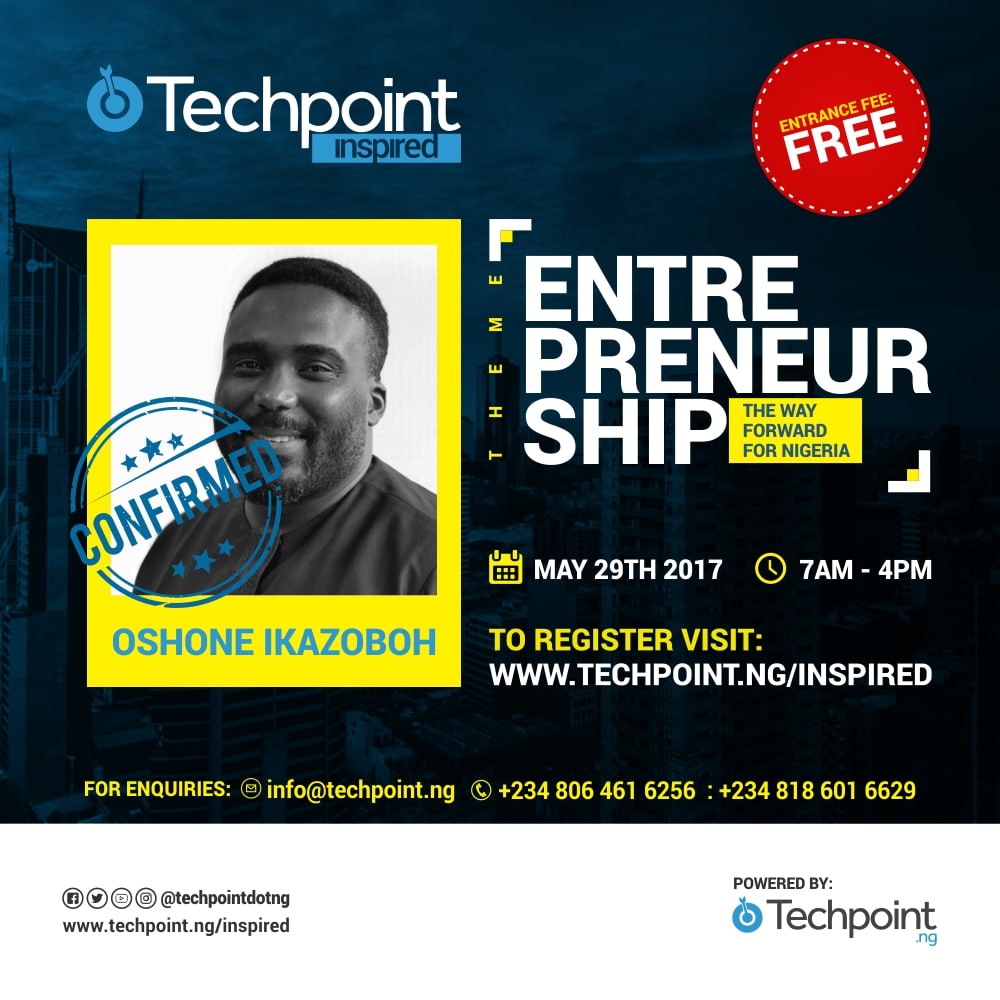 Co-founder at Zoto, Oshone has up to 10 years entrepreneurial experience creating value. He started out running IT companies that managed and completed several projects for some major clients including Afrinvest and the Nigerian Stock Exchange.
After that phase, he was part of the team that set up Naij.com and grew its network while he was CEO. Oshone has a Bachelor of Science degree in Software Engineering and a Master of Engineering degree in Networking and Telecommunications.
He is a Fintech enthusiast who believes that the fintech industry in Nigeria has barely scratched the surface and that there is room for further development.
Eyo Bassey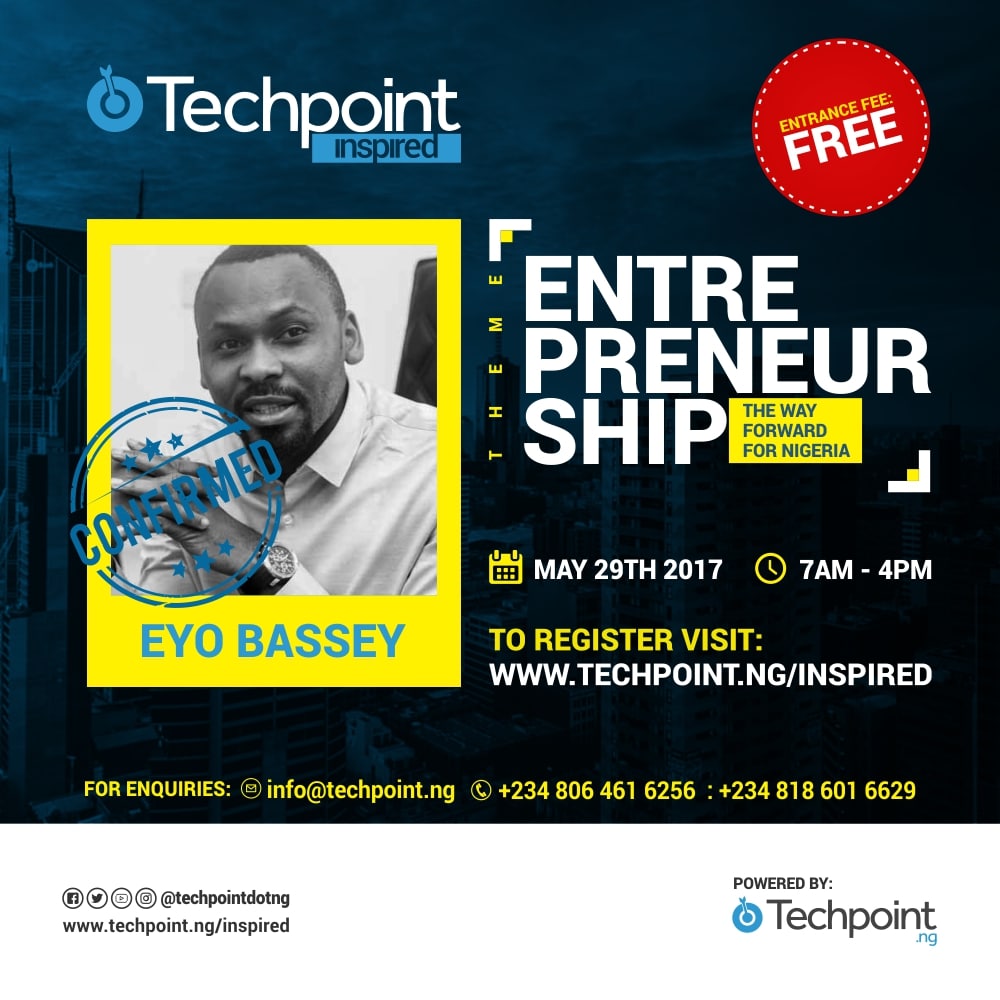 A software developer, entrepreneur and former GMD of Rom-Flex Group a Nigerian based system integration, IT and software company. He is the CEO of PayPorte Global Systems one of the top leading eCommerce companies in Nigeria.
He gladly jumps at revenue sharing business models and believes in positive business outcomes through collaborations where clients and customers pay only for outcomes. One Eyo's many audacious moves is the current sponsorship of the controversial Big brother Nigeria.
As major stakeholders in Nigeria's tech space, these speakers will advise Techpoint Inspired attendees on how to sustain a business, how far they have come and the challenges they faced. They will be sharing with us, from their wealth of experience, how we can move from where we are now to where we ought to be as a nation.
Techpoint Inspired takes place on May 29, 2017. Registration is still ongoing.
The lineup for this event is amazing, and we hope to see you there. If you have any questions for the speakers ahead of the event, feel free to send them in through the comment section.
Feature Image Credit; Wikimedia