Earlier in February, we announced that Facebook launched the Bots for Messenger challenge for developers from across the Middle East and Africa.
Facebook has released names of 60 successful applicants that made it, from over 1000 applications from 64 countries. The applicants cut across Middle East and North Africa, and the Sub-Saharan Africa. 30 finalist were chosen from each region.
The four Nigerian teams that made it on the list are:
Baba Politricks -- a social platform for Nigerians, it aims at the community building, by showcasing accountability of leaders by providing a database, of leaders.
Laide Bot -- features under gaming and entertaining section, provides services such as, buy cinema tickets, ordering food, event tickets, also provides news.
Hyper-cv --  a platform that ensures productivity in individuals by helping them build their CV. Hyper- cv collects information from an individual's online profiles to create resumes.
Headwork -- a productivity and utility platform, that aids learning.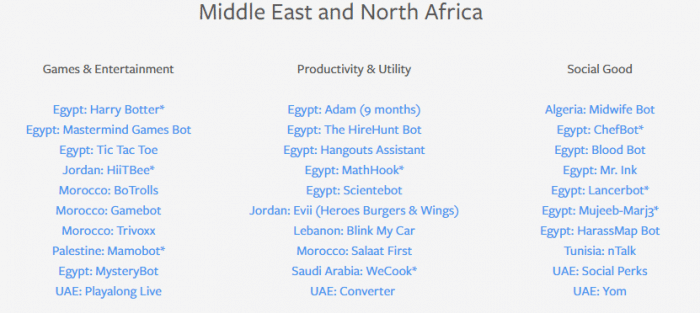 Altogether, Egypt had 15 teams selected, Morroco 4 teams, UAE 4 teams, Jordan 2 teams, Lebanon 1 team, Algeria 1 team, Saudi Arabia 1 team, Tunisia 1 team, Palestine 1 team. Egypt has the highest number of selected teams.
For Sub-Saharan Africa, 6 teams from Kenya, made it to the top 60, Nigeria had 4 teams also, Madagascar 3 teams, Senegal 3 teams, Uganda 3 teams, Ghana 2 teams, Zimbabwe 2 teams, Cameroon 2 teams, Ethiopia 2 teams, Benin 1 team, South Africa 1 team, and Tanzania 1 team.
The 60 finalist teams will win one hour of Facebook mentorship, Gear VRs, mobile phones, and up to $40,000 in tools and services from FbStart.
Furthermore, all 60 finalists will be contacted, and submit their bots to Facebook on June 2nd. in June 2017, 3 winners and 3 runner-up teams in the Middle East and North Africa, also in Sub-Saharan Africa will be announced. And the winners will win $20,000 and 3 months of Facebook mentorship (an hour per month).
We await the list of winners, hoping that the Nigerian teams make it.