Truecaller, the global caller ID app company, has announced the launch of its ad platform in Africa.
This is coming after a successful roll-out in India in 2016. With over 40 million users in Africa, Truecaller claims to offer advertisers in the continent as much as 15 million impressions per day.
Prior to the announcement, the company had commenced beta testing with select brands in key growth markets including Egypt, Nigeria, Kenya, South Africa, Ghana and Morocco. As regular Truecaller users may have observed, Cars45.com are the first partners in Nigeria to get onboard.
How Truecaller ads work
Truecaller uses a system called Call Intent Targeting (CIT) to serve custom messaging when users are "present and engaged". So for example, users see ads when they are searching for phone numbers (either a person or business) or when they receive or miss a phone call.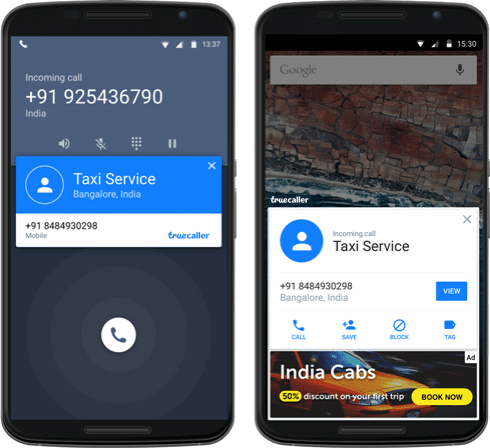 These are just some of the less intrusive ways Truecaller monetises it users.
A more intrusive avenue is what they call "mobile phone takeovers", where advertisers can, well, takeover the user interface while engaged with Truecaller.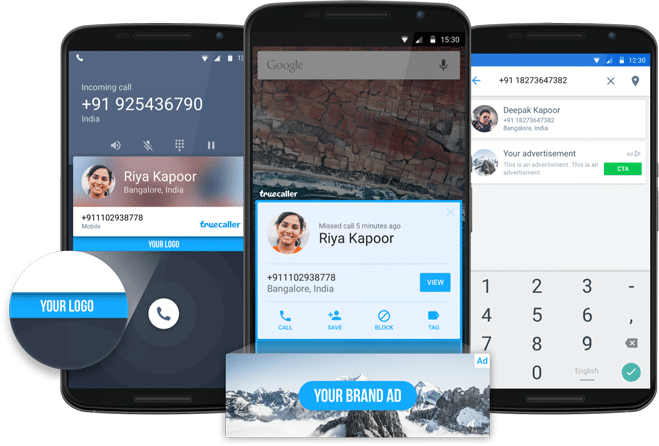 Why this is a big deal
Unlike many people I come in contact with everyday, I have always been sceptical about Truecaller. So in my misguided illusion of privacy, I have always refrained from installing the app.
However, as I quickly discovered, Truecaller does not need my permission to identify me. It just needs the permission of its over 250 million users (five million in Nigeria), including my trusted friends, who happen to have my numbers saved in their phone books. By this method, Truecaller has been able to build a database of caller IDs that far outnumber its user base. For many advertisers in peculiar markets like Nigeria, this provides a great opportunity.
Payporte CEO, Eyo Bassey, in a 2015 interview with Techpoint, shares a major frustration for many online marketers in Nigeria:
Nigeria doesn't have a unifying portal for Nigerians like the Chinese and Indians do. Our customers are scattered everywhere — Facebook , Google, the blogs, sports sites. So we are forced to rely on Facebook, Google and all of that for online marketing. This costs a huge amount of money daily. That's what puts people off eventually — marketing.
This was probably the primary motivation for his company's aggressive push to be a major sponsor of the recently concluded Big Brother Naija. Indeed, Big Brother Naija was a unifying platform by many rights. But the campaign wasn't inherently online, hence it provided no definite way of tracking conversion and, as is characteristic of offline marketing, must have cost a fortune.
---
Suggested Read: Payporte, Big Brother Naija and Nigerian telcos: The biggest winners and non-losers
---
But with a platform like Trucaller ads, Mr. Bassey, and indeed many online brands, has a truly unifying online portal. With a claimed five million daily active users, Truecaller has at least 20% of the Nigerian smartphone market. These are people who search their phone books, receive, miss or make a phone call at least once everyday.
Should they play their cards right, the company can offer brands some of the most compelling contextual advertising opportunities available. Not only can advertisers reach users by targeting phone numbers, location, time of day, names or business categories, they could potentially be able to target by competing platforms, company groups and even service needs. These are not far-fetched; all these data can be crawled from the revealing ways in which users save phone numbers (for example, "Muyiwa Techpoint", "Tolu MTN", "Emeka Electrician").
If you are a brand or digital marketer, you can find out more about Truecaller ads by visiting truecaller.com/ads