You already know that the Tecno Camon CX is the older brother of the C9 that was released in June last year. The CX is a very clever attempt not to go the obvious "Camon C10" way in terms of naming (X is 10 in roman numerals)
Suggested read; Tecno Camon CX : Unboxing and first impressions
Apart from cameras, the Tecno Camon C9 was a far jump from the Camon C8 in design,camera and many other aspects.
Like its predecessor (Camon C9), the Camon CX spots a breathtaking body that is stylish and functional, exceptional cameras on both sides, but apart from that, what else does it have on offer?
Let me show you.
Design
Champagne gold, sky grey, elegant blue and rose gold are colors the Camon CX can be gotten in.  At first glance, there is an almost iPhone 6ish look to the Camon CX especially with the rose gold variety and jet black screen.
Generally, it feels like a lot of attention was put in the conceptualization and design of this device. Unibody smartphones are the rave these days and the Camon CX has followed this trend.
Its slippery metal casing can be a hindrance to grip if proper care is not taken. However, fine meshes around the plastic back of the pouch makes for a firm grip and prevents slipping.
Even though it does not not add much to the overall weight of the phone, the pouch is cumbersome with an awkward grip.
The Camon CX weighs 166 grams without its pouch.
The pouch alone weighs 42 grams
And with the pouch on, the device weighs 208 grams.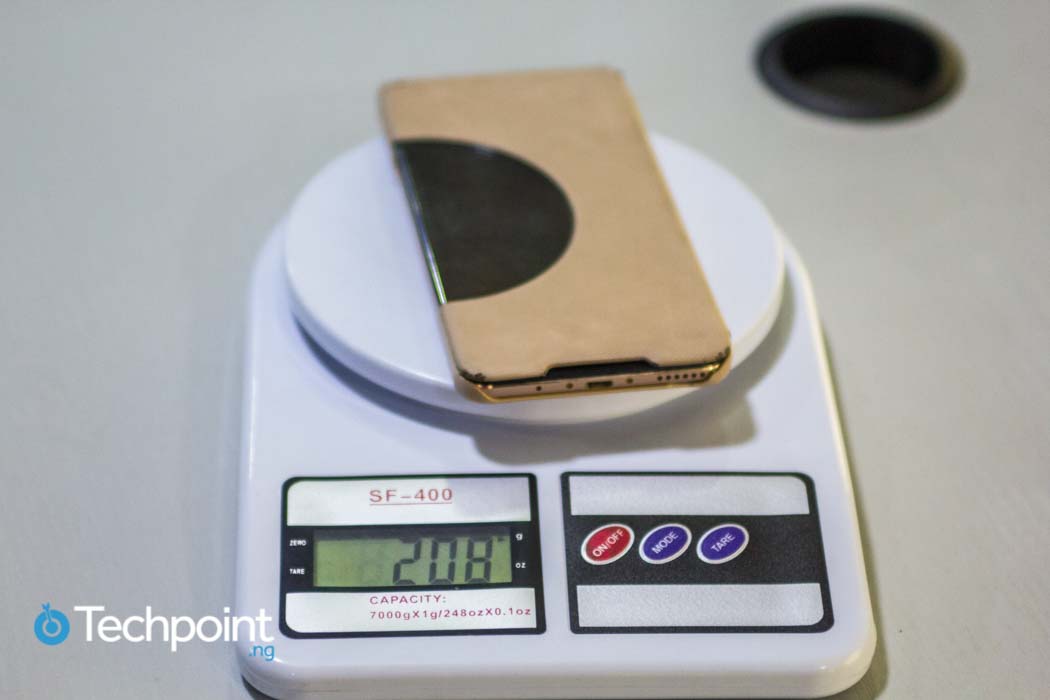 Smart Cover
The external phone casing on the Camon CX also doubles as a smart cover.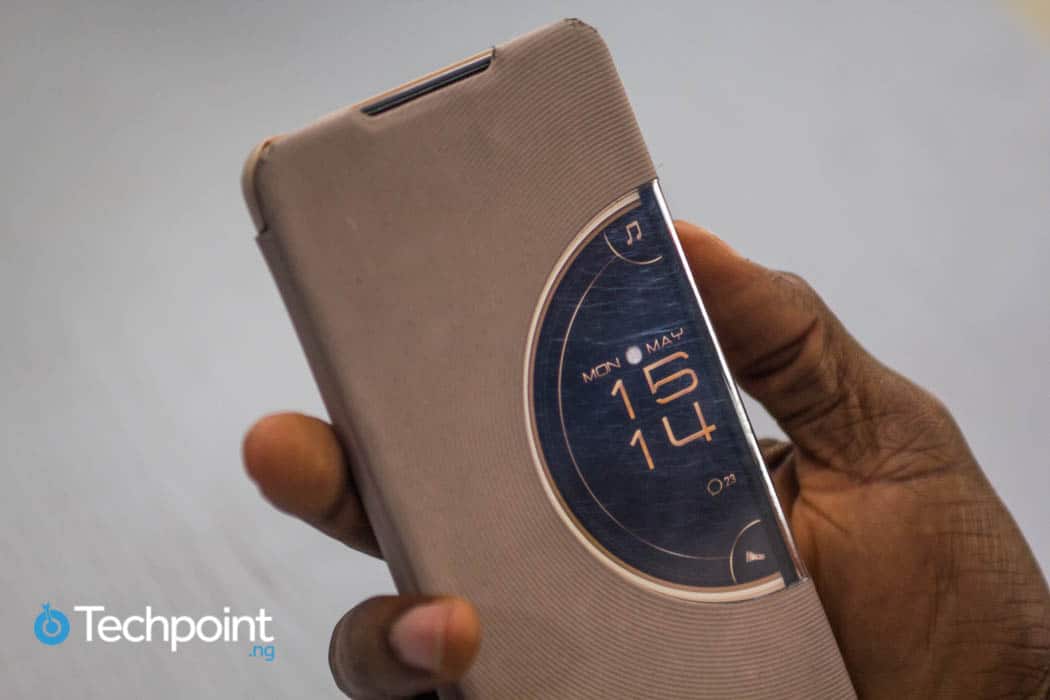 When the lid is shut, the display still shows date, time and text message notifications. At the extreme ends of the half circle that is formed by the transparent glass display, there are shortcuts for music and flashlight.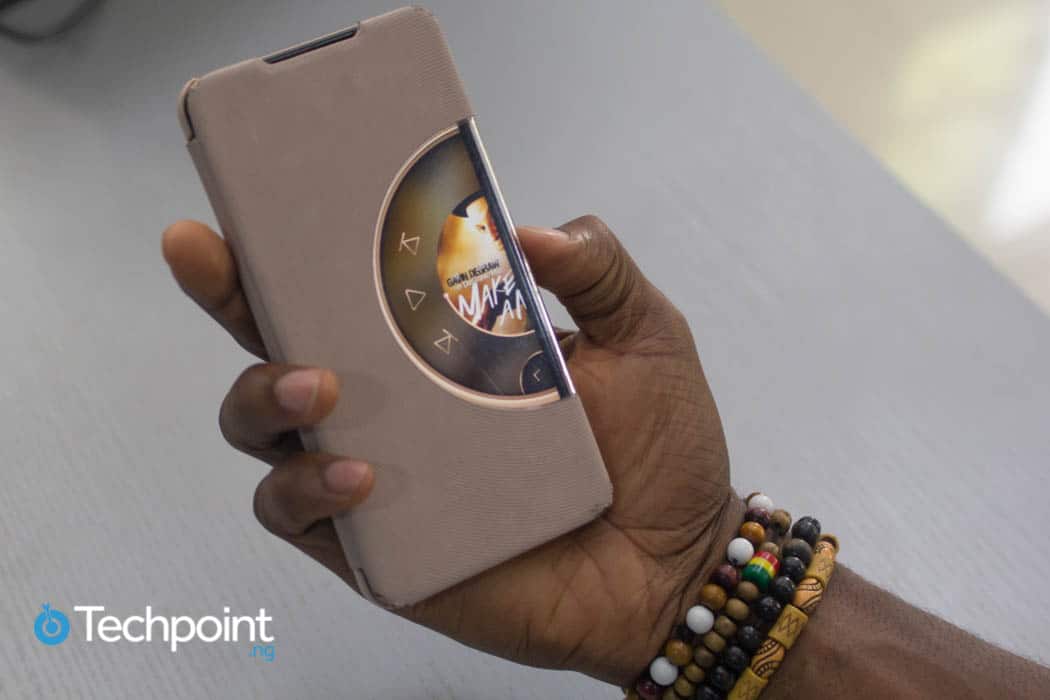 These two features can be accessed even when the device is locked.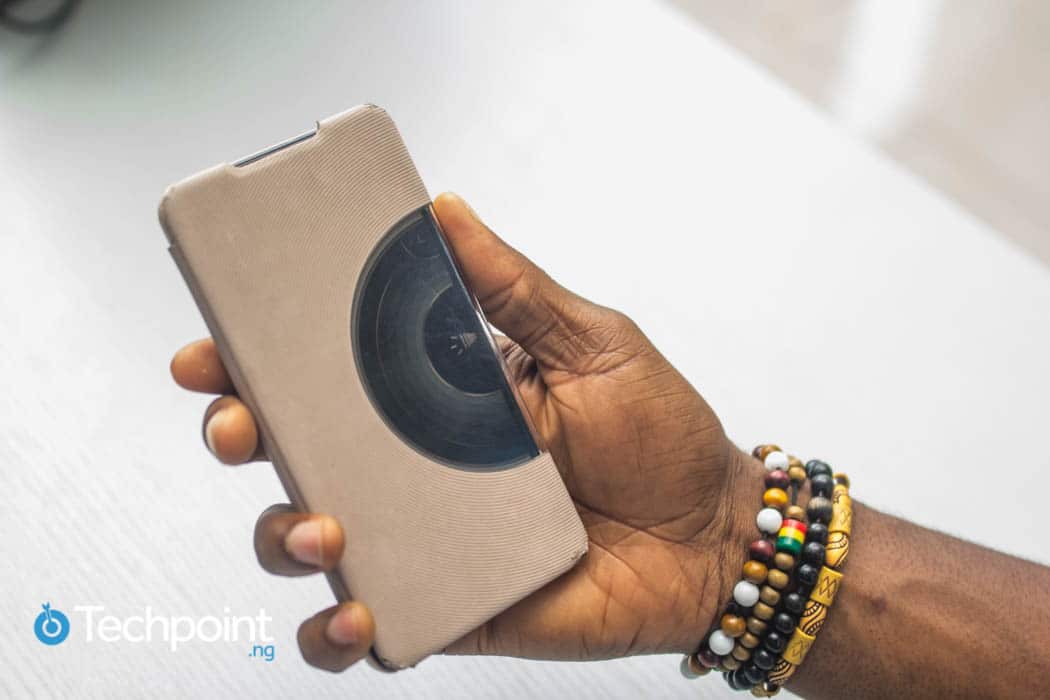 Sound
I usually do not care to talk about speakers and audio outputs, but this is strange and awkward considering bad speakers are one of my biggest pet peeves.
The earpiece for calls is poor and on most calls, I have had to literally press the phone against my ear to hear what the caller on the other end was saying.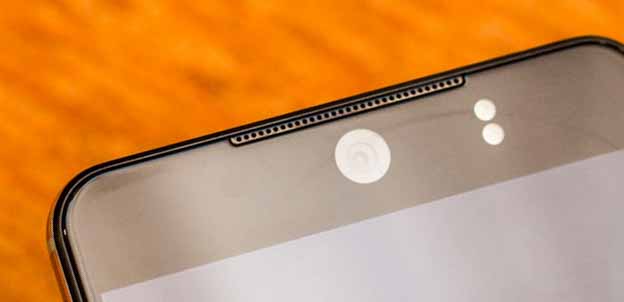 Located above the secondary camera, the slits produce muffled sounds during calls.  This is not a reception problem, it had something to do with the hardware.
Speaker grilles for music on the other hand are excellent. I didn't notice  how good they were until a bluetooth speaker went off and I continued playing from the phone; nobody noticed.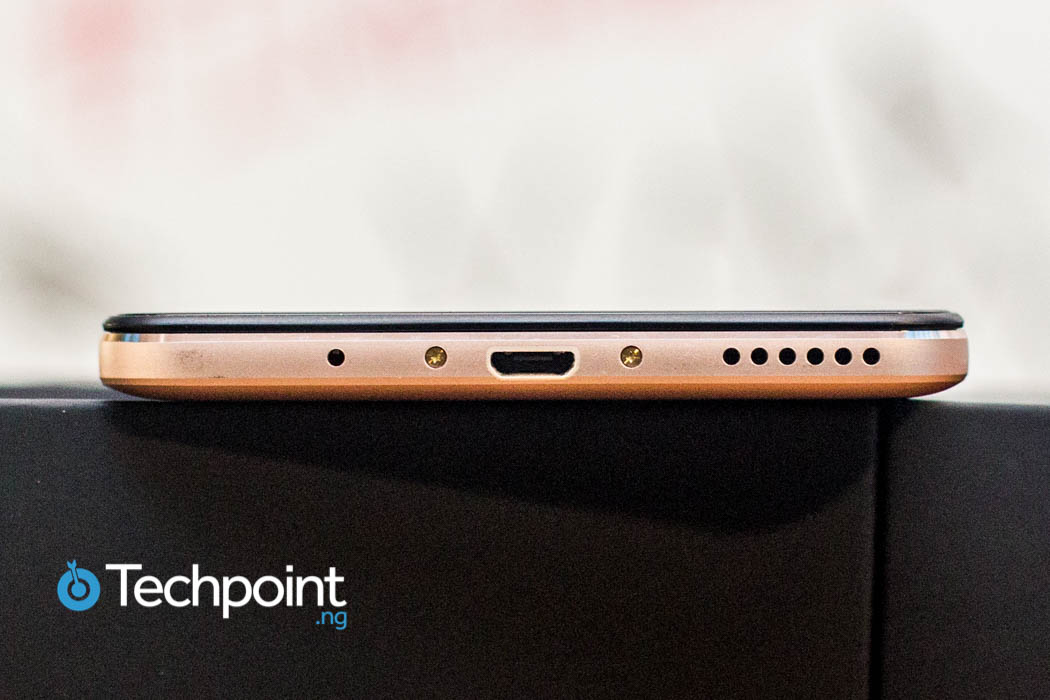 For all its loudness, the speakers lacked any bass balance whatsoever.
Camera
Like every other smartphone in the Camon range, the cameras on the Tecno Camon CX are its major selling points. Its 16MP front and back cameras are excellent with a professional feel to them.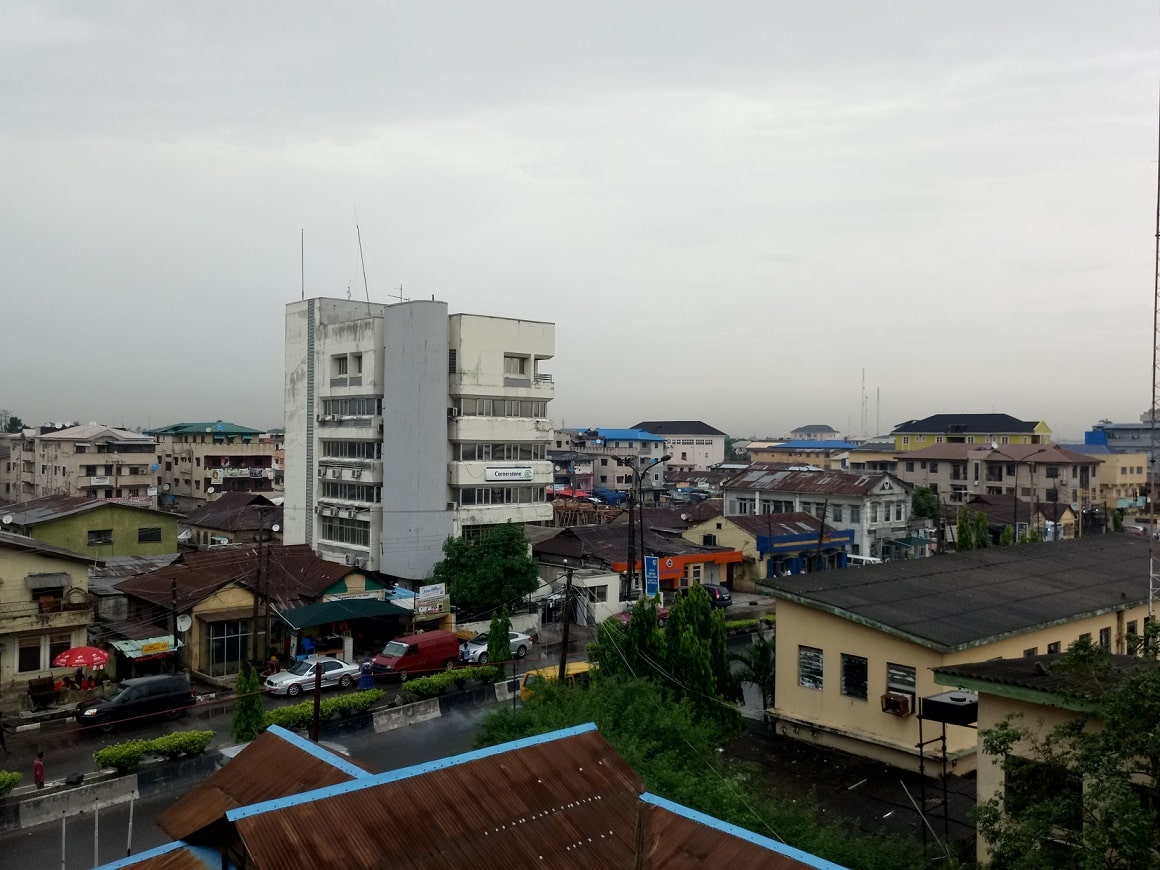 Auto-focus on the secondary camera is not very bad. In order to take good selfies, a lot of hand steadying and positioning must be done.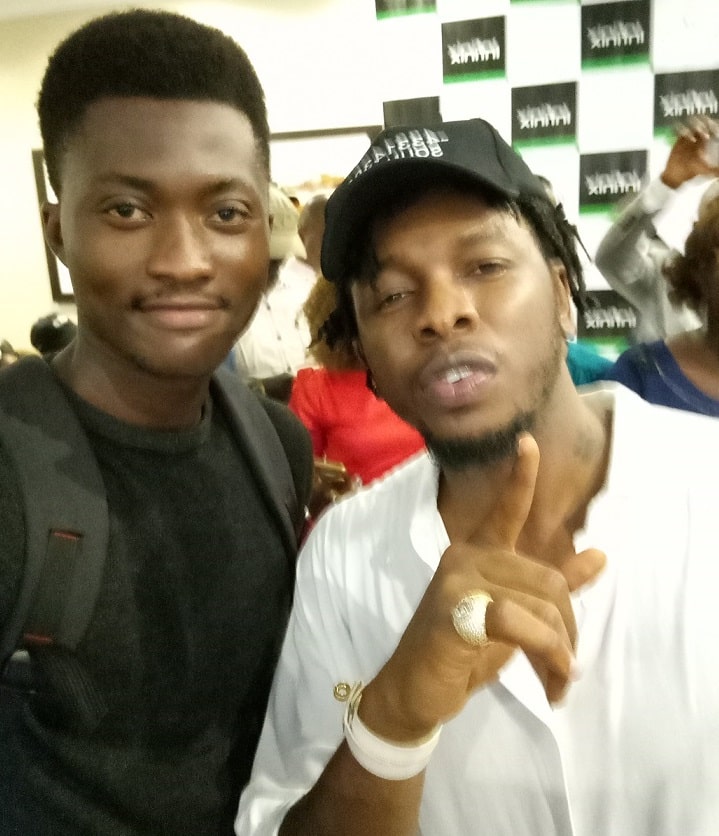 My Camon CX has produced a lot of blurry selfies from shaky hands. Cameras on this phone perform optimally under well lighted conditions so they are ideal for outdoor photography.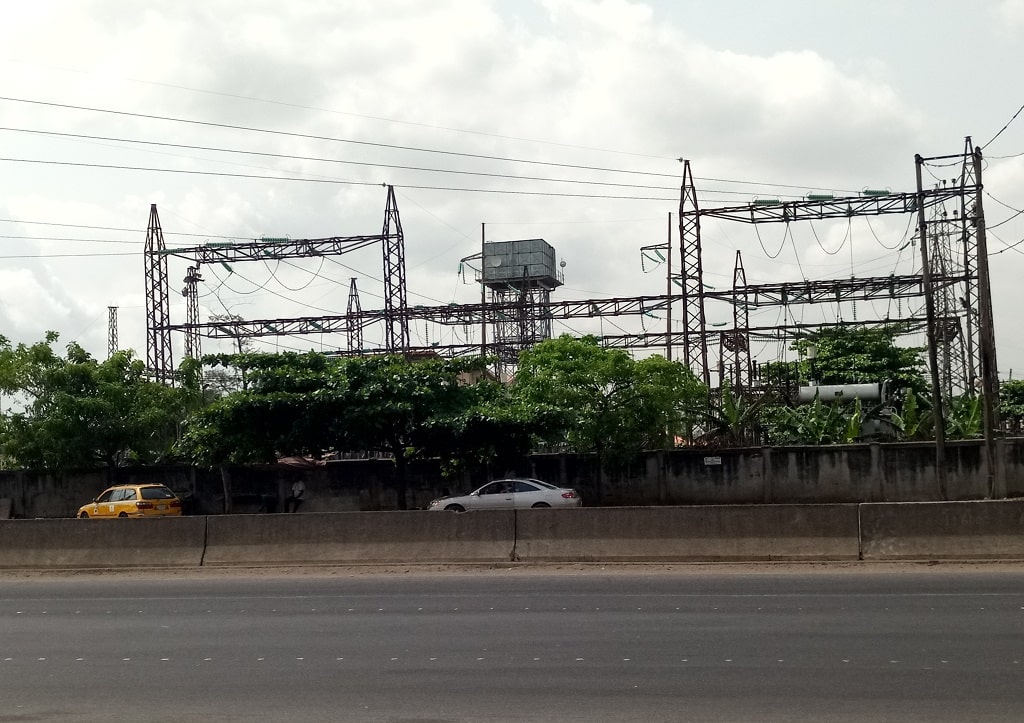 Display
In an era where phablets are taking over the world, any screen below 6 inches looks like a small joke. But with a 5.5 inches in plane switching LCD full high definition screen, the CX manages to be small without looking it.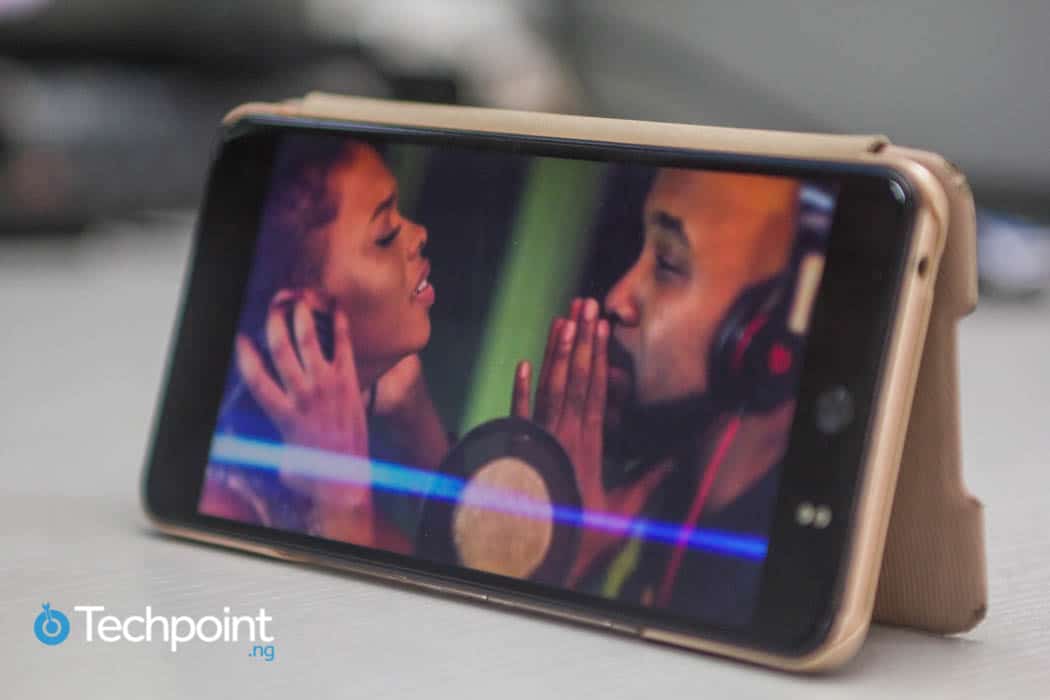 The Camon CX is not entirely devoid of bezels. A black extension from where the bezel starts to where the actual screen stops gives the screen a wraparound-the-edges feel something like the display of the Samsung S series.
This wraparound feel presents an illusion of a bigger (than 5'5 inches) screen.
1080p is an insane amount of screen power and this in turn is reflected on the display clarity. Colours on the Camon CX are true, but images look a little bit over-saturated and bleached; this can easily be reduced to a considerable extent by turning down screen brightness.
Software, Storage and Performance
The Tecno Camon CX runs on Android 7.0 Nougat straight out of the box; the first Tecno smartphone to achieve this feat. Tecno's custom UI skin; HiOS even looks more pronounced and beautiful.  But HiOS still has its own issues -- screen freezes and lags -- I hoped would have been fixed by now.
For internal shared memory, 16GB feels like a lot of space until you realize your are shooting 5MB pictures on a steady basis. From 2GB of RAM available, 0.90GB is dedicated to the Android OS including a few hundred MBs to system apps.  The Camon CX manages not to freeze or experience any system induced lags.
Battery
I was initially scared when the battery started heating up at basic setup with app downloads and updates.   But all that plenty screen resolution and system power was going to heavily tax its 3,200mAh juice box to breaking point; I knew.
Initial usage went well, from a full charge the battery dropped to 69% in just 3 hours. This was with data turned on, intermittent WhatsApp messaging, screen display set at maximum, five long calls and a movie in between all of these. So basically, the smartphone was in use throughout the period without a break.
Unless you use its primary charger that came in the box, I have noticed that the Camon CX charges real slow with every other charger.
After a complete drain, the Tecno Camon CX reached full charge(100%) in 2 hours 59 minutes (9:26 AM -- 12:25PM)  Second charge from 9;04 to 11;04 (2 hours) produced a 50% charge with another Infinix charger.  This proved my theory; It is advisable to use the assigned charger.
Battery still warms up once in a heavy usage, but nothing compared to that first experience.
Price
The Tecno Camon CX is selling for ₦70,000 in stores.
Verdict
Flawed, maybe not so deeply, but strengths far outweigh shortcomings on this smartphone considering its price, design and camera.