Tackling the bane of unemployment in Nigeria can be quite a hard nut to crack considering that a number of factors are responsible for it. However, what may not be completely acceptable is when people look beyond the obvious causes to single out the government for blame.
For instance, there is an apparent dearth of skill amongst tertiary institution graduates that makes it difficult to secure gainful employment. Also, some basically lack access to information on job vacancies.
The Q1 2016 employment survey conducted by the National Bureau of Statistics (NBS) reveals that job vacancies are on the rise in knowledge and technology intensive sectors.
Thanks to the prevalence of technology that has allowed online job portals remarkably alter labour market dynamics, people now get ready information about job openings on-demand.
Enter Insidify
Since there are quite a number of jobs boards and career pages out there, effectively searching all job openings, let alone keeping tabs on all of them can be a huge task. Seeing the need to simplify jobs search Emmanuel Okeleji and his partner, Deji Lana, launched Insidify.
"The problems we are trying to solve are existential, because people's lives and ability to fend for themselves and their families is dependent on jobs, especially in emerging markets where there are no social safety nets, more often than not," Emmanuel, CEO, explains.
Coined from the phrase, "get inside" and "identify", Insidify utilises technology to aggregate job openings from hundreds of job sites and company career pages in one place for as many jobs seekers to find. In other words, job seekers do not need to register on multiple jobs platform since Insidify is designed to serve as a one-stop-shop for all jobs in Nigeria.
"We never wanted to be a "job-anything", because we felt that jobs are only a subset of productivity and success, as such we wanted to help people become more productive and successful," Emmanuel explains "Of course, that meant we will do jobs, but we have to do more than jobs."
Insidify addresses both B2C and B2B sides of the productivity table. The focus is to use technology to solve the un(der)employment problem across emerging markets globally, with Nigeria as the primary market. While it monetizes its B2B products, it is deliberately not driving much direct revenue from B2C.
The company's history
Insidify had a few false starts, before fully launching in 2013 as a jobs aggregator and professional networking site. The challenge with combining an aggregator and a professional networking site is that the platform stands the risk of losing its simplicity. As it turns out, the founders had their fair share of this challenge during the early stage of operations which impacted on both the revenue and business model.
"Because we positioned ourselves as a professional/social networking site, users judged us by the standards of other social media sites, which of course, was quite a tall standard to compare with," Emmanuel explains.
Although a pivot would have been justified, it didn't seem an option for the founders. They soon went back to the drawing board to re-assess the entire business strategy and then repositioned as a career and HR technology company. "This helped us to achieve our founding goal in a more holistic and profitable way," Emmanuel affirms.
The company has since been able to deliver a more efficient solution to keep both sides of its market satisfied. More importantly, it has leveraged the resultant economies of scale to spur substantial growth in its subscribers market.
Unique approach to innovation
The strategy review afforded the company greater benefits. One key area was the rise of additional products in the company's investment portfolio.
Taking the form of additional tools support to optimise the job search process, and with it, Insidify will be looking to drive optimum engagement on its platform;
Discovery: Insidify's productivity blog which delivers relevant and practicable content to cater to the career needs of job seekers and professionals alike.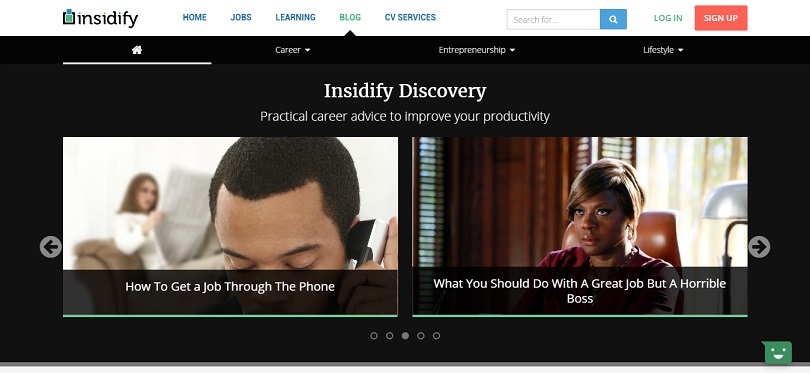 Another is the eLearning platform, Insidify Learning, which is equally built with locally-developed content that addresses the very root of the productivity and unemployment hitch in Nigeria and emerging markets. With ongoing works in the pipeline, Insidify will soon be announcing some major international content collaboration as part of efforts to develop content suited for the international market.
On the B2B side, the range of products includes SeamlessHiring, Insidify's end-to-end recruitment solution and StaffClass, a cloud-based corporate learning management system (LMS). StaffClass is currently in private beta onboarding a number of companies with total staff strength of about 6,000.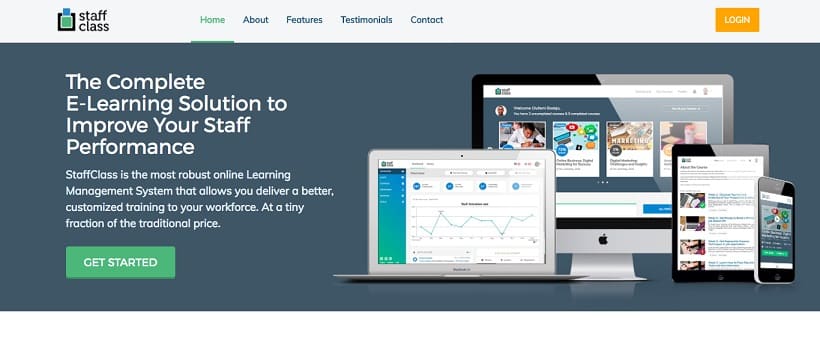 Evidently, asides defining the completeness of a jobs platform, this sense of direction is quite necessary to foster uniqueness in a market like Nigeria, where the barrier to entry is almost nonexistent and, anyone with little or no deep technical knowledge of the industry can set up an open-source powered job board and start posting jobs.
Ultimately, since the goal is to help people in Nigeria, Africa and emerging markets – with similar un(der)employment profiles globally -- become more productive and successful, Insidify will no doubt rank highly in people's mind.
However, its exploits must justify the business' position as a corporate entity. As such the company must rise up to the challenges of monetization, both in its B2C and B2B markets. While this is not going to be a walk in the park, considering the inherent challenges, going forward, it seems to be the only way; especially as the company is looking to hit the profitability mark by Q3, 2017.
Experience of the founders
Deji Lana's, experience cuts across various roles and industries. As an experienced developer, who started developing actively in 1997, he's worked in Digital Jewels, MTech, United Bank of Africa (UBA), First Bank of Nigeria (FBN) and has consulted for over 40 public, private and government organizations in Nigeria and globally. Deji studied Metallurgy and Materials Engineering at Obafemi Awolowo University.
Prior to venturing into technology, Emmanuel Okeleji, on the other hand, had a formal training in Medicine and Surgery, and entrepreneurial experience in agriculture and healthcare. He worked briefly in the investment banking division of Goldman Sachs in London and returned to work as a doctor at St. Nicholas Hospital.
Their friendship dates far back as 2004, as undergraduates at the Obafemi Awolowo University, Ile-Ife.