LegitCar is an online platform that allows users to verify the status of vehicles before purchase.
Globally, cars get missing on a daily basis; Nigeria is not exempted. Most times, victims are forced to hand over their vehicles at gunpoint. Others are stolen from parking lots. Many have lost their lives in this process and unfortunately, most of these stolen cars are resold to people who do not know they are stolen and could fall victim of the same cycle.
Okeke Vincent, Ogbujimma, Samuel and Ukpong, Inimfon (Founder) saw a critical problem and decided to solve it. They built LegitCar, in the bid to curb this menace (and probably save lives).
We sincerely believe that if we make it impossible for stolen cars to be resold, with time we will be making that line of business unattractive for thieves, and as such make our world a little bit safer.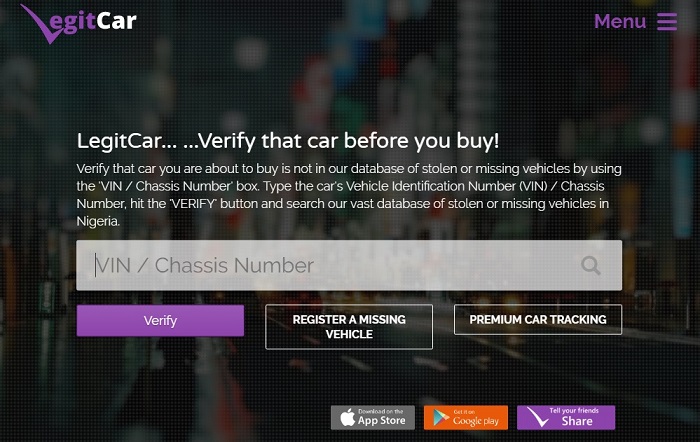 Currently, LegitCar is building a database of all missing cars in Nigeria. It will include parameters such as car condition, car verification, car history and theft and ownership status.
With these, car buyers can search through the database to confirm that the cars they intend to purchase are not stolen. This, of course, comes for a small fee -- a brilliant revenue generation model. If a match is made, users get to see the information of the original owner and get a cash reward if they help reunite them with the car.
LegitCar intends to launch fully on April 30, 2017.  In the meantime, you check out the demo website.
---
Discover new startups every weekday by 9am (WAT) | Pitch your startup here.