UPDATE: Funke Opeke is now live at the Techpoint HQ fielding questions. You can join the live stream here.
---
We are hosting the Founder of Main Street Technologies and the CEO of MainOne, Funke Opeke, on May's edition of Techpoint AMA Live Sessions (#TPAMA) coming up on Thursday, May 4, 2017.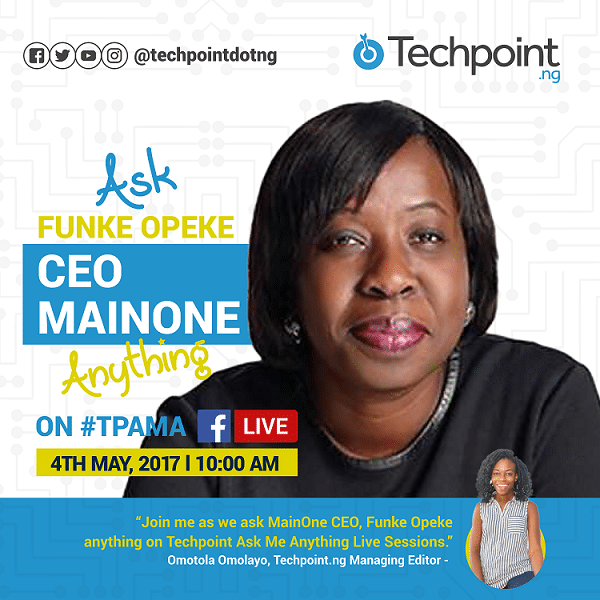 On this edition of Techpoint AMA Live Sessions, you will have the opportunity to ask Funke Opeke just about anything. Ms. Opeke is the woman behind the world-class MainOne data centre which provides voice, data, and cloud services for businesses in West Africa.
MainOne is West Africa's leading communications services and network solutions provider that built West Africa's first privately owned, open access 7,000-kilometer undersea high capacity cable submarine stretching from Portugal to South Africa with landings along the route in Accra, Ghana and Lagos, Nigeria.
MainOne also built West Africa's largest Tier III Data Center, MDX-i's Lekki Data Center, a $40 million investment with a capacity for 600 racks.
Funke Opeke is an experienced telecommunications executive who returned to Nigeria in 2005 as the Chief Technical Officer of MTN after a twenty-year career in the United States. Prior to her return, she was the Executive Director of Verizon Communications Wholesale Division in New York.
Subsequent to MTN, Ms. Opeke served as an adviser to Transcorp on the acquisition of NITEL and briefly served as the interim Chief Operating Officer, after the acquisition of NITEL.
She obtained a first degree in Electrical Engineering from Obafemi Awolowo University, Ile-Ife Nigeria and a Master's degree in Electrical Engineering from Columbia University, New York.
Join us for an interesting live video chat with Funke Opeke on Thursday, May 4, 2017, at 10 AM via Facebook Live video.
Save to Google Calendar.
For updates, in the lead-up to, and during the session, like our Facebook page.
You can also send in your questions in the comment section below or during the live recording.