Launched by Awele Osuka on the 8th of March 2017, Escolax helps users find out the cost of fixing their electronic gadgets before even meeting an actual repairer.
Although they go a step ahead to offer repair services, Escolax's primary motivation is to give users ample time to prepare the money towards fixing their gadgets.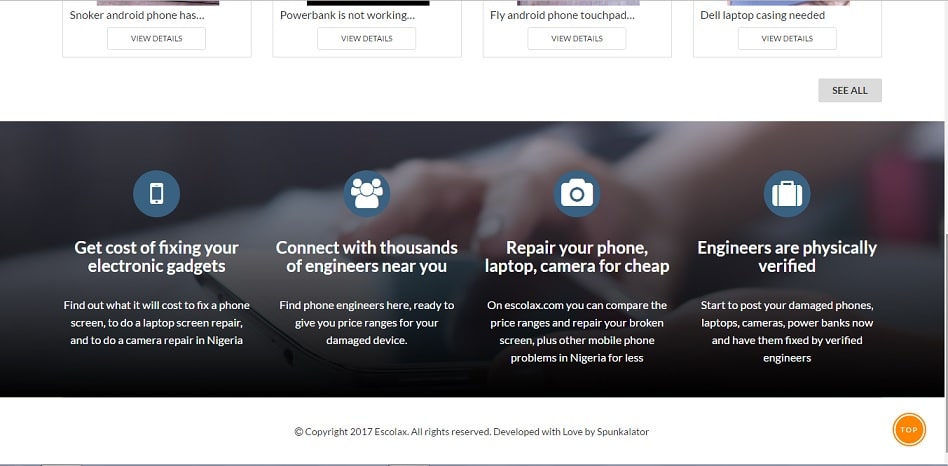 All they need is to register, post their device, and get price ranges from thousands of engineers around them. The good thing is since engineers also register on the platform, one can draw a comparison of price between multiple engineers, thereby allowing transparency. And to further ensure transparency, Escolax carries out a physical verification of all engineers that register based on the address provided.
Thoughts
Devices get damaged every day and people often want to know whether they will be able to afford the repairs at that particular time, defer the repair to a future date or simply just try out another engineer. With a platform like Escolax, there's no doubt the value it would present to users. Infact, one might even be able to fix their device for less because now, they will be able to see price ranges and make a comparison.
However, one can't help to be curious about how the platform makes money. A possible revenue stream would be commissions. This perhaps is why Escolax is working towards the ultimate goal of driving engagement on the platform which then converts to sales for its engineers. Either way, it's a win-win situation for the platform, engineers and, most especially, the customers.
Do you find Escolax interesting, find out more about them by visiting their website.
---
Discover new startups every weekday by 9am (WAT) | Pitch your startup here.