Editor's Note: This article was published in April 2017.
---
In 2012, when Forbes profiled young disruptors, innovators, and entrepreneurs in their annual list of 30 under 30s, it didn't entirely come as a surprise that 14 of the top 15 individuals highlighted in each category attended or graduated from college.
Decades ago, a world led by young disruptors and innovators would have been difficult to imagine. However, institutions of learning (especially those with strong ICT entrepreneurship curricular) today are providing a level ground to compete with the older generation. Even more to it is that, as economic institution and agents of change, their role in creating a self-sustaining economy is immense; as is with many advanced countries of the world.
---
Suggested Read: 3 Universities with the most influential tech communities in Nigeria
---
So, while dwelling on these ideas, we take a look at some prominent Nigerian startups that emerged from tertiary institutions in Nigeria.
Jobberman
Olalekan Elude, Opeyemi Awoyemi, and Ayodeji Adewunmi would probably be remembered for their ambitious effort in taking on Nigeria's disorganised labour market while still studying at the Obafemi Awolowo University (OAU). By providing an easy way to match unemployed people with their dream jobs, the 3 individuals brought in a fresh perspective to dealing with unemployment in Nigeria. Their entrepreneurial journey wouldn't be complete without making a reference to the infamous ASUU strike in 2009 that allowed the co-founders launch their idea.
Today, Jobberman is providing millions of people with the opportunity to find employment and is arguably Nigeria's largest job search portal.
The trio have been friends from their university days. While Opeyemi and Olalekan studied Computer Engineering, Ayodeji is a trained medical doctor. Regardless, all three have always shared a strong passion for internet entrepreneurship.
Printivo
Printivo basically is a spin-off of a student hustle, from which immense wealth of experience was garnered. As a student of Ladoke Akintola University of Technology, Ogbomosho, Oluyemi Ojo, one of the co-founders, executed different printing and design gigs for clients -- one which had him shuttling Ogbomosho and Lagos frequently at the time. Shortly after graduation, the experience became a baseline to launch Urbanbaze.
With so much passion for printing, Oluyemi soon found himself crawling right back into the profession. Teaming up with his co-founders, Ayodeji Adeogun and Ibukun Oloyede, together they saw the need to provide printing solutions for the uncatered SME market.
Since launching operation, it's been a roller-coaster ride for the company that could arguably pass as the biggest online printing production company in Nigeria.
Sharphire (PushCV)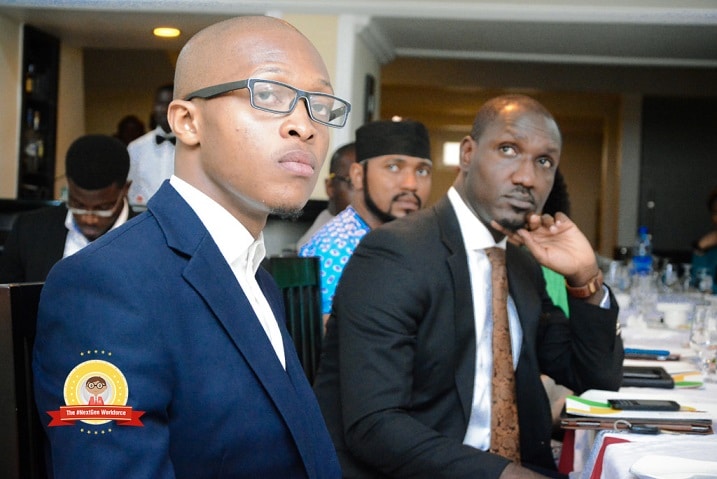 PushCV was founded by seven young Nigerians consisting of Somtochukwu Ifezue, Odunayo Eweniyi, Joshua Chibueze, Terry Kanu, Nonso Chinagorom, Ibukun Akinola and Ayo Akinola.
From all indications, Covenant University is one of few in the country that places a strong emphasis on ICT entrepreneurship. If anything, the presence of an ICT entrepreneurship hub located within the premises attests to the school's position on ICT development. Perhaps PushCV may just be one of the beneficiaries of that entrepreneurship program.
The startup launched in 2014 as an online platform that connects pre-screened candidates with organizations or employers that need their services. PushCV has since been consolidated into one of the subsidiaries of a parent company -- Sharphire Global -- under which many other interesting startups have emerged.
CashEnvoy
As an undergraduate of OAU, Olaoluwa Awojoodu, began his journey into entrepreneurship with a recharge card business during the peak period of a 2002 ASUU strike that inevitably kept him out of school for eleven months.
Going back to school, he ran all sort of business including a weekly newspaper, a fast food outlet and an online platform for selling IT hardware. Upon graduation in 2007 Olaoluwa had gained a lot of insight to spur the execution of Electronic Settlements Limited, the parent company of CashEnvoy, PayPad and a host of other company under its portfolio.
With no paid employment history, it is evident that the experience garnered from running these businesses while at school sufficed for Olaoluwa's apprenticeship.
ToLet
Another product of OAU is the quartet of Seyi Ayeni, Sulaimon Balogun, Fikayo Ogundipe and Dapo Eludire. They couldn't have found a better course to unite them than what ToLet offered. All friends since the formative stage of the startup in 2011, they've since carried the vision of ToLet to become a product valued at more than a million dollars.
Between the founders, they have a mix and match educational affiliation that isn't only ideal for what ToLet as a business represents but has also been crucial to the eventual success of the startup.
MyMusic
The journey of MyMusic all started with 3 Babcock University students -- Damola Taiwo, Dolapo Taiwo and Tolu Ogunsola. Despite their strong tech background -- they all studied Computer Science -- the three co-founders in the waiting were bound by a common interest for music. Apparently, Damola is good with the bass guitar while Dolapo has a penchant for the keyboard.
With this in mind, all that remained was to institute a system that would transform this interest into something that could generate money. A couple of years after graduation, with years of hands-on experiences to booth, the friends formally launched the MyMusic brand; which has since gained a lot of attention.
Gamsole
Gamsole, is arguably one of the best gaming companies to emerge from Nigeria. Likewise, the man behind the company, Abiola Olaniran, is without doubt one of Nigeria's most decorated online entrepreneurs. As a student at the time, Abiola participated in a lot of competitions.
Kick starting his rise to prominence, Abiola was originally one of the members of team Indwell (all 400 level students) from Obafemi Awolowo University that emerged national winners of the 2010 Microsoft Imagine competition -- with a solution that granted access to quality education across the world. The team went on to represent Nigeria at the World Finals of the Microsoft Imagine Cup held in Poland later that year.
Right after the Imagine Cup, Abiola pitched for the Samsung Developer Challenge where he won both the game and edutainment categories. He was also fortunate to be admitted into 88mph Accelerator program, luckily enough as the only Nigerian at the time to be picked for the program. Since then it's been an interesting journey for Abiola, as each footstep brought him a step closer to founding Gamsole.
Conclusion
Though not exactly at the forefront, it is evident that universities have played a role where innovation in ICT and entrepreneurship is concerned in Nigeria. Even at that, there is still so much that could be demanded from these institutions of learning to take Nigeria to the proverbial promised land.
Thankfully, in recent times, we've witnessed universities in Nigeria step up efforts to encourage entrepreneurship. This should be a glaring pointer that academics and innovation go hand in hand, with broad societal and economic benefits.