Two men who posed as passengers have been arrested for killing an Uber driver in Lagos state, after which they tried to hide out in Edo state. While some news reports have given the name of the Uber driver as Emmanuel Innevosa, some have it as Alex Ehobosa.
The Lagos state police command reports that a case of stolen vehicle and the missing driver was reported to them and they have suspects.
The suspects posed as passengers, strangled the Uber driver and dumped his remains at Ogba and the vehicle was taken to Delta State, where it was recovered and the suspects arrested. - Fatai Owoseni, Lagos State police.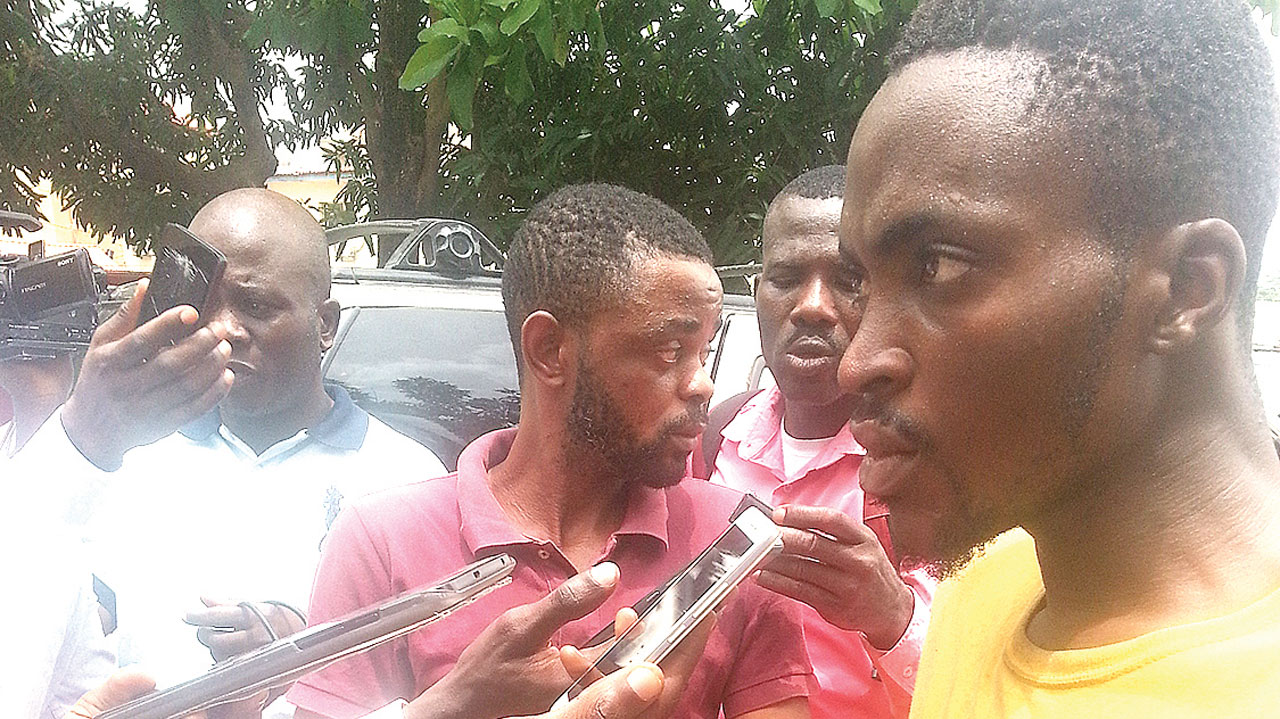 It was well planned out by the already arrested suspects, one of the suspects,  Emmanuel Osas said, they contacted the Uber driver to pick them up at about 9:30 pm at Tantalizers eatery, Ogba, after which they entered the vehicle and strangled the driver with a belt.
Emmanuel Osas explains how with the help of Destiny they took the life of the driver
 I put the belt across the driver's neck, Destiny dragged the belt and we strangled him. When we were satisfied that he was dead, we took his corpse to Oremeji Street and dumped him in front of a church around 10:30 p.m., without anybody noticing us.
Another suspect, Michael Irekpen who claims that he did not partake in the crime, testified that Osas and Destiny, killed and left the body of the deceased in front of a church. Micheal claims that he only introduced his boss who could afford to buy the car, however, he did not eventually buy it.  This was why the suspects had to leave Lagos and travelled to Benin to find another buyer.
Just a few weeks back,  a Jumia delivery man was brutally murdered, and here is another unjust killing. The rate at which people scheme and execute evil intentions and acts in order to rid others of their properties is quite alarming.
While Uber is yet to send out a press release regarding the unfortunate incidence, the company's safety commitment to drivers ensures that there are no anonymous pickups. This means that before a pickup, the passenger must have an account registered with Uber.  And every ride is tracked with a GPS. But sadly, this has not stopped the death of one of the drivers.
---
UPDATE (13th April, 2017): Statement from Uber:
We are shocked and deeply saddened to learn of this tragic news. We are busy reaching out to offer our support to the driver's family. Our thoughts and hearts go out to his family and we extend our sincerest condolences.

This is a senseless act and the guilty parties must be prosecuted - we are relieved to hear the suspects have been arrested. We will support the authorities in anyway possible to assist in their investigation.

We can confirm that the driver was registered to use the Uber app, but he was not using the app during the time of the incident, therefore we have no reason to believe that this crime is related to Uber in any way. -- Uber Spokesperson