"The illiterate of the future are not those who can't read and write but those who cannot learn, unlearn and relearn" -- Alvin Toffler.
Technical skills are important to making an individual useful in the workplace. However, beyond the fact that they require deliberate training and experience, they can often be quite expensive to acquire.
Thankfully, online courses provide an avenue to bypass formal education and make learning cheaper and easier for individuals. In line with that, we made a list of 7 online courses that are sure to effectively boost your technical skills in the workplace.
Foundation in Photography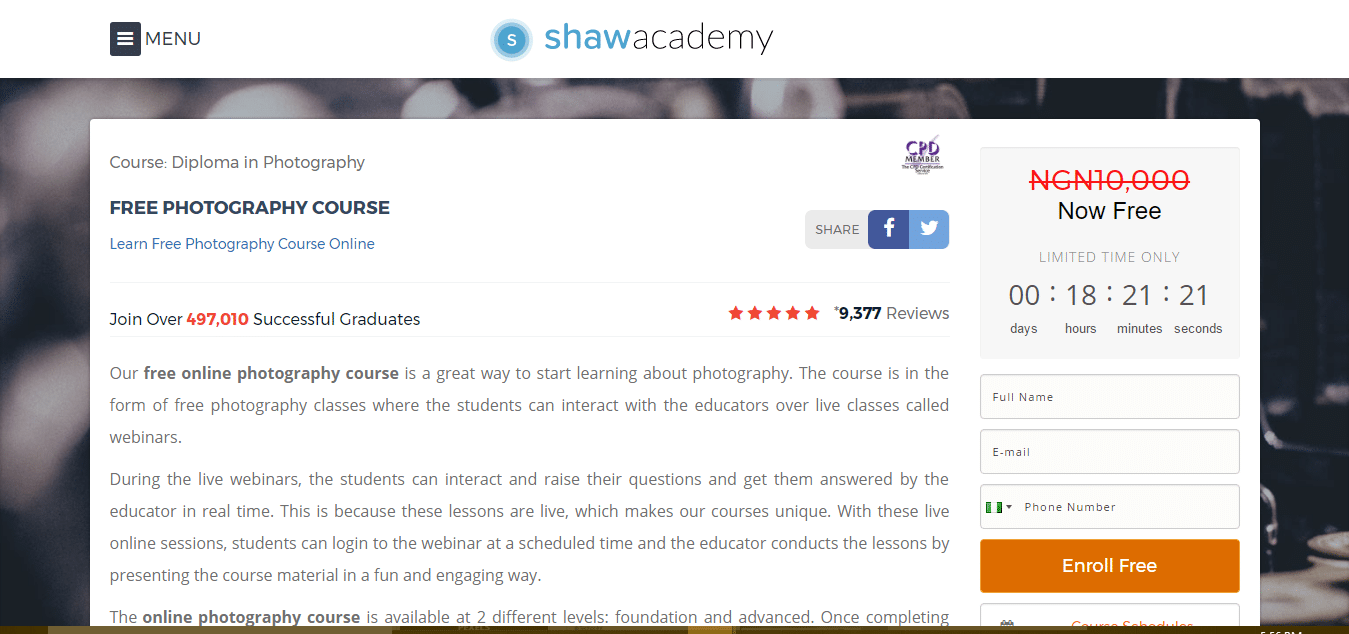 Photography is a very important part of media, sharing information via different outlets and also keeping account of different activities that occurred in the past.
The art of photography is not a god-given talent; it's a skill that can be learned by any individual who is interested in learning. Foundation in Photography is a free online course that provides full explanation about the art of photography. Students of the course can freely interact with their educators in real time via live webinars.
Aderinsola, a young photographer who is very passionate about the art, started the course in 2015. She found it initially challenging as she had no camera. But as time went on she was able to learn and produce better results. 
"I've been able to apply most of what I have learnt, which has boosted the quality of my pictures , my understanding and ability to overcome certain situations I may have usually have found frustrating" -- Aderinsola, graduate of Foundation in Photography.
You should hurry and enroll for this course, as it appears to be free for a limited time.
Sign up for Foundation in Photography.
Introduction to R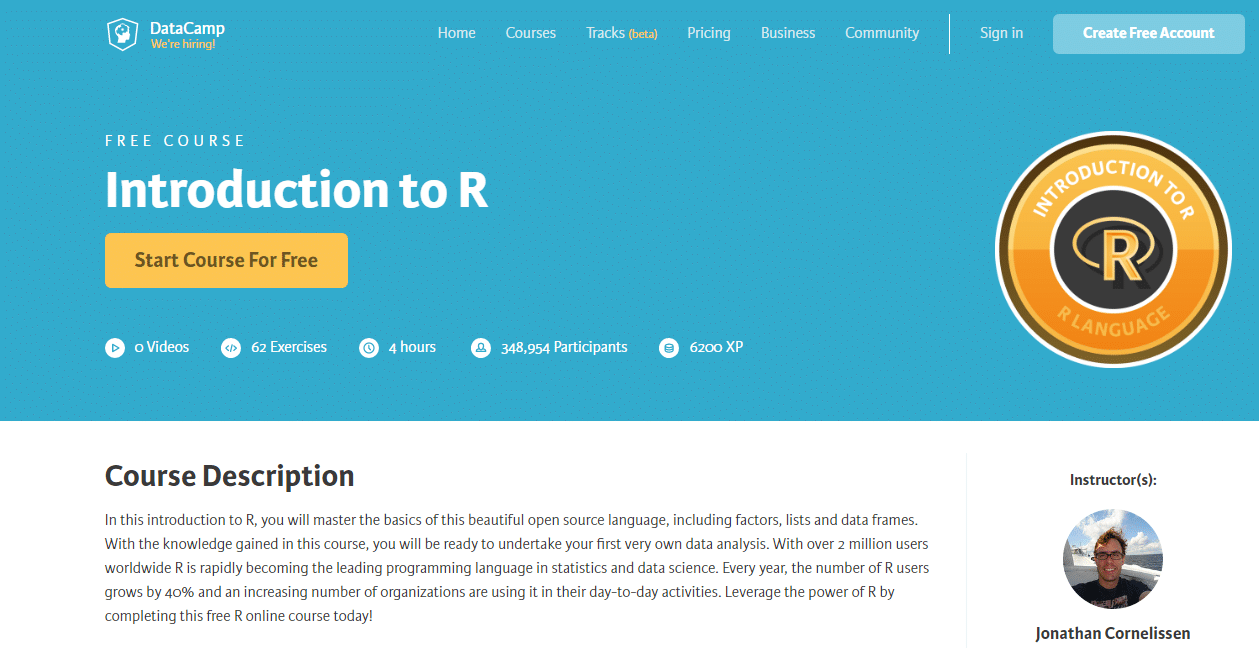 R is an open source programming language which is used for statistical computing and graphics. Mastery of the R programming language will make you valuable in companies such as Google who make use of it. 

According to Google chief economist, Hal Varian, the soon-to-be coolest jobs will be held by statisticians and masters of the R language will lead this group.
Introduction to R teaches the basics of the open source programming language, not leaving out factors, lists and data frames.
Eze Ayoka who is a graduate of the Introduction to R online course says, " R is more like a statistical programming language. Math, statistics and computer science guys should find it easy to grasp. Also, if you enjoy playing with data, you'll find it handy."
For Eze, the highlight of the R programming language is the "ability to subset and rearrange data like never seen before".
Sign up for Introduction to R.
Introduction to Information Systems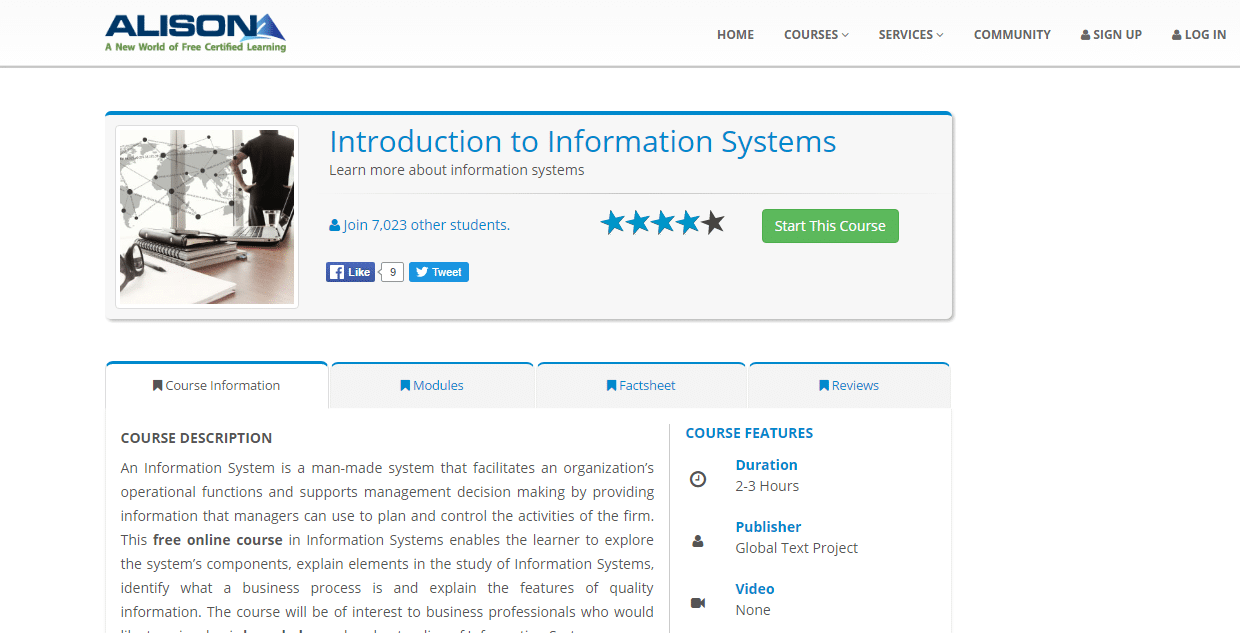 Information Systems support decision-making by providing information that organisations use to control and plan the firm's activities.
Introduction to Information Systems gives students a basic knowledge (which can be later developed) of different elements of information and building blocks that can be combined to suit particular business needs.

Seeking to establish himself in the field of technology, Kingsley enrolled for Introduction to Information Systems. Based on the lessons he has taken so far, he says the course has helped him understand the whole network of information usage and given him a foundation for other courses to lean on.
Sign up for Introduction to Information Systems.
Marketing in the Digital World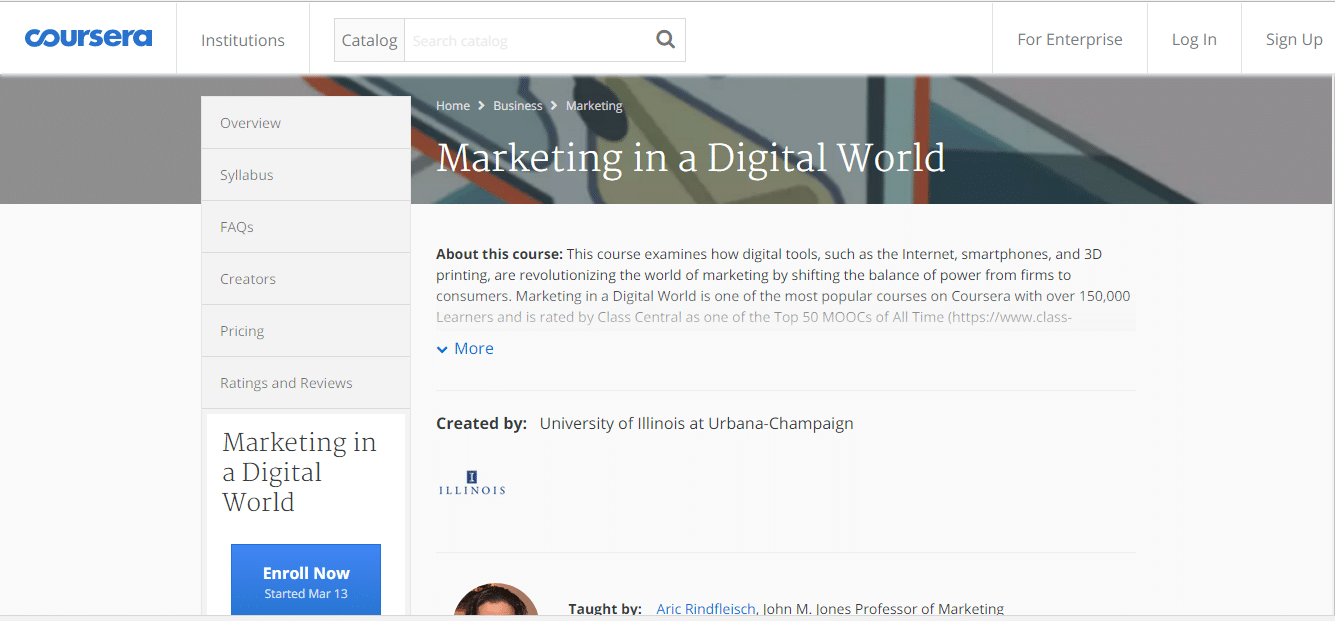 Being a marketer can be very tiring and frustrating. However, to be an effective and efficient marketer you have to build strategies that'll make you stand out.
Marketing in the Digital World explores several aspects of the new market we are in, which is highly influenced by technology. It offers new tools, theories and concepts that'll help students create, promote and distribute products.

This course will generally develop a sales person's capabilities in the workplace, so sales representatives are able to sell the products to customer using more in line strategies.
Nwokedi Victor, a fresh graduate still trying to make headway, is a product of the course. He says he has been practicing the skills learnt in his present place of work.
"When I stumbled on the link to the course, I originally saw it as a way to kill boredom. But as the learning advanced, it got more interesting and I stayed glued until I was done with the course" - Nwokedi Victor, graduate of Marketing in the Digital World.
Sign up for Marketing in the Digital World.
Introduction to Search Engine Optimization
Search Engine Optimization (SEO) encapsulates how search engines work, what people on the internet search for, the actual search terms or keywords typed into search engines and which search engines are preferred the targeted audience.
If you are an internet content creator, you should have full understanding of this. Within 4 weeks, Introduction to Search Engine Optimisation will teach you the best SEO practices and strategies that can be used to drive more organic search results to a specific websites, as well as tactics to avoid to prevent penalization from search engines.
Sign up for Introduction to Search Engine Optimization.
Viral Marketing and How to Craft Contagious Content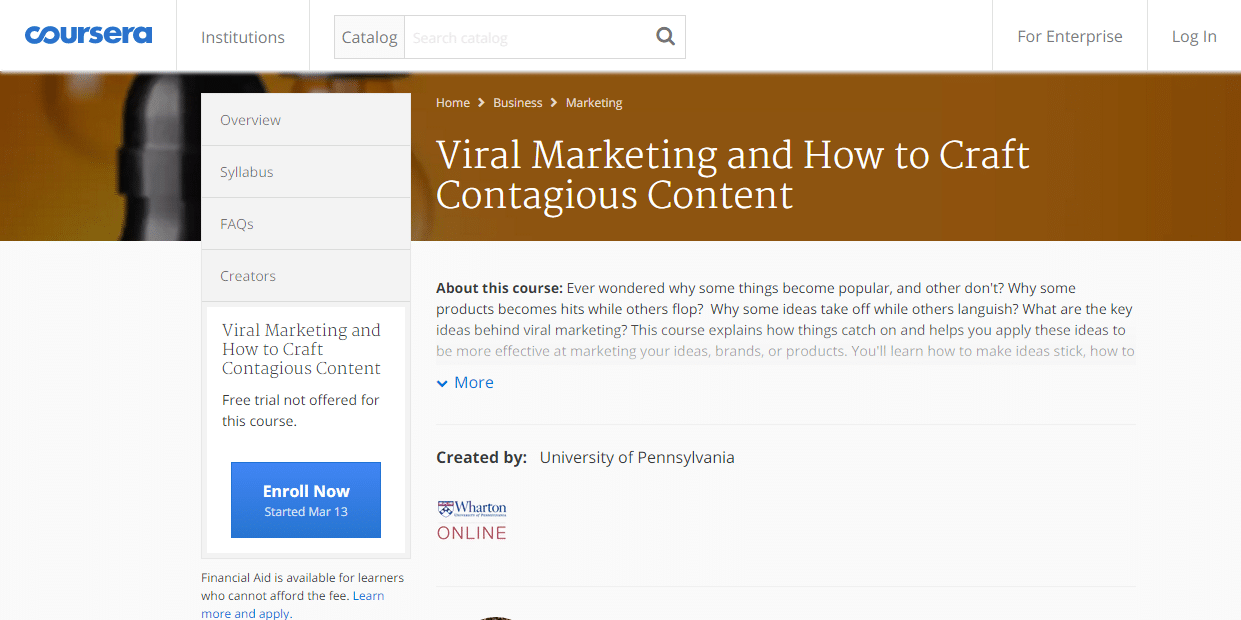 Ever wondered why some things become popular and others don't? Why some products become hits while others flop?  Why some ideas take off while others languish? 

Viral Marketing and How to Craft Contagious Content explores reasons why ideas are sticky, why many ideas have stayed trending over the years and how to emulate this. The course will also expatiate on the effects of the social environment on every product or project that is being undertaken. Individuals discover when people are more likely to agree, or do the same thing as others, and when they are more likely to diverge, or do something different.
Students will be exposed to the powers of word of mouth or better said, person-to-person communication. And also how individuals can make use of social networks to engage the individuals they want to reach.
Sign up for Viral Marketing and How to Craft Contagious Content.
Successful Presentation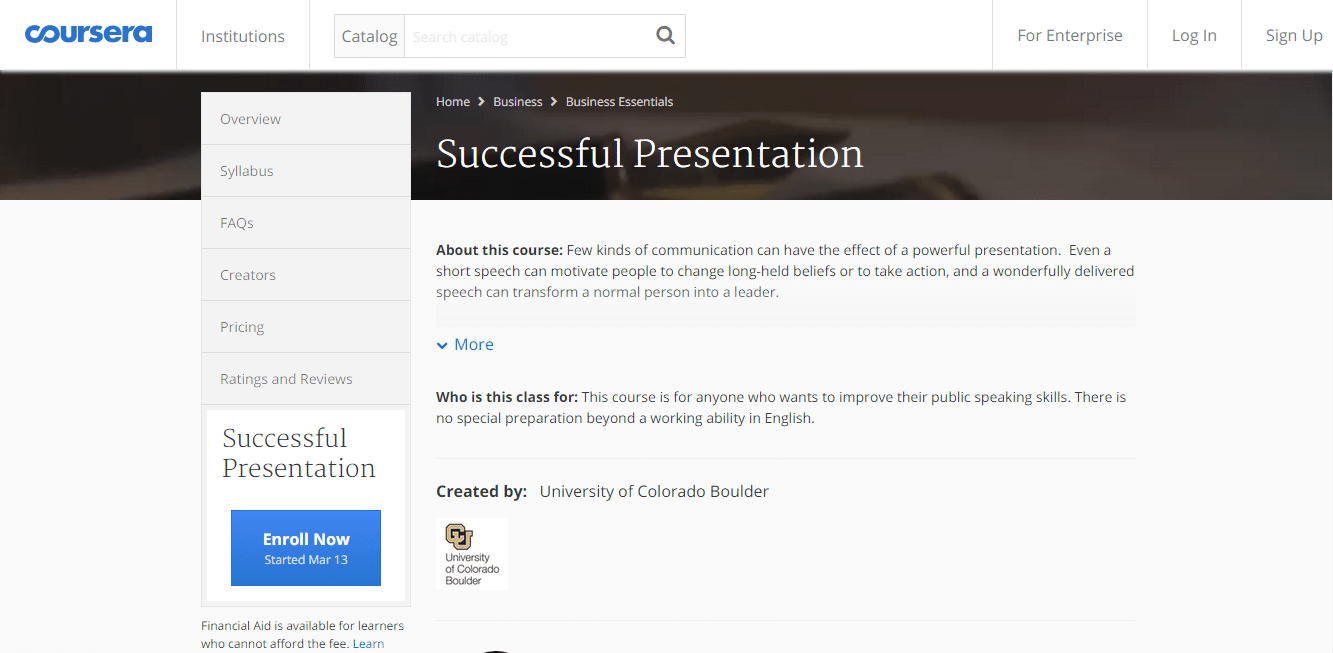 Notwithstanding the position you hold in an organisation, it's always good to be able to present in front of a crowd. For instance, when asked to discuss your job description, one should be able to offer an interesting and unforgettable answer.
Successful Presentation is designed to train you to tackle the major difficulty of public speaking -- fear. You will be informed on the most effective ways of moving past the fear of immediate judgement by the audience. You'll also be taught the formula to achieving a successful  presentation, this will be after you've conquered your fear of public speaking.
Finally, you'll be taught how to practice with yourself, understand yourself and engage the world with assurance of great results.
Sign up for Successful Presentation.