Thirty-two years (March 1985) after the first domain name .com was introduced, Africa has finally launched its own domain name -- dotAfrica (.africa), a generic Top Level Domain (gLTD).
The new .africa domain, has been officially launched by the African Union (AU). This laudable initiative will give Africa its own distinctiveness.
With dotAfrica, I would say Africa has finally got its digital identity," -- Nkosazana Dlamini-Zuma, Former Head of African Union commission.
The aim for .africa is to "foster relationship within the continent and portray Africa as an internet community". Africans will be able to connect better with the world, by businesses being able to create their website.
This achievement was not attained without its fair share of legal battles. The Internet Corporation for Assigned Names and Numbers (ICANN) for a long time was unable to grant .africa, because of several legal disputes that were ongoing, but now, dotAfrica has emerged victorious and launched officially by the AU.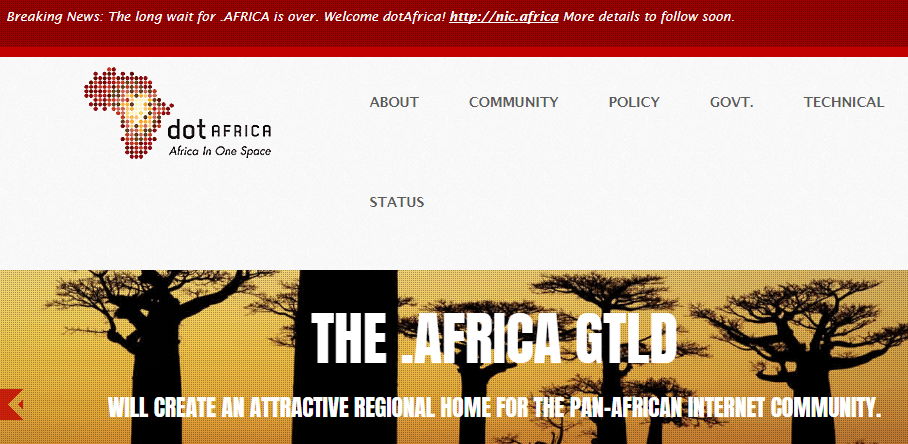 What to expect from .Africa
According to Lucky Masilela,  the CEO of the South African based company (ZA Central Registry) that will manage the gTLD, .africa is going to be a market disruptor that will assist in lowering the cost of domain names,"
Lucky Masilela further explains:
The process is the same as registering any other domain name. One will have to contact an accredited registrar (ISP) and they will assist with the registration process.

If you are a trademark-holder ICANN prescribes a process, which we as the registry operator need to follow to ensure genuine trademarks are protected and sold to the valid entity.........."The trademark-holder will need to register their trademarks with the ICANN Trademark Clearing House or the Mark Validation System.- Lucky Masilela.
The .africa domain will be available to the general public from the 4th of July, 2017. You can visit the official website and enter your email to be alerted when it goes live.