Gone are the days when natural hair was described as untidy and untameable. In recent times, Nigerian women are embracing their unruly kinky hair with all joy and pride. It has evolved into a sort of movement, where women have different online (and offline) support groups. They give tips on natural hair care and recommend salons and products. Their natural hair is seen as empowering.
While Nigerian women are not shocked at all at the different textures and length of their non-chemicalized hair, the same cannot be said of their counterparts in the US where hair, especially black hair, has its own politics and is not so widely accepted. There is still an 'acceptable hair standard' in the West, which black hair does not fit into.
However, Ngozi Opara, the founder of the Heat Free Hair Movement (HFHM)- a range of natural hair extension and wigs is all about giving more power to black women and showing that with they (with their thick black hair) are enough.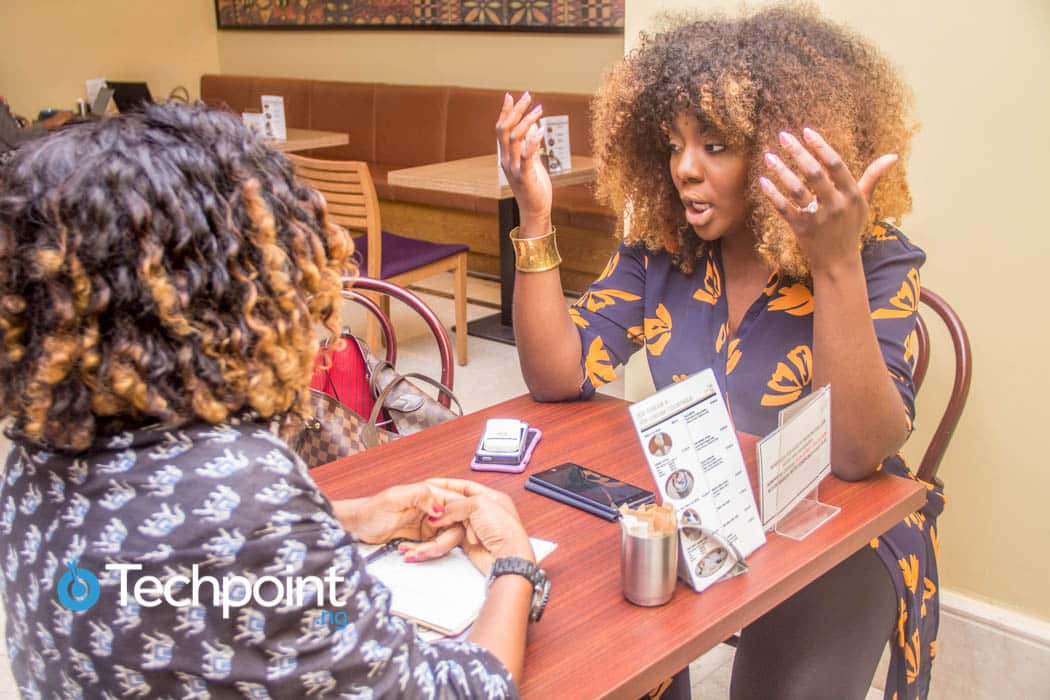 In 2012, Ngozi, a natural hair stylist wanted to give women weaves and wigs that are closest to their hair textures. This led her to train with some of the leading hair manufacturers in China. She leveraged on technology to produce heat and chemical free-virgin human hair which has become a favourite among celebrities and superstars.
Techpoint spent an afternoon with her to discuss the amazing result of the union of tech and natural hair - the Heat Free Hair Movement (HFHM).
Omotola Omolayo for Techpoint.ng(OO): How did natural hair come to be for you? At what point did you decide to keep your hair natural?
Ngozi Opara (NO): I became natural by mistake. I was someone who used relaxers in my hair my entire life. But by the time I was 14/15, I just stopped caring about my hair. I was an athlete, I didn't have time, I just didn't care. And I eventually stopped perming my hair. Not because I wanted to go natural, but because I was tired of doing my hair and over time, I noticed that I was growing really thick roots and very thin ends and my hair would come out in clumps because the relaxed part was breaking off and the natural part was forming.
It got to a point where I had pretty much an afro with little strands of straight hair. At the time, I thought "oh my God, I look so ugly, so let me cut it off". So I guess I big chopped before it became a thing. At the time, the only natural hair product that was out was Carol's Daughter products and they just opened up a store where I felt like "I really want to work here". Fortunately, I got a job there and started my natural hair journey as a Carol's Daughter employee and customer.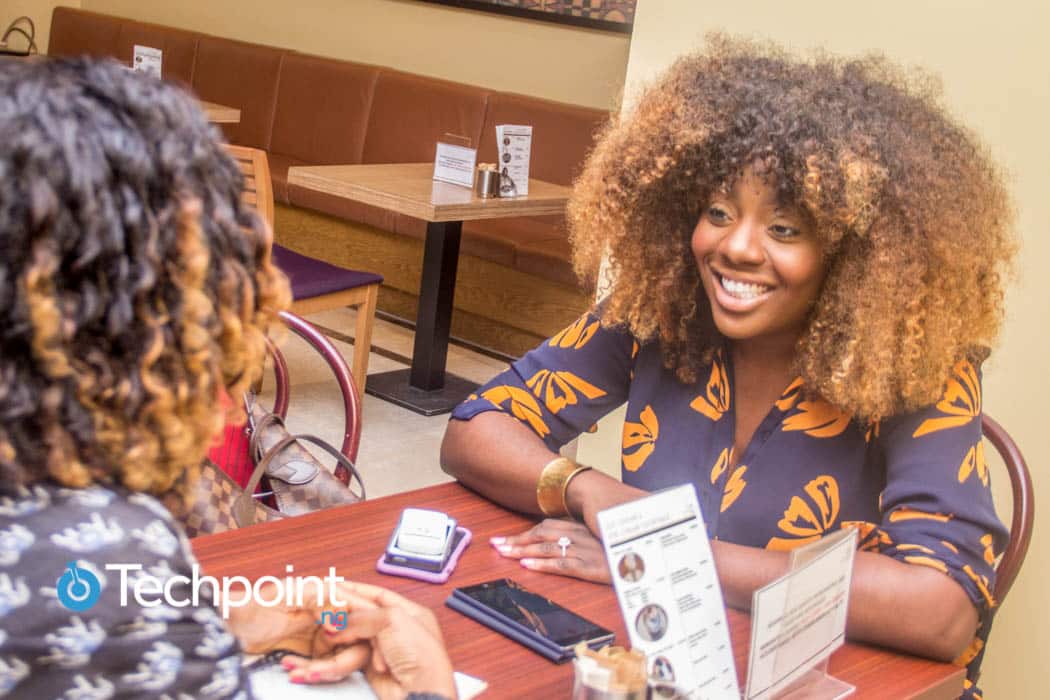 OO: How was that experience for you?
NO: I was 16 at the time, it was a dream job. I worked my way up to be a manager, where I managed the regional stores over time. With that experience, I became a natural hair pro. But I was still a hairstylist. I studied cosmetology as a part-time in high school. But in cosmetology, they don't teach you anything about natural hair, it was just colour, rollers, finger waves. So for me, it was just a new journey that I embarked on when it wasn't cool to embark on such. I had so many bad hair days along the way.
OO: One that stands out?
NO: That was when I was transitioning when the relaxed part of my hair was falling out. I just didn't care. I was supposed to take school pictures and my mom said I had to do something to my hair, which was quite embarrassing. So I said fine. Then, I mixed water and lotion and put in my hair, tied it in a ponytail and took my class pictures. So today, I would never put out those pictures. You could see the afro at my roots and a teeny ponytail with straight hair hanging on for its dear life, looking like it's going to die. So yeah, it's been a journey.
OO: So what birthed the Heat Free Hair Movement?
NO: The Heat Free Hair is something that once again I fell into by accident. It wasn't something I dreamt about. I was working in Finance, as an analyst at a hedge fund and I had a hair salon on the side. I was doing hair after work. That was in 2010/2011 when people started becoming more aware of natural hair. YouTube started creeping up. Maybe one or two natural hair bloggers were out there. So I started getting a lot of clients who were saying "I want to go natural" and at the time, I had been natural for over five years. My hair was this massive afro. So people would be like "we want our hair to look like that" and I would say "yeah, we could use synthetic hair and try to make it work" But the synthetic hair was heavy and it didn't look natural. So I'd say let's use weaves to transition, so we would cut some of your hair, weave and it will grow out, cut some more and weave. It will grow. That was the transitory period.
However, this was before closures and lace and all that stuff. Then you would have to leave a bit of your hair out on the weave and get it to blend with the hair. My clients that were trying to get rid of the relaxer and go natural needed to use hair that would allow them to do that. And there were no options available, so we would use wavy Indian hair, we would then straighten their leave-out to blend with the hair textures.
After a while, you know, I was preaching to these women about healthy hair, but I started to feel like a hypocrite because I was literarily 'frying' their hair to get it to blend with these textures that did not look like theirs. So for me, I started thinking that there has to be a way for these women to go heat and chemical-free and still use weaves, wigs and extensions as their protective style of choice.
One of my clients said that "there should be some form of heat free hair movement or something" I was like hmm.., heat free hair movement, interesting! What would that entail? And she said,  "you know you're all about protective styling, maybe  you can teach classes or do tours and it will be so cool if you can make hair that look like ours." That was where I got the idea that I had to figure out how to do all the three things she mentioned.
OO: How was the research process for you?
NO: It was strenuous. It was crazy because one of the downsides of pioneering something is creating a new marketplace that has not yet been established. One cannot really do a lot of research. You are not pulling out of the competition and seeing what you can do better or their failures. You start from scratch. So for me, it was a point where there weren't a lot of hair companies. For me, I just started studying YouTube girls, studying the textures of their hair. So what do people like the most and how can I recreate that?
So I came up with two hair textures initially, (now we have 4). I decided that we need something really kinky and curly. So 'For Kinks' and 'For Kurls' were my initial two collections. I started looking for manufacturers and overseas factories. What I learned during that process is that when you go through the Aliexpress, Alibaba and all those trading websites, you are not directly dealing with manufacturers. Instead, you are dealing with trading companies that now have to go and source for manufacturers. So for me, I was trusting these people that they had factories and manufacturers that could make the kind of hair that I had in mind.
After a while, I got a trading company that said, "show me a prototype of what you want and we can remake it. However, there were no prototypes, so during that research phase, I had to cut off some of my hair for the Kinks collection and take a lock off my customer's hair for the Curls Collection and sent it to this random company, to see if they could make a sample. They made a couple of samples that looked halfway decent and for me, halfway decent wasn't enough.
While I was testing to see if I could find other samples that were better than this unsuccessfully, I decided that we should launch the ones we already had, since we had no competition at the time. So we launched and I was not expecting it to go viral. The response was crazy. I had a friend that was a hair vlogger and she was wearing the Heat Free Hair on one of her shows and people were like "we want her hair". It quickly became a thing. Everyone wanted the Heat Free Hair. But I had not finished testing the product yet; so just as quickly as we went up, we instantly had an outpouring of crazy responses where people were like, "what the heck is this?" "This product doesn't last, it sucks" "Is this even human hair, blah blah blah."They are making all these claims".
In the beauty industry, you better back up those claims, because people care about their skin, hair and generally how they look. So when we got the negative feedback/press, throwing under the bus for a few months, I said, we can only do one of two things. Throw in the towel, quit and give up the business or we can go deeper.
I decided to go deeper. So I moved to China during that time and worked on human hair manufacturing. So talk of wavy, straight, curly hair manufacturing. I started learning everything there is to know about hair extensions.  In China, I was able to create the technology to form the actual kinky and curl pattern and that gave me a sense of pride and joy. Now, I actually know what I am talking about as I had a hand in creating the hair. Then I was ready to go back out and re-launch and be okay.
OO: How were you able to balance your work as a financial analyst and being a hairdresser?
NO: In my first year of business, I did not sleep. I would work 9-5, and during the fiscal year, it was 9- midnight. But during my 9-5 weeks, I would do clients' hair from 6-10 and I would package orders for my business from 10- 3 am, sleep for a few hours, wake up and take my order with me to work.
During my lunch break, I would drop them off at the post office, come back to work and bang it out. I was a machine, that year. The resultant effect on me was horrible, Soon I had acne, weight gain, stress, hair falling out, it all happened to me. That was a big turning point for me, where I did not have time for the normal things of life, like sleep, food. Then I had to go to the hospital the boils that had developed on my face. The doctor told me that those lumps appeared on my face due to stress.
But during that time I was really hungry. I was hustling and that's what I tell young entrepreneurs, never lose that hunger, because, when you get comfortable, you sit on your success and people creep out of nowhere and take it from you.
OO: Tell me about the re-launch and your time in China
NO: I had to apologize to everyone for a sucky product and everything that was wrong with the brand at the time. I asked for an opportunity to let us prove to them that we can do a better job. And we knew that this time around, we had to do something impressive. Also, we had to hike our prices because we are now manufacturing and not just trading. We then launched the "For Koils" collection, (which is the third). With an active social media push, we have been thriving ever since.
Living in China was tough. I was living in a factory, under certain conditions that one would not think of living. It was hot and I was sharing a small room with four other people. Then, there's the language barrier --  I had to hire a translator -- and the food barrier. It was all shocking. But once I got over myself and let go of all of that, I had such an amazing experience. I love the culture, which is similar to my own Igbo culture. The workers love their jobs and they get paid well. It was all really impactful to me.
OO: What is the role of technology in the creation of HFHM
NO: Technology is everything. It's a big thing. It's even bigger now than it was then. There are multiple forms of technology that have played a role in HFHM. There is the manufacturing side of technology, and that is using certain machines and processes to create patterns and textures without damage, chemicalization or alteration of the hair. The process of creating a hair texture requires a lot of technology, from hand movement to temperature.
Thinking through and eventually birthing ideas that were once abstract is amazing. One of our hair requires 36 steps to make a bundle. People don't really understand the type of advanced technology at play there. Also in operational efficiency, technology has come to the rescue to make it really easy. We have support software that helps us with our operations, marketing and sales. And we are still constantly turning to technology to fill in the gaps in the business.
As we talk about the direction in which we go in the future, technology has played a huge role in how we want to roll out our 3-5 year plan for the brand. That is looking into how to incorporate and combine tech and beauty. That is how we have been honing in on for the past two years.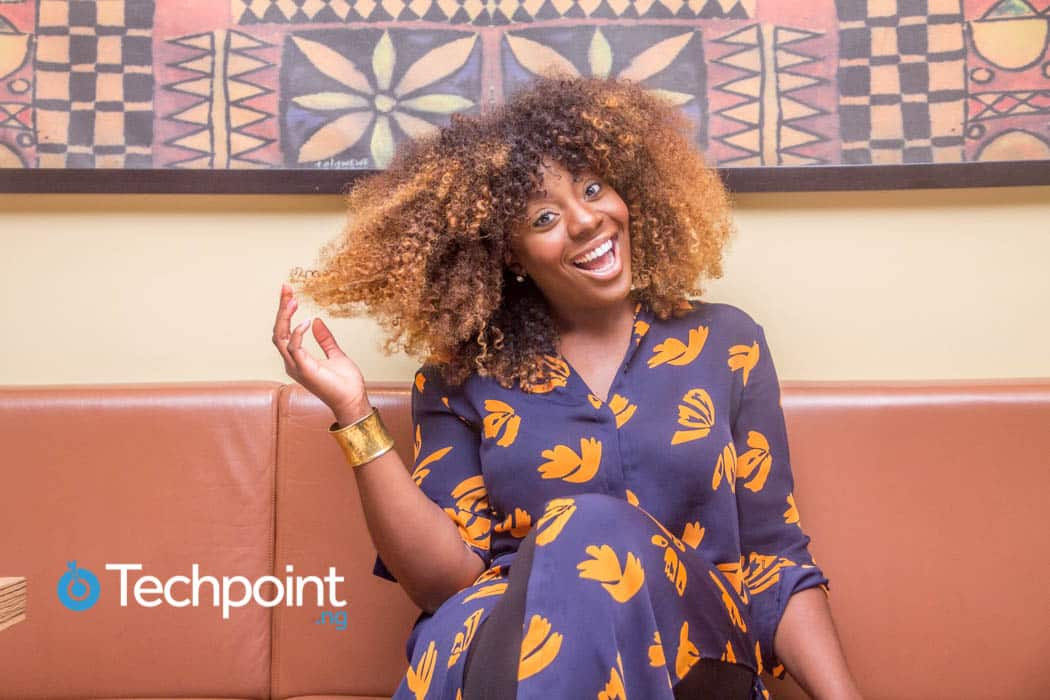 OO: How did being Nigerian, Igbo (or black in the Western world) play out in the creation of this brand?
NO: My industry (the beauty industry), is predominantly owned by men and they are not black. They are White and Asian. And while they have black women as the face of the company, they are the real owners. Initially, I had a lot of opposition. People tried to cheapen by my efforts and sweep my work 'under the rug' I was hearing from celebrities there are other male White/Asian-owned companies telling them not to work with me.
Black businesses tend to go under a lot of scrutiny from their own people, just because there is a standard that a lot of black businesses don't tend to uphold. So there is this "I don't support black business" that black people throw out at you. So if anything goes wrong, you hear the phrase "this is why I don't support black businesses" However, there are people out there as well, who would support you because you own your brand. So there are positive and negative sides to it. Sadly black women don't support each other. Their competitiveness comes to play in the beauty industry, where it is like the dog eat dog thing. For me, I had to step outside the industry and focus on the brand, product, innovation and service. That's how I stay afloat.
OO: Most of your customers are Nigerians. How empowering is this, to know that your brand is supported by your homeland?
NO: HFHM empowers women to be beautiful, confident and be aware that being natural, nappy, kinky or curly is okay. When I started HFHM four years ago, I came to Nigeria , they did not accept the concept. It was all about the Brazilian and Peruvian hair. It wasn't until it moved to the US/UK before it caught on in Nigeria. Nigerians started seeing how dope their hair is and the movement was gaining ground. I would come for some events at Kinky apothecary ( which started the natural hair movement in Lagos) and the more I came for her events, the more the HFHM became embraced by Nigerians. It has been amazing to watch the transition. They soon discovered that that having a wig of your natural hair texture empowers you.
OO: What are your 3 tips for being a badass womenpreneur?
NO: Positivity pays off. A lot of women tend to be extremely competitive. Women think if they are not divas, they will not be respected. But you should know that respect comes from the kind of work you put out there. Be positive and maintain a spirit of gratitude and excitement about what you are doing and more good and positive things will come back to you.
Don't be in a rush to quit your job. No, no, no don't quit just yet, until your business has taken off and it's making enough money to cover your bills.
Check your 'why'. Why do you want to do this? Business is too hard and crazy to do just because of money, or some competition. If those are your reasons, then step aside, because it will drag, kick and step on you. So you have to find a 'why' that will keep you going despite all of that. It has to be bigger than you