Introducing Techpoint AMA Live Sessions
Techpoint AMA Live Sessions is a live-streamed video series which will host high-profile tech industry players who will be open to answering any of your questions regarding their career, personal life, fears, and goals.
On this pilot edition of Techpoint AMA Live Sessions, you will get to question Jason Njoku, the "Nollywood geek", just about anything. Jason sits atop the largest platform for Nollywood movies and TV series -- iROKOtv.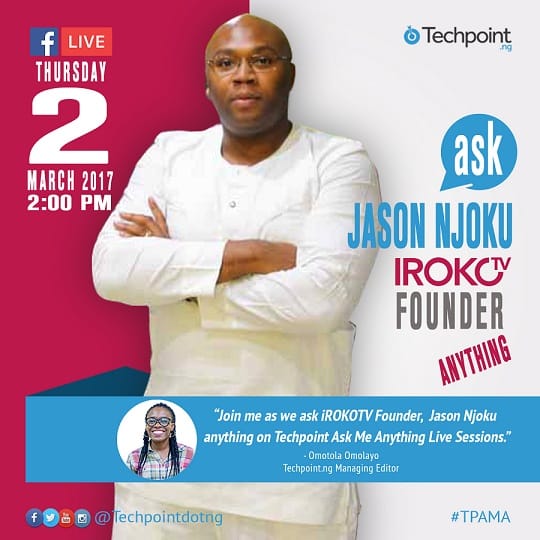 The live session will be aired on Thursday 2nd of March, 2017 by 2PM (WAT), via our Facebook Live platform (like our page for updates).
If you are a lover of Nollywood movies and iROKOtv, you should totally save this date to your calendar.
This Week on Techpoint
---
Watch a video version of this newsletter or read on below
Konga is finally profitable. This is good news for Nigerian eCommerce. According to Kinnevik AB's latest report, Konga reached "break-even point before overhead costs" for the first time in September 2016 and is finally on its way to profitability.
---
Local furniture manufacturing meets eCommerce. Still on the matter of eCommerce, we take you on a tour of the Skarabrand factory.
Skarabrand is an online furniture provider that is involved in 100% of the entire process; from concept to design, through manufacturing and delivery. During the course of our tour of Northern Nigeria, we got to visit the factory.
You really need to see it for yourself.
---
What's endorsement got to do with it? Nigeria has become the first nation to respond to the call by the Alliance for Affordable Internet (A4AI), to adopt the global target for affordable internet access.
By extension, this could bring down cost of data in Nigeria to as low as ₦360 for 1 GB. But it's not as easy it sounds.
---
What if we told you paying rent monthly is possible in Lagos?  Here's an interesting find of the week.
Ifeanyi Ndiomwese profiled 'PayMyRent', a startup that looks to take the burden off Lagosians having to pay bulky annual rent, by providing loans and allowing repayment to be spread over, on a monthly basis.
If these guys pull it off, they could become heroes overnight.
---
3 tech trends that will dominate Africa in 2017. The year 2016 blazed a trail for technology worldwide, but 2017 looks bigger. Based on figures, here are 3 tech trends that will dominate Africa this year.
---
Atlanta  tech loves Lagos. First it was Mark Zuckerberg, then came Y Combinator and 500 Startups. And now, another investor is coming to Lagos to scout for Nigerian startups.
Tyler Scriven, the Managing Director of Techstars Atlanta, will be travelling with the Ingressive's Tour of Tech between February 27th to March 4th, and interestingly, Lagos, Nigeria is his first stop.
---
Consumer Weekly
Do you remember the Nokia 3310? Good news. That sturdy and reliable classic mobile phone is making a comeback, 12 years after it was discontinued.
In anticipation of its imminent comeback, we made a list of 6 things we remember about the Nokia 3310.
---
This post is an extract from our weekly newsletter. If you would like to receive summaries like this every week in your email box, you can subscribe here.