How the mighty have fallen! BlackBerry's global market share recently hit 0%. This was confirmed in a report published by the IT research firm, Gatner a few days ago which revealed that more than 432 million smartphones were sold in the fourth quarter of 2016.
While Google leads the pack with 352.7 million smartphones running the Android OS sold in the fourth quarter of 2016, which amounts to 81.7% of the market, Apple's iOS follows with 77 million units sold and a market share of 17.9%.
Disappointingly, only 207,900 BlackBerry devices running its own operating system were sold,  leaving the company with a total market share of only 0.0481%. However, these figures do not include BlackBerry smartphones that run the Android operating system.
The story has not always been bleak for the Canadian company. In 2009 Blackberry could boast of around 50 % of market share, which was a very remarkable feat. Before the modern smartphone era, it was common for people to suffer from BlackBerry addiction, it was loved and wanted by all.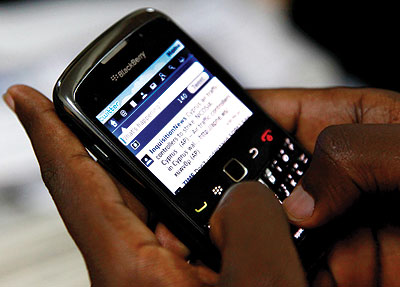 As the first company to introduce handheld mobile devices with QWERTY keyboard and email services, BlackBerry devices became the first choice of world leaders, business moguls and soon became a symbol of status. Obviously, a lot has changed in 2017, what happened to our once most cherished BlackBerry devices?
Well we all know what happened, we witnessed the birth of sleek touch screen phones with added features and iPhones and Android devices soon became one of the most sought after devices on the planet leaving BlackBerry on its heel.
We can give countless reasons why we think BlackBerry didn't play their cards right but one thing remains clear, the tech industry is fast paced, in fact, everything is fast paced thanks to technology. Many barriers to business have been lowered especially in the tech industry, with an innovative mind and access to the internet, there is no telling what a newbie can come up with.
Even though the Nigerian Tech industry is only just blossoming, the competition is getting fiercer and we are bound to hear more tales like the rise and fall of the BlackBerry. Just as Jacquie McNish rightly said about the tech industry "The race is faster than ever. It never ends, and the people who are the leaders today will most likely be the followers tomorrow because it's very, very difficult to stay ahead."
So to all the players in the industry; " keep your head in the game" and to all the aspirants looking to join, "there is enough space to thrive"