Ogunyemi Damilare founded PayMyRent on the 10th of May, 2016 to help tackle all issues associated with paying house rent in Lagos. At its core, PayMyRent, takes up the burden of paying for users annual rent by providing loans and allowing repayment to be spread on a monthly basis.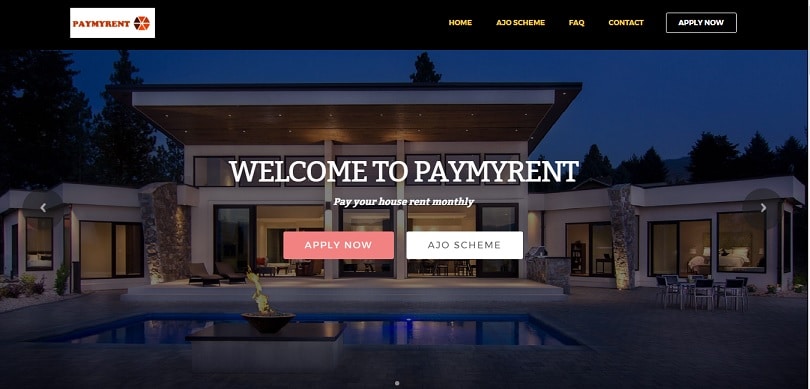 According to Ogunyemi, the path towards applying for a loan is quite fast. You can apply on the website and, provided all requirements are met, get your application processed "within minutes", with funds deposited into your account.
PayMyRent claims to give loans ranging from ₦100,000 to ₦2,500,000. The amount one can actually borrow largely depends on their monthly salary. After reviewing submitted applications, PayMyRent communicates the amount an applicant can access.
The catch
In order to complete a successful loan request, you'll be required to present:
6 months bank statement showing last six salary entries;
copy of employment letter/letter of confirmation/recent promotion letter;
NURAN Compliant post-dated cheque from salary account/direct debit mandate for savings account;
recent utility bill;
2 recent passport photos and copy of staff identity card;
copy of pension statement or Tax ID Number.
Of course, interest rates -- ranging from about 3 to 5% -- apply on the loans, depending on the user's credit rating.
Impressions
Anyone that has ever put up with paying house rent, especially in the cosmopolitan cities, will agree that it can be a difficult activity. From dealing with third-party agents to parting ways with a huge amounts for rent, the experience could prove gruesome.
With this model, there is no denying that PayMyRent could actually have a chance of survival in a difficult terrain like Nigeria. But as an emerging enterprise, with perhaps limited financial support, one wonders how the startup intends to provide loans to million of Lagosians who will find the platform interesting. Not to mention the potential bottlenecks the rigorous application requirements present.
For businesses like this, it seems fitting to hit the ground running with enough cash. But who knows, PayMyRent may as well have this adequately covered.
.     .      .       .
Discover new startups every weekday by 9am (WAT) | Pitch your startup here.