UPDATE: We are live now on Facebook.
---
Rejoice, Nollywood movie lovers! We are hosting the founder of iROKOtv, Jason Njoku, on Techpoint AMA Live Sessions (#TPAMA) on Thursday, March 2, 2017.
#TPAMA is a live-streamed video series which hosts high-profile tech industry players who will be open to answering any of your questions regarding their career, personal life, fears and goals.
On this edition of Techpoint AMA Live Sessions, you will get to question Jason Njoku, the "Nollywood geek", just about anything. Jason sits atop the largest platform for Nollywood movies and TV series- iROKOtv.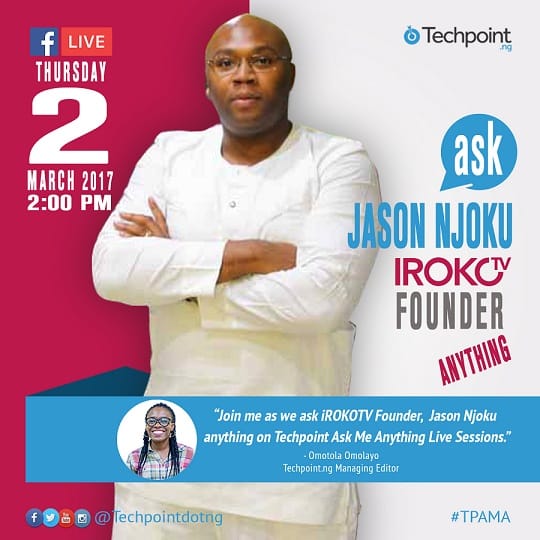 With help from his friend and business partner, Bastian Gotter, Jason founded the subscription-based platform in 2010. While he studied Chemistry at the University of Manchester, he started on his path to entrepreneurship in 2005.
A serial entrepreneur and investor, Jason has first-hand experience in raising (or not raising) funds, building (and losing a team) and other challenges that most startups in Nigeria face.
He has also invested in over 13 Nigerian startups such as Hotels.ng, Drinks.ng, ToLet.com.ng and OgaVenue. According to him, he has "made every single mistake that every incubator or Angel Investors would make in Nigeria."
Join us for an interesting live video chat with Jason Njoku on Thursday, March 2, 2017 by 2PM via Facebook Live video.
For updates, in the lead up to, and during the session, like our Facebook page.
You can also send in your questions in the comment section below or during the live recording.