Wearables refer to technologies that are smartly incorporated into items of clothing and accessories worn by individuals. An entirely new category of computing technology, wearables perform the same functions as their more established counterparts.
Beyond that however, they are able to provide sensory and auxiliary features which are typically not seen in mobile phones or laptop computers. They don't necessarily have memory, processors or (sometimes) even screens, but they are every bit as much as a computer, crunching personal data and communicating wirelessly with other gadgets.
The International Data Corporation (IDC) predicted in 2014 that the worldwide wearable computing devices market would reach a total of 19.2 million units. As at the end of 2015, about 78.1 million units were sold, showing the positive impact the innovation of the wearable technology has brought.
In 2012, Google unveiled Google Glass, a head-mounted gadget which displays information in a smartphone-like hands free format. It enabled wearers communicate with the internet via language voice commands.
In 2013, Samsung also announced the Samsung galaxy gear and in April 2015, Apple released the Apple Watch which beams messages, Facebook updates and simplified apps eliminating the all too common need to constantly take out one's device to check notifications.
Wearables in Africa
In 2014 Cladlight, a Kenyan startup, launched possibly the first wearable technology of African origin in the form of a smart jacket to be worn my motorcycle riders. This was created in a bid to curb road accidents involving motorcycles.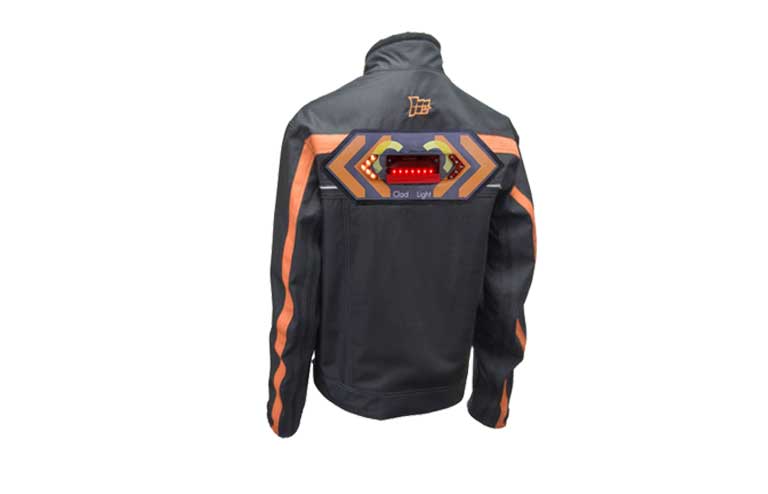 In 2016, local OEMs in Nigeria also joined the wearable technology bandwagon. Infinix Mobility, for example, introduced the Infinix X Band. Tecno also introduced the T-Band, which came bundled with the Tecno Camon C9.
According to the IDC, since the introduction of wearables in 2013, the African market experienced a growth of 89.9% in the first quarter of 2016. To monitor the current sale of wearables, the IDC launched a tracker, which would help in promotion and development. According to the information that was gotten from the tracker, Africa received about 112,712 units, which is a large amount of sales, in the year 2016.
According to Nakul Dogra, a senior research analyst for personal computing, systems and infrastructure solutions at IDC Middle East, Africa and Turkey, the growth of the "wearables market provides a rare ray of light amid an overall downturn for personal computing in the region".
The IDC forecasts a compound annual growth rate of 20.3% for the 2016 - 2020 period, this will be driven primarily by the adoption of smart watches.
The advent of this new form of technology has made individuals in Africa to become more conscious of the state of their health. Driving along the road in the city of Lagos, Nigeria, you get to see people walking around in sports outfits with pedometers strapped to their arms. Individuals in gyms can also be spotted with one smart wristband or technology that can be connected to their laptops.
Issued faced by users of wearables in Africa
In Africa, there have been great results in terms of sales in the wearable market, but there are still many hindrances to the adoption of wearables in the continent.
The price per purchase of wearables is one of the issues that users face in the acquisition of the new technology. Those who are able to purchase have issue of maintenance, as the limited availability of official service outlets forces them to patronise unregistered engineers to work on these expensive devices.
Patchy connectivity on the continent also serves as a hindrance, as users are often unable to update link-up applications either because of the very expensive data cost or lack of internet in the area.
Lee Naik, who is the MD digital of Accenture South Africa, said in an interview ITWeb that a lot of South Africans spend a bulk of their wages on the purchase of wearables. This may be good news to the technological market but the long term consequences could outweigh the initial benefits.
Lee also pointed out that some wearables seem socially awkward for an individual to wear in public places. Smart watches can be worn at any point but other wearables, such as Google Glass, can't just be worn on the walk way; they'll look awkward to the eyes of other passers by.
The use of African of wearables in African companies, which come as incentives, comes in form of embedded chips bio-sensing devices to track employee behaviour, causing them to be labelled intrusive in some sense.
The facilities needed to grow the wearables market in Africa are available but they can as well be improved upon. Many countries in Africa are still trying to reduce the cost implications of purchasing data, low broadband penetration and also bad internet.
For wearable technology to be completely adopted, local players have to step up their game, as the industry holds promise. Asides simplifying daily tasks, such as ensuring users don't have to take out their devices in public paces, wearable have the potential to increase social interaction in years to come.