To kickstart 2017, we have curated tech events that seek to provide an avenue for industry professionals to converse and at the same time share knowledge.
Here is a list of tech events happening this week (Monday, 2nd January – Monday, 9th January, 2017).
Digital Health Meet and Greet
Digital Health Nigeria is organizing a meetup to network and build a community of health technology entrepreneurs, practitioners and enthusiasts.
The meetup is targeted at individuals involved in the Nigerian health technology space to have conversations about individual goals for the next year and collectively begin the creation of the digital health ecosystem in Nigeria.
Click here to sign up for the meetup.
Date: 4th January, 2017
Time: 10am - 1:30pm.
Venue: Cafe Neo, 19B Adeyemi Lawson street Ikoyi. Lagos, Nigeria.
forLoopBells
Forloop is organizing an event for aspiring developers. The attendees will learn how to build a mobile app from scratch. Some industry experts will provide knowledge on how to build android mobile application from product specification, design, backend development, mobile development, testing and advertising the application on facebook and google.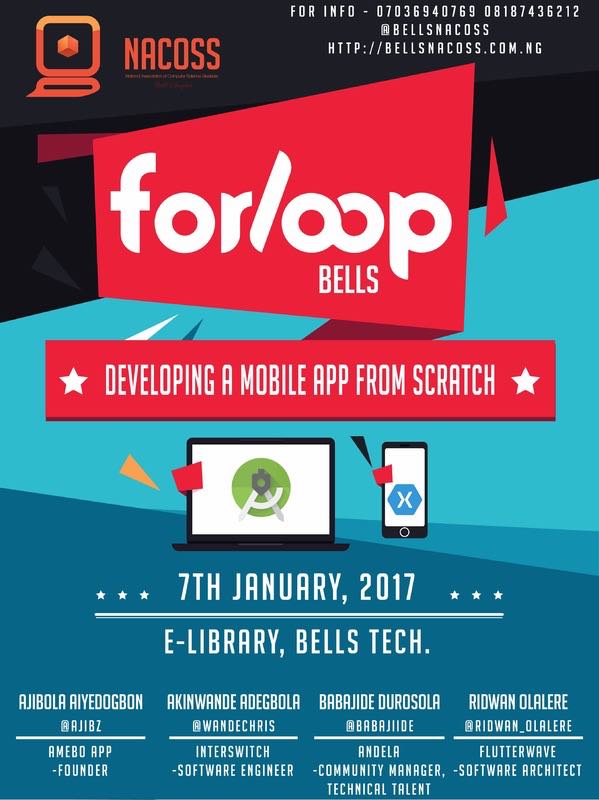 There will be opportunity for non coders, so you don't have to know how to code to enjoy this experience. To sign up for this event click here.
Date: 7th January, 2017
Time: 12noon.
Venue: E-Library at Bells University of Technology, Ota, Ogun State, Nigeria.
*  *  *  *  *  *  *
Editor's note: Are you organising a tech event? Tell us about it by filling this form.