This week marks the end of December, 2016 with quite a few tech events happening. The tech events happening this week is all about trainings and meetups in the tech industry. Here is a list of tech events happening this week (Monday, 26th December – Monday, 2nd January, 2017).
Digital Marketing Training by CoLab.
CoLab is offering a free digital skills training as a first step to help individuals understand the opportunities the internet offers. The sessions feature an intensive 3-hour training with 1 extra hour for questions and answers.
The curriculum includes important topics like: The Online Opportunity, How to build Your Online Presence, Introduction to Advertising Online (SEM, Adwords), Job Opportunities in Digital.
You can sign up for the training.
Date: 28th December, 2016.
Time: 10am – 2pm.
Venue: CoLab, 4 Barnawa Close, Barnawa, Kaduna, Nigeria.
Code Pyramid December, 2016 Meetup
CodePyramid, a meetup based in Kano, is organising an event this weekend for techies. CodePyramid which is fondly referred to as "Nerd Club" has been an informal group with software developers, graphics designers, web designers and other techies meet monthly and organise hackathons.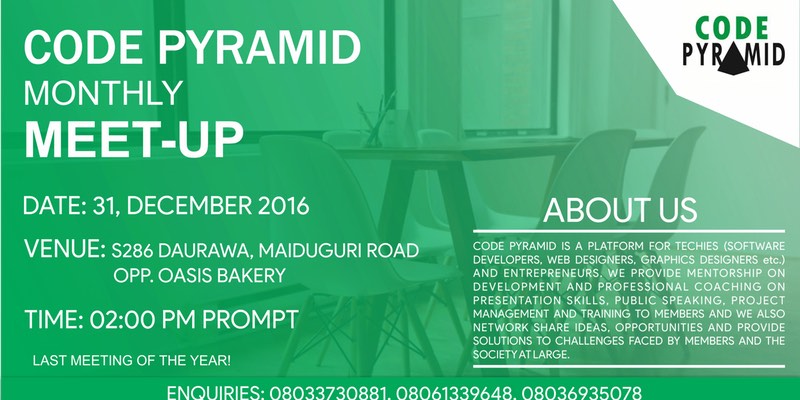 If you're interested, you can register here.
Date: Saturday, 31st December, 2016
Time: 1:30pm - 4pm.
Venue: Sahel Academy Daurawa Maiduguri Road, Opposite Oasis Bakery, Beside Azman Filling Station, Kano, Nigeria.
******************************
Editor's note: Are you organising a tech event? Tell us about it by filling this form.