UPDATE: The NCC has halted the proposed data hike and the Nigerian Senate is trying to take all the glory.
------------
When the Nigerian Communications Commission(NCC) removed the data floor thereby giving telcos the liberty to competitively lower their data prices, we knew it meant dirt cheap data for all.
The ongoing Data Wars have been a source of joy to data consumers in Nigeria as it meant huge slashes to data prices from telcos and competitive offers to woo them (the consumers).
Suggested Read; Data Wars: A race to the bottom
The era of the data wars is fast coming to an end as the NCC has mandated telecommunication providers to increase their data tariffs to new official rates set by the commission.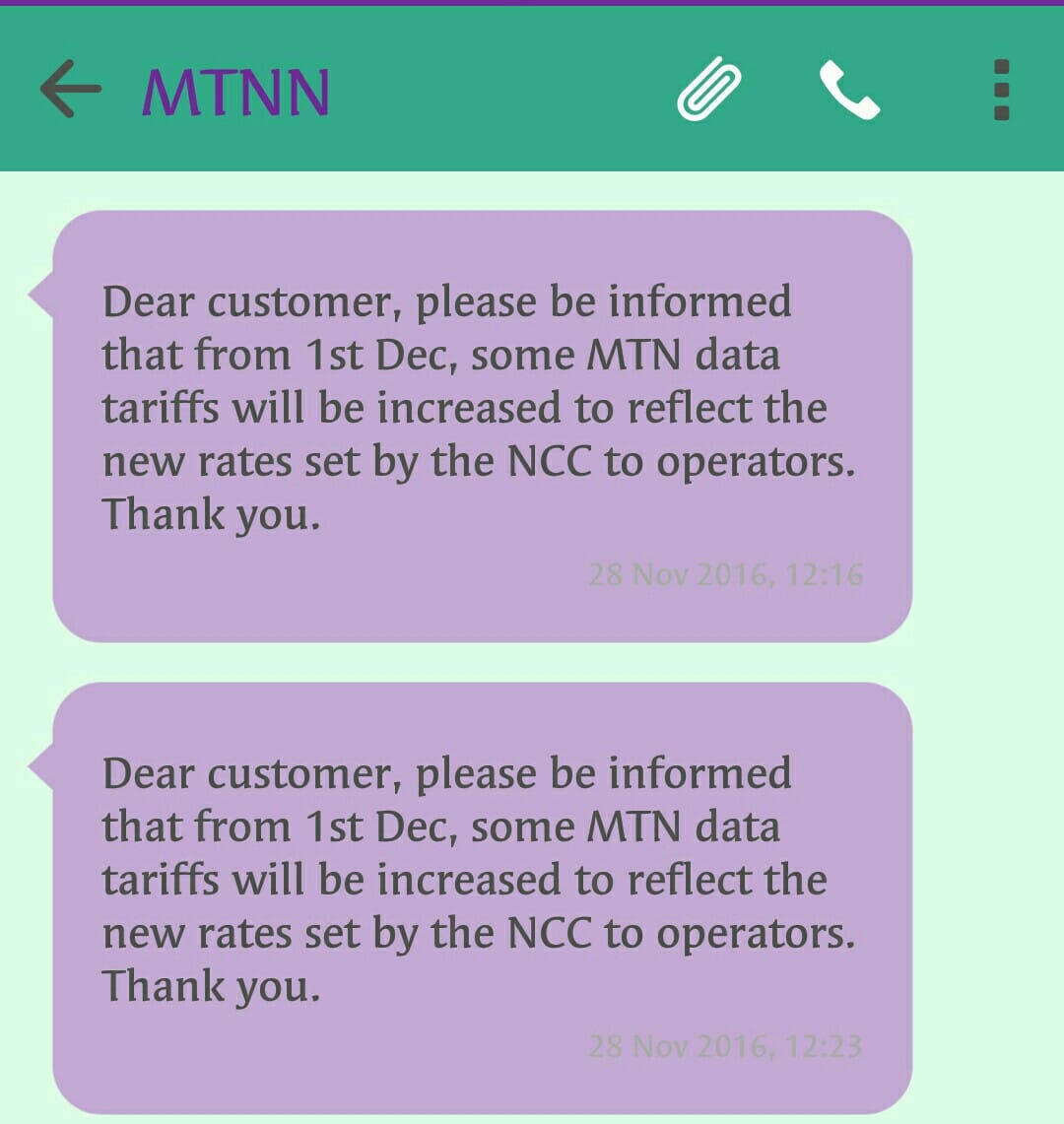 The text message from MTN said,
Dear customer, please be informed that from 1st Dec, some MTN data tariffs will be increased to reflect the new rates set by the NCC to operators. Thank you.
The new tariffs have not been officially put out by the NCC, but there is speculation that  500MB may cost as much as ₦1000; that is nearly double the present cost.
One issue that bothered a lot of subscribers was that a reduction in price of data will translate to a reduction in the quality of internet services, but nobody envisioned there would be a rude jolt from the pleasant reverie that cheap internet has become.
Implications
The current harsh economic climate in Nigeria has seen to it that the price of everything has doubled while sizes are reduced to the bargain. It started with petrol a while back, now even Gala -- the most popular sausage roll in Nigeria that has been ₦50 for more than a decade now sells for ₦70.
This intended hike in data prices will also adversely affect the penetration of broadband internet access in Nigeria.
Suggested Read; The Communication Tax Bill will hinder broadband penetration in Nigeria
In September, the Nigerian Communications Commission(NCC) confirmed that internet penetration in Nigeria has gone up from 10% to 14% in 2 years and were optimistic that it will reach 30% by 2018. But there is no way that is looking feasible with an increase in the cost of data.
On the other hand, the increase violates the first point in the 8-point agenda provided by Professor Umar Danbatta for the moving forward of the communication industry. The agenda which is to;
"Facilitate Broadband Penetration
Vision: Provide and optimize access to and use of affordable fixed and mobile broadband everywhere in Nigeria.
Strategy: Facilitate and support availability of broadband services by promoting deployment of universally available, fast and reliable network infrastructure that will stimulate seamless broadband penetration to drive technology innovations and overall productivity of the economy."
It is still unclear what the monies gotten from taxing subscribers would be used for that is far more important than increasing the flailing broadband penetration in Nigeria, but until the prices are announced, we can only wait.