A few weeks back Oo told me that Nigerian startup founders (including myself) lacked ambition. That they think once they get to ₦50m/year in revenue we have 'made it' so then relax. That in SF, people think about world domination, then spend whatever it takes to get there. I smiled. Do you know how hard it is to generate ₦50m/year in revenue in Nigeria? In a word. Brutal. Like really really brutal.
Generating revenue in Nigeria is like breaking rocks and then bleeding them. For consumer internet companies, it's something akin to the perfect storm. Customers don't want to pay and will frustrate you for every Naira you earn. Even when you verify a lead and send to a business customer and have a contract saying you they are obligated to pay a commission. They still frustrate the hell out of you. The difficulty in getting paid in Nigeria has to be a silent killer of companies. Its one of the most frustrating things about operating in Nigeria. Its a cultural thing not something FinTech can solve.
Let's zoom out a second
Africa is home to 700 companies with annual revenue of more than $500m, including 400 with annual revenue above $1 billion, and these companies are growing faster and are more profitable than their global peers. But Africa needs more of them. It has a lower number of large companies  — McKinsey.
Private Equity in Africa
The pool of investment targets is growing. Most funds focus on companies that are considered very large in Africa's context  —  those with annual revenues of more than $100m, assets of more than $200m, and more than 1,000 employees. There are some 5,000 such companies on the continent, and their number is growing.
However, there are nearly 11,000 African companies with revenues of $10m to $100m, assets of $20m to $200m, and staff of at least 150. This is the fastest-growing segment of African targets  —  but it remains off the radar of most large private equity funds and principal investors — Boston Consulting Group.
And then we have our beloved Nigeria. GTBank currently enjoys the largest market cap on the NSE. Below is their business segmentation (account holders).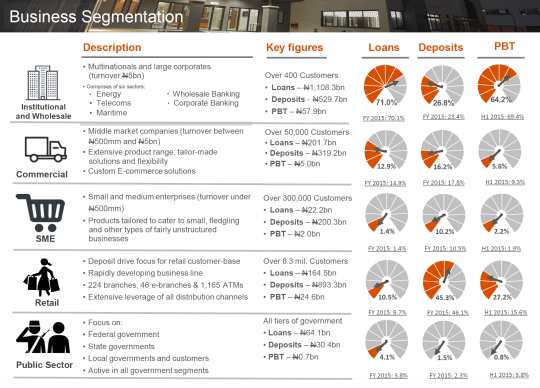 When people tell me about a lack of ambition in startup founders, I look at my surroundings and realise that Nigerian companies who operate within Nigeria are ultimately grounded by their surroundings. And guess what people, sorry to tell ya, but to create a ₦50m/year revenue business is really really really hard. The Spark 2.0 model is to fund ₦5–20m investments in companies who are looking not to raise further capital, but who are focused on building a company which sees the ₦50m/year milestone as a possibility with that capital.
I sit in Nigerian entertainment. Arguably, as a collective, significantly more mass market, dynamic and revenue generating industry than consumer internet is today. Our top 10 production studio partners easily generate ₦100m/year (at least 50% from iROKO alone). But this is in a 20-year industry which is very mainstream with many structured (albeit immature) revenue opportunities. iROKO acquires content from easily 100+ production houses per year.

Of GTBank's 350,000 business customers, 300,000 or 86% fall within the <₦500m bracket, so that would include someone who is making ₦5m/year too.
This is the reality of Nigeria. Yes, there are 180m people. But we are not a 'rich' nation. The last few years have seen the middle classes completely hollowed out. So a prime market, it is not. The companies created here are not actually that big (compared to SA it's comical). FirstRand (market cap $19.8B) / Standard Bank ($17.2B) / NedBank ($8B). Let's see; GTBank ($2.1B), Zenith ($1.47B) and FBN Holdings/FirstBank ($350m). I would argue that NedBank, the third largest bank in SA, is probably the size (market cap) of the entire banking industry in Nigeria.
So, who cares? And why does this matter in the wider scheme of things for consumer internet in Nigeria? In my simple opinion, because of the structure of Nigeria and her peoples and her companies and her cultures and the relevant size of the companies around her, the ambitions need to be realistic.
At the same meeting was Kola from Ventures Platform Hub waxing lyrical about the incubator / seed investing space in Nigeria. When the topic of liquidity came about, all of the above fully formed in my mind. I was pretty bleak in my assessment; I doubt many consumer internet companies in Nigeria will be valued at more than $10m before 2020, the investors and obvious exit opportunities are simply not there.
Over the last 6 years series A ($1m+) have been between $2–4m valuations (iROKO at $12m was a function of capital $3m raised. If we had raised $1.2m like ToLet or Hotels, we too would have fit that range). That's the reality of the market. I see valuation inflation being driven by outside investors into the seed stage, but unless someone has a significant non-Nigerian revenue base, this is what the gravity will say.
Beyond that, I would say the true unicorns in this market will be those who have managed over $100m* in valuation. Today that would be Konga*, Nairabet and Wakanow. Can't think of any others in the consumer internet space. I am sure there are.
AIH doesn't count. It is purely a function of capital raised.
-----------
This article first appeared on Jason Njoku's Medium under the title "Why N50m is a big deal". Photo Credit: majjed2008 Flickr via Compfight cc