Nigerians have become quite familiar with the Mavrodi Mondial Movement -- or MMM as it is fondly called -- the new craze that took the country by storm in the last quarter of this year. Based on the 96-year old Russian Ponzi scheme, MMM has received mixed reactions from Nigerians since its introduction into the country.
With its ardent converts on one side arguing its harmless benefits and the sceptics on the other lampooning them for being conned and conning others in the process, the referral program is slowly digging roots into Nigeria.
The Securities and Exchange Commission(SEC) had also sounded a warning to the legibility of the scheme, but none of it seems to have deterred the participants and beneficiaries. A few weeks back,  MMM Nigeria allegedly  donated ₦5 million to internally displaced people (IDPs) all in a probable bid to increase its legitimacy.
Last week,  MMMOffice, the official portal of the scheme in Nigeria rose to become the 5th most visited website in Nigeria.  This statistic is courtesy of popular web ranking portal Alexa. According to Alexa, MMMoffice.com rose 40,385 places through the ranks; surpassing Jumia, Nairaland and even Facebook.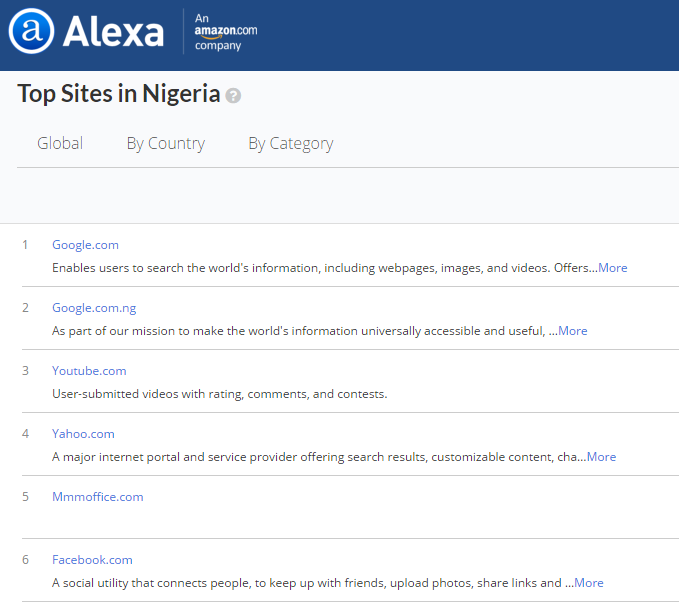 SimilarWeb is another web ranking service that is as popular as Alexa  and it has also placed the MMM Portal at 6th with a 5,994 rise. The two analysis shows the dominance of MMM in the country.
These figures have put into perspective how quickly Nigerians are adopting this get-rich-quick-scheme which may be attributed to the downward spiral of the economy.  Most importantly, they help to debunk the myth that Nigeria is a mobile first country.
A survey of current MMM beneficiaries reveal a higher trend of logging into the website via a desktop computer. The youth were more disposed to smartphones with a few using their laptops, but the older beneficiaries logged in completely via the web portal.
Is Nigeria really a mobile first country?
It is estimated that 700 million people own at least one mobile device on the African continent and less than 10% have access to desktop computers, with some even claiming Africa has moved from a mobile first to a "mobile only" continent. By extension, Nigeria is also believed to be a mobile first nation, but is this really reflective of Nigeria's status?
Suggested Read: Mobile First or Risk Death
The data which constitutes Alexa's statistics is gotten from Alexa toolbars, and these toolbars can only be installed on desktop computers as there is not yet a mobile version available.
SimilarWeb on the other hand is supposed to be a fly in this oil; a sort of deviation from the premise considering that it tracks mobile and its rankings are generally considered more accurate than Alexa's.  But for SimilarWeb, tracking desktop and mobile web traffic began in February this year, without any visible metrics for measurement, they do not matter.
According to the Nigerian Communication Commission (NCC) there are 94 million Nigerians on the internet in 2016, 16 million actively use Facebook every month. And a 100% of this figure are mobile Facebook users too.
Surely, there are not more Nigerians subscribed to MMM as there are on Facebook (mobile). So if the MMM Nigeria portal is more visited than Facebook, we can deduce that this is via desktop web.
In Nigeria, there are not a lot of online services and businesses that are solely restricted to mobile apps. Every online portal, startup or business has a web app to compliment the mobile versions. eCommerce stores as some of the most popular destination for web surfers have apps but still maintain well optimized websites with portals.
This new statistics from Alexa and Similarweb are a call for reevaluation; may be Africa as a whole is a mobile first continent, but could the same be said of Nigeria?
Photo Credit: ZICTA / michael pollak via Compfight cc