Picking out the events worth devoting time and energy to can be time consuming. Most of this week's tech events are quite engaging.
Here is a list of tech events happening this week that I think may be worth your time depending on your interest. All events on this list are free to attend excluding one.
Lagos Virtual Reality Meetup
Curators University invites virtual reality lovers to be part of our their first virtual reality meetup holding in Lagos Nigeria.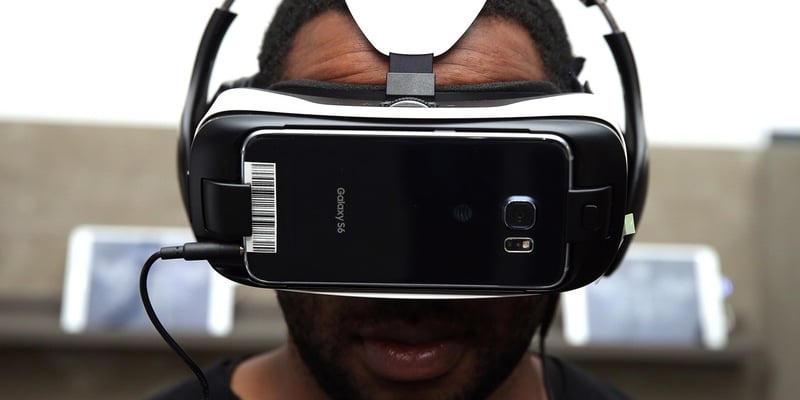 Who should attend:
Any Virtual Reality Enthusiast really.
Any startup focusing on Education, Media, or entertainment.
Anyone who cares about how Virtual reality is shaping product development and software engineering arround the world
Anyone who loves fun and wants to play.
What to expect:
We will have a keynote on the state of Virtual Reality and how it is changing the world.
We will have a 'soft' dev session to understand how virtual reality apps are built.
We will have the opportunity to test a few apps.
There no more free tickets but donating $5 to the event gets you a ticket.
Date: Saturday, 5th November, 2016
Time: 9am - 12noon
Venue: LeadSpace, 70, Olonade Street, Alagomeji, Yaba, Lagos, Nigeria.
Kick-starting Angel Investing in Abuja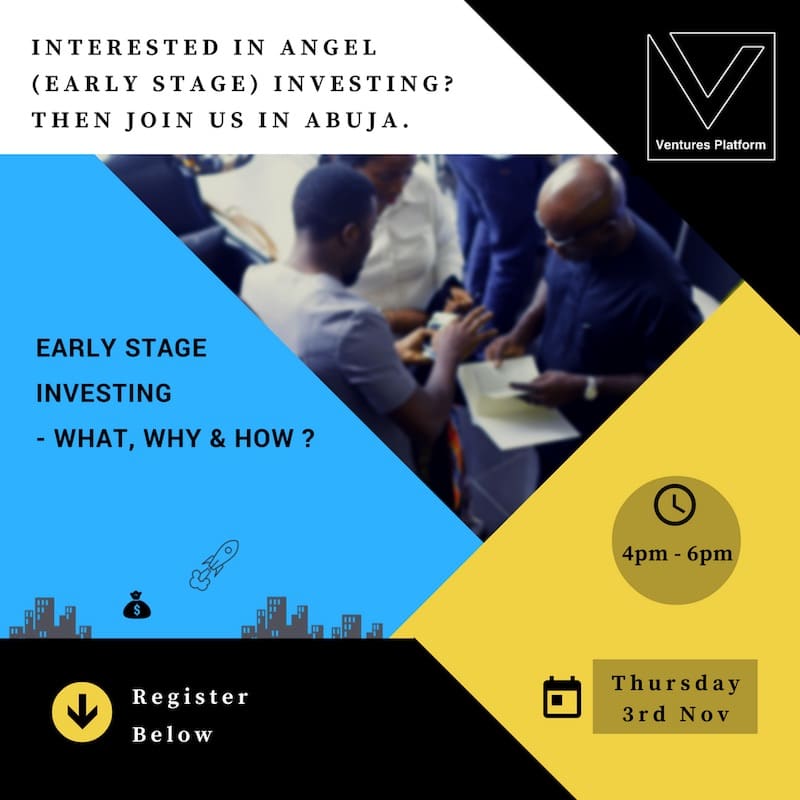 Based in Abuja, Nigeria, the Ventures Platform hub is hosting an event for angel investors in Abuja. The event is tagged "Early Stage Investing – What, Why & How". Individuals and organisations interested in learning more about early stage investing are cordially invited. There will be networking amongst new angel investors and experienced ones.
Some of the investors that will be sharing their experiences and speaking on early-stage investments include: Kyari Bukar (Chairman of the Board, Nigeria Economic Summit Group), Dotun Sulaiman (Chairman of the Board, Interswitch), Lexi Novitske (Principal Investment Officer, Singularity Investments), Yemi Keri (Investor at Rising Tide Africa) and Bankole Oloruntoba (Co-founder of NINe & Manager of Enspire Incubator)
If you're interested in becoming an angel investor, or want to learn more about investing in the tech scene, you should register here.
Date: Thursday, 3rd November, 2016
Time: 4pm to 6pm
Venue: Ventures Park, 29 Mambilla Street, Off Aso Drive, Maitama, Abuja, Nigeria.
2016 CyberXchange Conference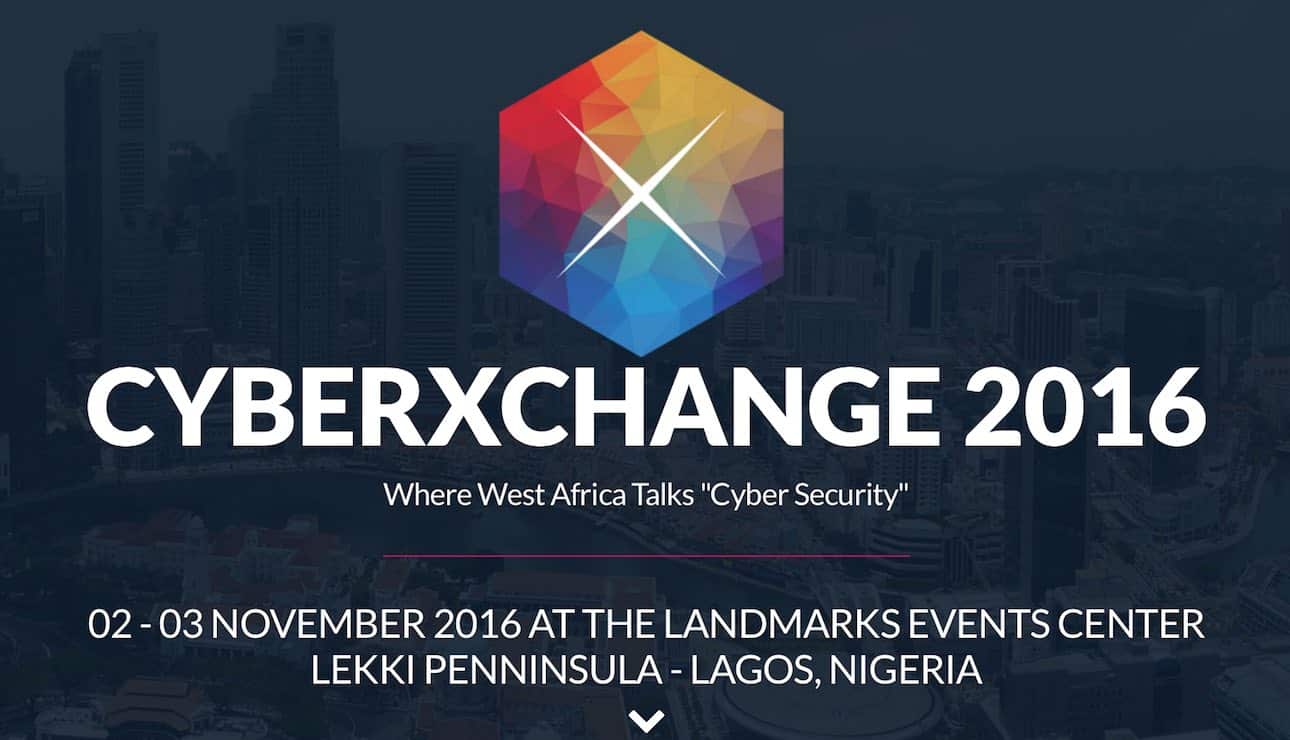 The 2016 CyberXchange Conference is set to hold from this November. This year the focus of the conference is on cyber security. The conference will feature workshops, exhibitions, B2B matchmaking, demos and a hackathon.
Some of the speakers that'll be at the 2016 CyberXchange Conference are Alex Stamos(CSO, Facebook), Babafemi Ogungbamila (CIO, Interswitch Nigeria Ltd.), Regina Wallace-Jones (Head of Security Operations, Facebook), Schalk Nolte (CEO, Intersect) and Adebayo Shittu (Nigeria's Minister of Information and Communication).
If you're interested, you should register here.
Date: November 2, 2016 - November 3, 2016
Time: 7am - 3.30pm
Venue: Landmark Centre, Water Corporation Road, Victoria Island, Lagos, Nigeria.
The MeetUP by 100 Degrees
This meetup is an opportunity for aspiring and new entrepreneurs to meet with and learn from more established entrepreneurs and business leaders. It is a monthly event that takes place on the first Saturday of every month and it's free.
If you're interested, you should register here.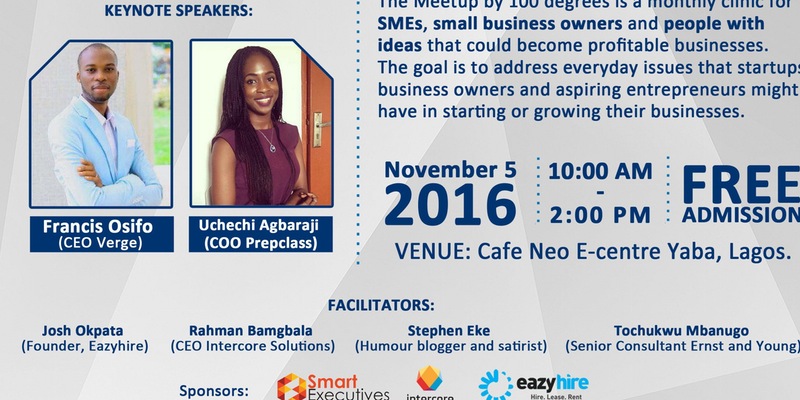 Date: Saturday, 5th November, 2016.
Time: 10am - 2pm
Venue: Cafe Neo e-center, Yaba, Lagos.