Last week had a lot of cool tech events. Most events lined up for this week are of an educational nature; a TedX being one of them. So if you are headed to most of the events this week, be prepared to absorb knowledge.
Mind the gap: Ways technology is disrupting education in Africa
The re:learn meetup is a growing community of education and technology professionals, volunteers, school administrators and other stakeholders, who are committed to improving access and quality of education in Nigeria.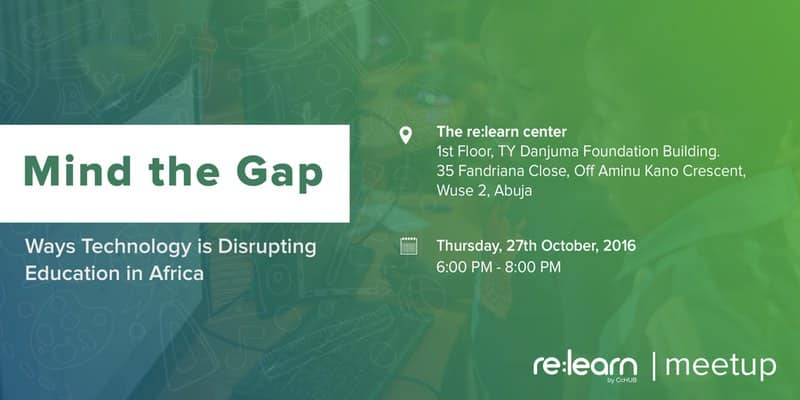 This month, the re:learn community will be looking at different ways technology is disrupting education in Africa. Today, technology is changing everything. From e-readers, tablets, laptops to digital tools, software and apps that are changing the way we learn, engage, collaborate and share feedback.
You are invited to this month's meetup to share your experience about how technology is disrupting education in your space and ideas about what's yet to be explored. To sign up for the event, click here.
Date: Thursday 27th October, 2016
Time: 6pm - 7pm
Venue: The re:learn centre, 1st floor, TY Danjuma Foundation Building, 35 Fandriana Close, Off Aminu Kano Crescent, Wuse 2, Abuja.
TEDXIsaleGeneral in Oyo State
TEDXIsaleGeneral is an intellectual event set to happen in Oyo State and is themed "Beyond The Walls". This year's event promises first-hand interactions with powerful speakers like Wellington Jighere – The 2015 World Scrabble Champion, Mr Owolabi Oladejo – Chairman of the only Business Radio in Nigeria, Impact Business Radio, and Rufai Oseni an On-Air Presenter at Inspiration FM. Other prominent speakers for this year's event include:
Engineer Jamiu Badmos – Director, The Safety Advocates
Seun Akinsanmi – CEO, Elophotos
Adekeye Azeez – CEO, Founder's Hub, Ilorin
Barrister Abayomi Oke – Oyo State Commissioner for Youth and Sports.
Attendance to TEDxIsaleGeneral is free, but registration is compulsory. Intending participants can also send "ATTEND" + "Names" + "Email" to +2348138407613 or +2348126362482 or +2347057596207 to register for the event.
Date: Saturday 29th October, 2016
Time: 12noon
Venue: 250 LT Lautech to NUT plaza under G beside Lautech Ogbomosho, Oyo State, Nigeria
Interswitch API Integration Jam
Co-Creation Hub (CcHUB) and Interswitch are partnering to host a two-day workshop - tagged the 'Interswitch Application Interface (API) Integration Jam' - to help developers who have problems accepting payments from their users.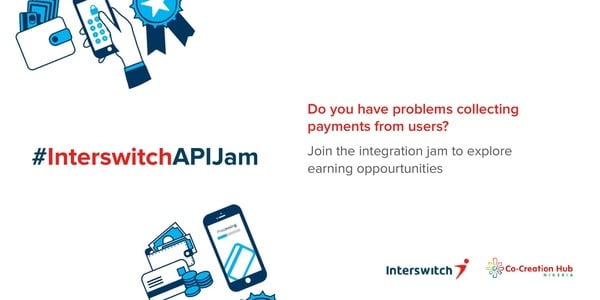 Teams and developers with technology products requiring collection of funds from customers will be given a hands-on demonstration of five new APIs they can use to solve payment problems and reward customers. At the Jam, development teams will have the opportunity to integrate the APIs into existing products or innovate around a yet to launch but already developed product and any questions or feedback will be resolved by the Interswitch engineering team.
The event will also feature a fireside chat on Interswitch's plans to enable seamless payments with Mitchell Elegbe, MD/CEO of Interswitch. Interested participants can register here.
Date: October 28 – October 29, 2016,
Time: 9am – 5pm
Venue: CcHUB, 6th Floor, 294 Herbert Macaulay Way, Sabo, Yaba, Lagos
Usable October Meetup
Usable - previously known as UXLagos - is an informal community consisting of people interested in User Experience (UX) design and users generally. The meetup engages it's participants with talks about UX and things related to it: interaction design, visual design, user research, sketching and prototyping.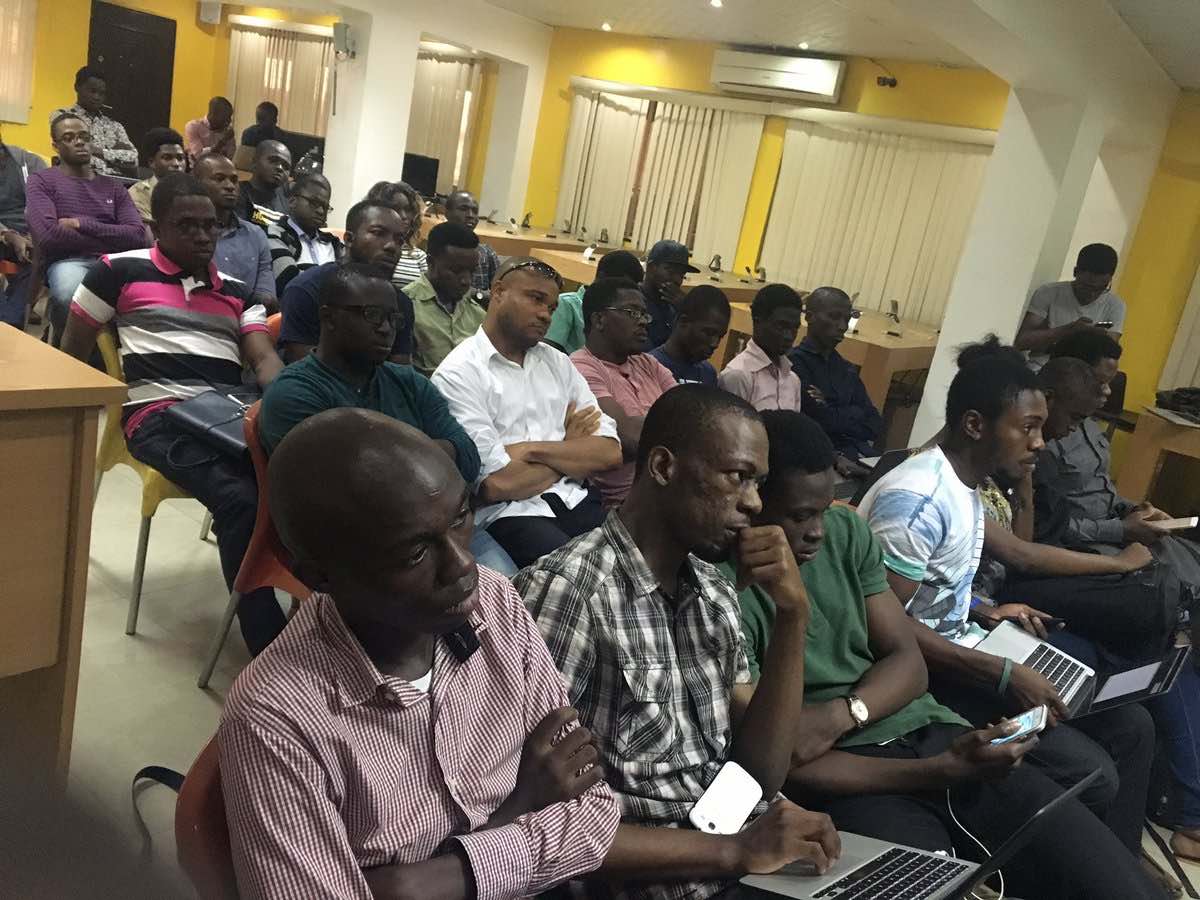 The monthly meetup provides an avenue for discussions on the role of UX in the development process, marketing, business, everyday life. At this month's meetup, Kish Aniekan (Product Designer @ GT Bank) will be leading the conversation about portfolios and the business of selling UX.
To sign up for the event, click here.
Date: Thursday 27th October, 2016
Time: 5:30pm -7:30pm
Venue: CcHUB MXLab, 294 Herbert Macaulay Way, Yaba
#DigifiedSMEprogram (Batch 2)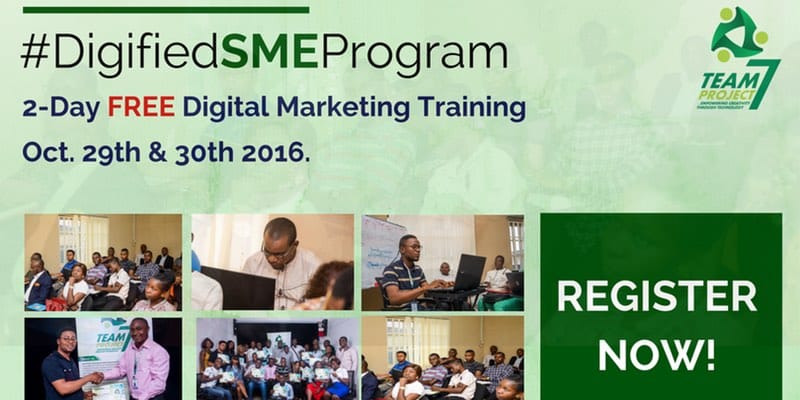 The Digified Small and Medium Scale Entrepreneurs (SME) Program is a development certificate course targeted at SMEs, Self-Employed Individuals, Working Professionals, Professional Artisans, Freelancers and Business Owners. The program is targeted at equipping the attendees with useful technological and e-business knowledge that will improve their business, employability and productivity in the work and business place.
To sign up for the event, click here.
Date: Saturday 29th October – Sunday 30th October, 2016
Time: 10am - 5pm
Venue: 12 Osho Street, (Opebi/Oregun Link Road – Opposite Enville Institute of Safety and Management) Opebi, Ikeja, Lagos.