Everybody loves pizza, except you have not had it, then I promise you will like it in time. There are different pizza parlours in Lagos and more are being added every day. Some school of thought believe the pizza wars in Lagos are between two very popular brands, but to be honest, I think every pizza in Nigeria tastes the same.
Dominos Pizza have been around for a while and recently I just noticed their website. The website isn't exactly new; some reports said it's been up and running now for (an observed ) 2 months.
And for the love of pizza, I decided to take a look at the website.
User interface
The two call to action buttons on the homepage,"Order Online" and "Order Now" buttons lead up to one result; the actual order.
As confusing as this seems, I suspect it is supposed to make the object clearer; order now.
Another thing that seemed like a minus was the complicated registration process. At first glance, it looked like too much, but on a closer look it is just the basics that  is required to get your pizza to you. It looks cumbersome and plenty for a hungry man looking for a quick bite.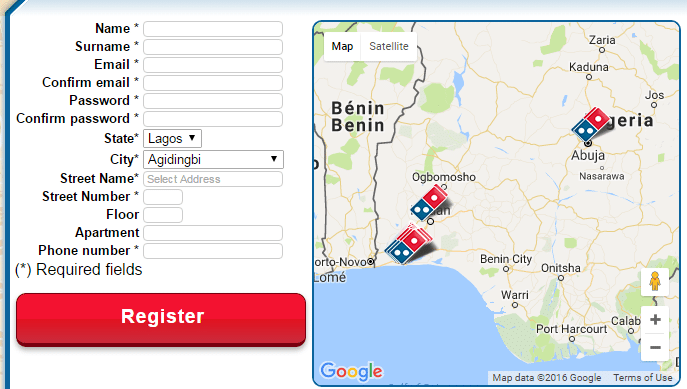 After registration, the layout is beautiful with a myriad of bright colors and a delicious array of their offerings.

The most exciting part of the website is the bar that pops up after your order is completed. It shows the progress of your order; from the order placement time to the whole process in-between and them delivery.
I initially doubted the authenticity of this counter, but before the last bar even filled up, the deliveryman had already called.

 Then there was the logistics
Maybe it was because of my proximity to a pizza shop, but there was no charges incurred for delivery to my location.
In all, the customer is still king
Customer service is a concept that has been taken for granted in Nigeria and left to fate so you will imagine my surprise at getting a different reception from the guys at Dominos.
The delivery man was courteous and waited through a flurry of activities that followed the search for change. Even though his vehicle was on the risk of being towed out of the way, man waited till I discharged him.
Wonderment did not stop in excellent delivery service alone. The next day after the delivery, a call came through from Domino's Pizza to get a general customer oriented feedback from me.