Africa is home to a lot of informal markets. In Lagos, Nigeria, Balogun market is perhaps chief among them. Not for the iconic name it evokes, not for its location, but because it is without a doubt West Africa's largest textile and fabric hub.
Situated on Lagos Island, Balogun market is host to no less than 8000 merchants, serving the needs of over a thousand times more visitors on a daily basis.
However, like most informal markets across Nigeria, there are always elements of imperfections which stand to disrupt the orderly structure of the market.
Navigating Balogun market is no mean feat as people and vehicles flood its streets in their thousands; at its very core, Balogun market is never quiet. As a visitor, you'd have to part with ₦500 for a one time parking slot.
In spite of all these problems aside, Balogun market is about to reinvent itself digitally.
Reinventing Balogun market
In an all out move to lead the reinvention of Balogun market, Olayinka Oluwakuse relocated from the highbrow Lekki Phase 1 to the famous market.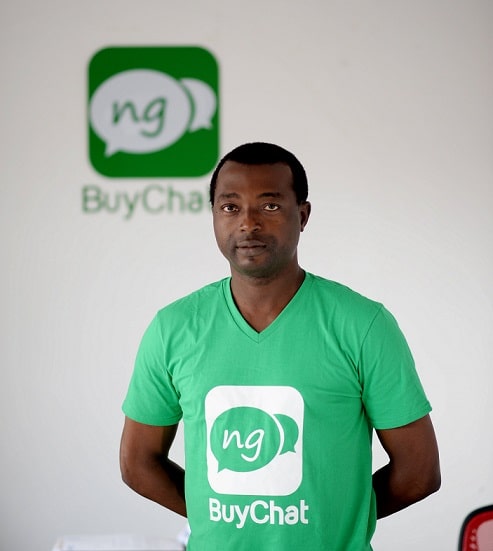 "What has driven my passion is an empathy for these local traders," he says.
Experimenting with balogunmarket.ng, the main agenda was to achieve financial inclusion in Africa using Balogun market as a model. Balogunmarket.ng barely got the ground running when it pivoted to BuyChat -- a portmanteau of chat and commerce.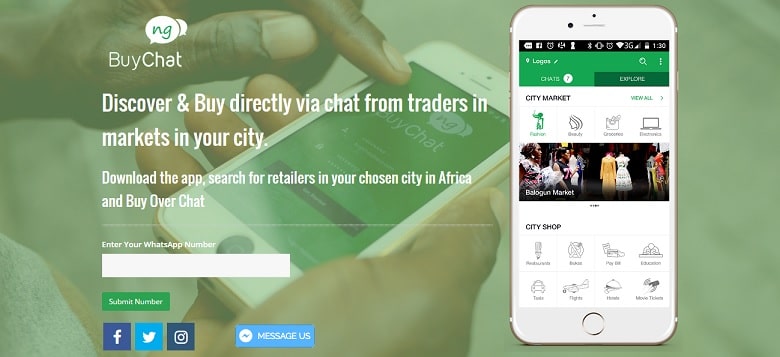 This newly adopted business model was a by-product of a carefully observed trend among the market traders in Balogun market, who were already using WhatsApp to drive engagement for their product and services.
"Through WhatsApp these traders were receiving orders, carrying out transactions and communicating with the outside world," he says
According to Olayinka, 95% of commerce in Balogun market is offline, so the transition to a digital model is a bit of a shock. Conversational commerce, the new approach to commerce that appears to be working for a few traders in Balogun market, is worth examining.
Demystifying the concept of conversational commerce
Conversational commerce is increasingly perceived to be the next thing that will displace traditional eCommerce, supposing it hasn't already. Though it is not very popular in this part of the world, it is equally not a new phenomenon either.
Unknowingly people leverage social media to drive engagement for their businesses. A good example is users (especially those without a functional website) that showcase their inventories on Instagram and also how Facebook is unavoidably putting brands' product and services on users' face.
However, the part where the aforementioned social media platforms are tending towards a conversationalist angle is going unnoticed. This is not coming as a surprise as these conversations always have an informal air around them.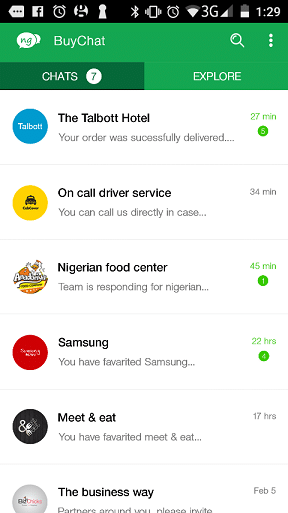 Perhaps the arrival of BuyChat will be timely in breathing life to conversational commerce in Nigeria; starting with Balogun market.
Value proposition
The appeal of conversational commerce is that customers will be able to complete a purchase using natural communication; the likes that they would normally use on a friend or an acquaintance.
But in the case of BuyChat, it will be looking to cash in on normal appeals of conversational commerce with added extra incentives that include simple messaging, services that include but are not limited to bill payment, taxi-hailing, hotel booking, food services, delivery services flight booking, etc across a number of informal markets; thus taking users on a virtual journey into a merchant's storefront in real time.
We can also include door step delivery to the list; BuyChat is integrated with delivery.ng -- a delivery service startup owned by an ex-balogunmarket.ng staff (Adekunle Adebowale)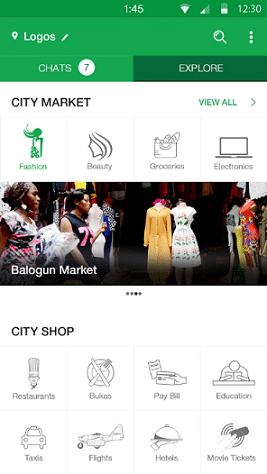 "The platform can scale across city market clusters in African Cities," Olayinka believes.
However, with the number of services that BuyChat is promising, it presents certain similarities with Tencent's owned WeChat. From one single integrated app, WeChat users can access virtually all consumer services while the app maintains both its social and professional feel. Little wonder why it's China's most essential app, with 650 million users.
But it will be too early to draw a serious comparison between both platforms as BuyChat will have to play according to its strength if it ever seeks to replace eCommerce with conversational commerce.
Market advantages in favour of BuyChat
Conversational commerce is a concept that spans different mediums, but one platform it truly shines is mobile. BuyChat will be counting its luck in this area given that Africa is a mobile-first continent.
According to NCC statistics, Nigeria had reached 97.21 million mobile internet subscribers as at September 2015, many of whom are already on WhatsApp. The simplicity of WhatsApp is perhaps one of its greatest advantages. Combining a simple messaging and virtual commerce feature together in BuyChat, it will be insane betting against BuyChat making a real impression.
Businesses by design are meant to exist where the customers are; whether they are selling product or services, they have to sell in platforms the users play in. So Balogun market isn't just an ideal location to kick off with, the eCommerce struggle in Nigeria may as well justify the pivot to conversational (WhatsApp style) commerce.
Conclusion
On the 15th of October 2016, BuyChat will go into public Beta. According to Olayinka Oluwakuse, when BuyChat is launched, the target will be to hit a million downloads by Christmas.
Balogun market is just one market and BuyChat will have to move quickly, testing terrains that are far less co-operative if they are to get anywhere near that number.
Perhaps when this model finally makes it way into every informal market across Nigeria, then it can talk of conquering Africa as much as Tencent has done with WeChat in China.
With the unique model of BuyChat, Olayinka holds bragging rights and has every reason to take pride in the product,
"Like all things tech, we'd do our best, fold our hands and let the market respond to it," Olayinka concludes.