In recent times, the Nigerian startup ecosystem appears to be garnering attention and publicity; especially startups who have landed investment deals. ToLet.com.ng and Wecyclers are some of the latest recipients of these investments.
For Wecyclers, the investment offer became a sudden eye opener to a new stream of wealth in the waste management sector that had been under the radar.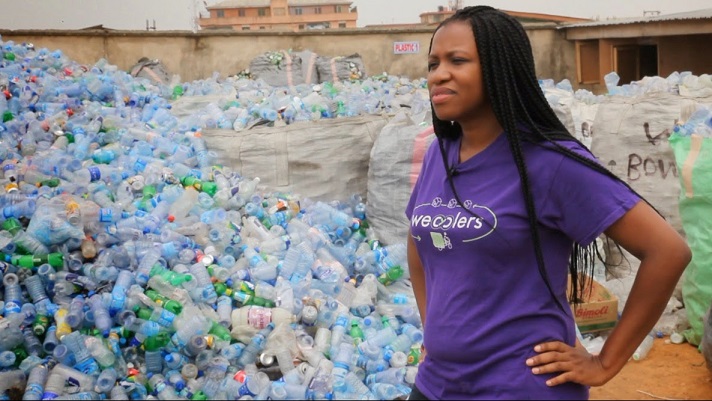 In an attempt to wrap his head around Bilikiss' offer, Oo Nwoye affirms that the offer sums up the most complex early stage deal he has ever heard of. This is agreeable. But then could it just be a pointer to the untapped wealth in the waste management sector?
At the recently concluded Aso Villa Demo Day, where 30 finalists pitched to the President, three startups emerged winners. Out of the three, two - RecyclePoints and Tracology - were waste management companies.
"The Aso Villa Demo Day was an awesome showcase for us. The validation from the president is an attestation to the work going on in the environmental sector for quite a while now," says Alison Ukonu, Co-founder of RecyclePoints.
Evidently, this sudden interest by the government may suggest that they are now ready to partner with innovators as regards waste management.
Is Nigeria ready for a waste management revolution?
According to a joint report by The World Health Organization (WHO) and the United Nations International Children Education Fund (UNICEF), "about 2.4 billion people will likely face the risk of needless disease and death by the target of 2015 because of bad sanitation".
It is no longer in doubt that Nigerian cities are inundated with the challenges of uncleared solid wastes. This has posed a serious challenge to the health and safety of neighbouring residents. And it is long expected that the government would arrive at the means to combat solid wastes and reduce their negative impact on the environment. This may explain initiatives like the Federal Environmental Protection Agency (FEPA) birthed on 30th of December 1988 by the military government.
One of the key focus of FEPA was ensuring monthly environmental sanitation. States and local governments were supposed to adopt and evolve their own solid waste management strategies based on the peculiarities of their environment. However, its implementation has climaxed at a very slow rate.
This has only proven that the fight to secure a healthy environmental habit isn't for the government alone. Evidently, a lot of financial and human capital is required in any attempt to minimise or eradicate these adverse effects of exposed and untreated solid waste in our environment.
Which is where tech comes in
Waste management companies like Wecyclers and RecyclePoints have been around for a while. For instance, RecyclePoints has an incentive-based model that allows consumers earn rewards from recyclable materials collected from them. Better still, the economic value of the material collected has the potential of export which could even beef up the country's GDP.
With the attention on waste management, it may be a signal that the space is now ripe for innovators. A good example of such new emergence is Tracology, which deploys Barcodes/QRcodes to residences serviced by utility/waste Management Company registered with them -- making it easy for consumers to pay for the service on the delivery day.
So for a government that has finally decided to pay heed to the growing concerns of the ecosystem, there couldn't have been a better course to support if not one they had long struggled with. This would stand to present the government with a rare opportunity to kill two birds with one stone.
Moreover, the country needs to broaden its GDP through diversification. Perhaps now is the right opportunity to look into the waste management sector. Come to think of it, it's not just about environmental sustainability, it's also about creating jobs for young Nigerians that are unemployed and aiding the general fight against eradicating poverty.
So whatever helps these startups to scale their operations and realise these objectives is a welcome development.