When VConnect launched over 5 years ago, it was founder Deepanker Rustagi's honest attempt to give Nigerian businesses an online presence. Over 1.2 million business listings and 13 million visitors after, VConnect easily lays hold to its claim as "Nigeria's biggest local search engine".
However, last October, the platform underwent a dramatic transformation into what appeared to be a full-on eCommerce pivot. There were different opinions as to why they decided to make this sudden shift. I personally wondered if the addressable market was big enough. I intended to pen down my opinion on that but I never quite got around to it.
However when a few weeks back, there was yet another website overhaul -- one that threw the eCommerce storefront into the background -- I couldn't help noticing.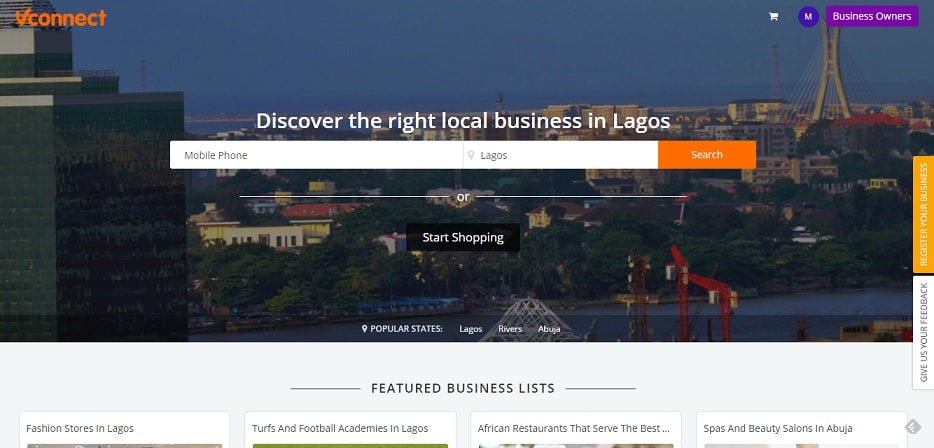 "What could be responsible for these revisions?" "What exactly is VConnect in the business of?" These were some of the questions on my mind
According to Meher Melwani, Communications Manager, VConnect is still very much the business listing platform we've always known.
"Our primary focus has always been the businesses," Melwani said,  when I questioned her about the previous eCommerce shift, "however, the Nigerian audience has grown to expect different things from internet."
If any of that still sounds confusing to you, allow me to expatiate.
A little history
5 years ago, if you went online to search for information on Nigerian businesses, you were probably happy enough to find basic info like address, phone number and email. However, as internet awareness grew, and local eCommerce became increasingly popular, the average Nigerian internet user expected not just to be able to interact, but also to transact with businesses online.
Inevitably, listed businesses on VConnect began demanding the ability to sell on the platform. In response VConnect created deals.vconnect.com, a now defunct Groupon-inspired deals discovery platform.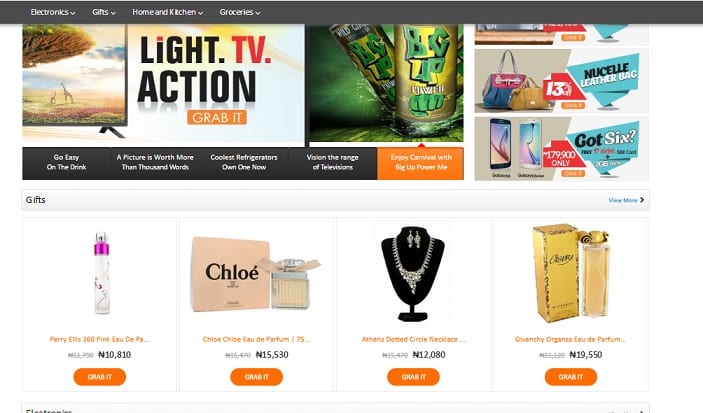 In hindsight,  VConnect Deals appears to have been the MVP for their eCommerce marketplace which they launched a few months later.
But like all humans, Nigerians are resistant to change. As it turns out, the eCommerce shift was too drastic a change, especially for long time VConnect users. According to Melwani, VConnect takes user feedback very seriously. So it makes sense that the platform would undergo yet another transformation.
This brings us back to the new website
The new homepage
The first noticeable element about the new VConnect homepage is the humongous search area. This obviously puts the focus back on businesses, as opposed to eCommerce stores. The search area placeholder is aptly worded to reflect this -- "search for businesses, products or services" it says -- and right next to it, you can choose the location you wish to search.

Just in case you're still hung on the previous iteration, there's a "Start Shopping" button that takes you to the eCommerce platform. I couldn't help observing the inconspicuous, but obviously deliberate, positioning of the button, just below the search area.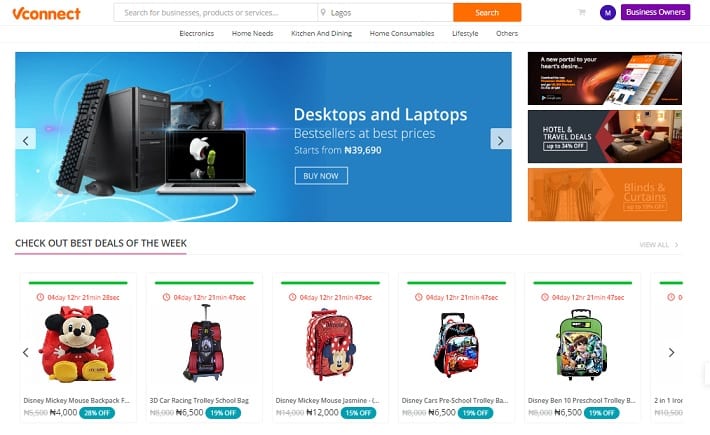 One new feature I am particularly impressed with is Business Lists. These are user-generated 'playlists' of sorts that enable curation of similar businesses around central themes. So a user could, for example, create a wedding-themed Business List, based on her experience, and share it with others users looking to successfully plan a wedding.

As with all user-generated content on the internet, the creative possibilities are near endless. I found a list that aggregates dog breeders in Benin, one that curates the best places in Lagos to get chicken suya and one that itemises the 12 best places to meet celebrities. I wouldn't know if these are purely user-generated, I do however see a huge monetisation opportunity here.
Another interesting element is the localisation feature. Users are able to perform location-themed searches. So a visitor from Cross River, for example can choose to see only businesses and featured business lists  from Cross River.
Final thoughts
With all the redesigning and tweaking over the past year,  I see a recurrent willingness by VConnect to proactively respond to user needs. Whether or not this would achieve the desired long term results remains to be seen.
So far,  I'm told, reviews have gone up over 100% within the space of a month; a validation that this new redesign holds promise. The long game for VConnect is to "help people express their opinions about local businesses in a way that can help others make purchase decisions". No doubt, such spikes in engagement could provide tangible value for users as network effect kicks in.
This is not just in favour of the user, businesses also get the rare benefit of seeing real time feedback from people. Registered businesses are given access to a Business Owner Dashboard (business.vconnect.com) that helps them see how people are interacting with their business pages. All these insight help business improve their service, accordingly. It's a win-win for both customer segments on the long run
With all the positive feedback so far, there would hopefully be no reason undergo another major website overhaul anytime soon.