Building a successful company requires recruiting a strong team that can help to achieve the vision and mission. WEMA, one of the foremost banks in Nigeria has been able to evolve over time by employing young and creative professionals. This has, in turn, helped the old generation bank to appeal to millennials.
Today on Engine Room, we take you on a journey into WEMA Bank's Innovation Lab, where we get up close and personal with Philip Ese. He is the Head of Innovation at the WEMA Bank Innovation Lab.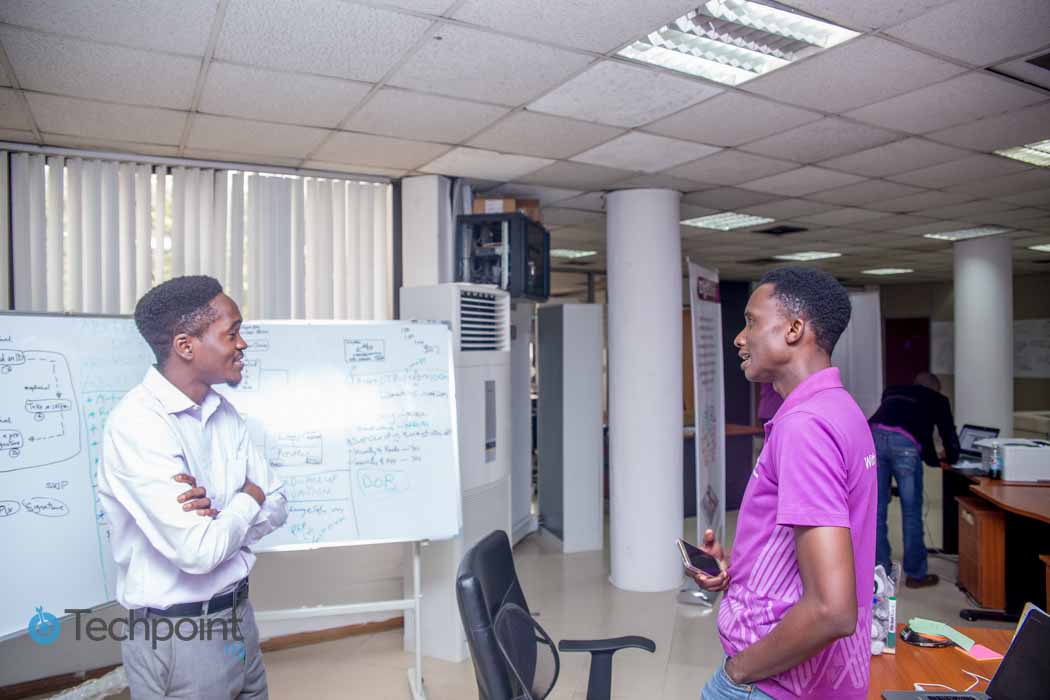 I sat down to chat with Philip who gave me a quick rundown on how he became an Information Technology (IT)  security expert. From problem-solving to becoming an innovative individual, Philip grew from turning challenges into businesses.
Emmanuel Ogunsola from Techpoint

: Who is Philip?

Philip Ese from WEMA Innovation Lab: Philip Ese is a problem solver, I love complexes. I like to take on challenges and solve them and try to add value to the beneficiary of the problem. Back in the university,  it was providing gadgets for students.
EO

: What was it like growing up?

PE: Growing up was fun and mentally tasking. Probably that's where my love for problem solving came. Whenever I asked my mum, "why is this so?", her first response usually was "what do you think is the problem and what is the solution?" My parents sacrificed a lot for me and my siblings to go to the best schools and we had a reward system running at home. Hitting a milestone at home meant you would get a reward. So I grew up thinking independently.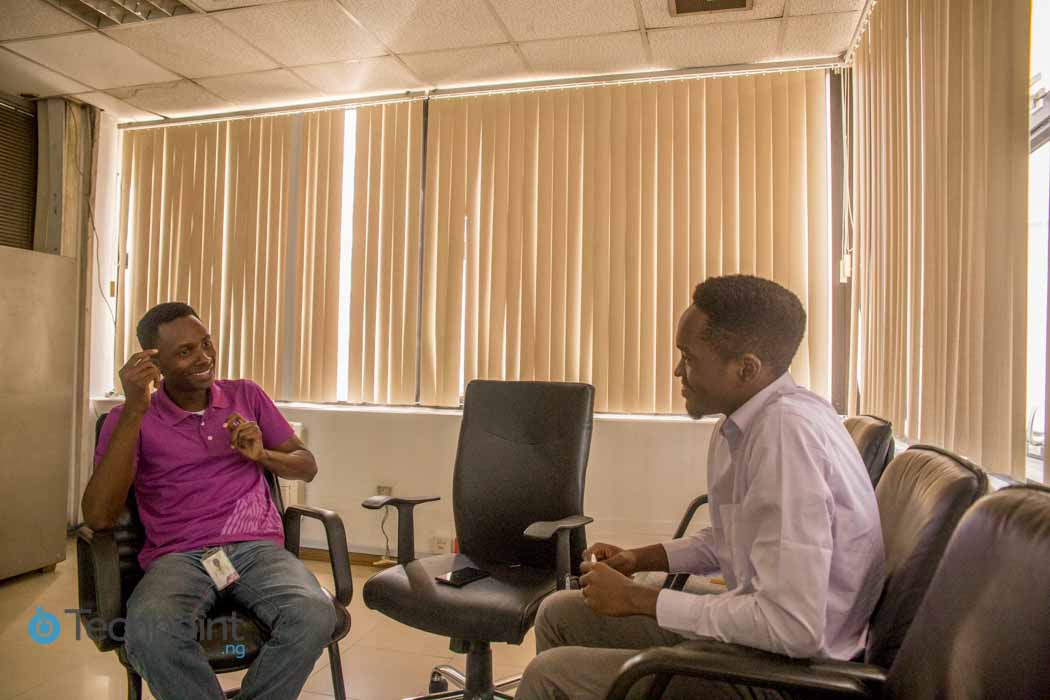 EO

: Could you let us in a little on your Educational Background?

PE: I went to Climax Primary School in Delta State, I was there until primary four when we moved to Lagos. I completed my primary education at the Federal Government College Staff School, Ijanikin. I attended Faith Academy for my secondary school education and I got a Bachelors of Engineering in Information and Communication Technology from Covenant University.
EO

: For you was it your first choice to study Engineering?

PE: I wanted to become a Doctor. On getting into Faith Academy I fell in love with genetics because of its complexity, I could recite long medical words. In my Junior class in Faith Academy, I stumbled upon programming through Seun Aremu, a friend I met there. Seun started writing code while in primary school. I loved how Seun called out the calculator through some lines of codes in Visual Basic.

My experience with Seun initially made me decide to study Computer Science at the University. But, my Computer Science teacher in Secondary School advised me to look into ICT because it is broad and its a combination of Computer Science and Engineering. Based on his advice I studied ICT and I haven't regretted it because it helped develop my problem-solving skills.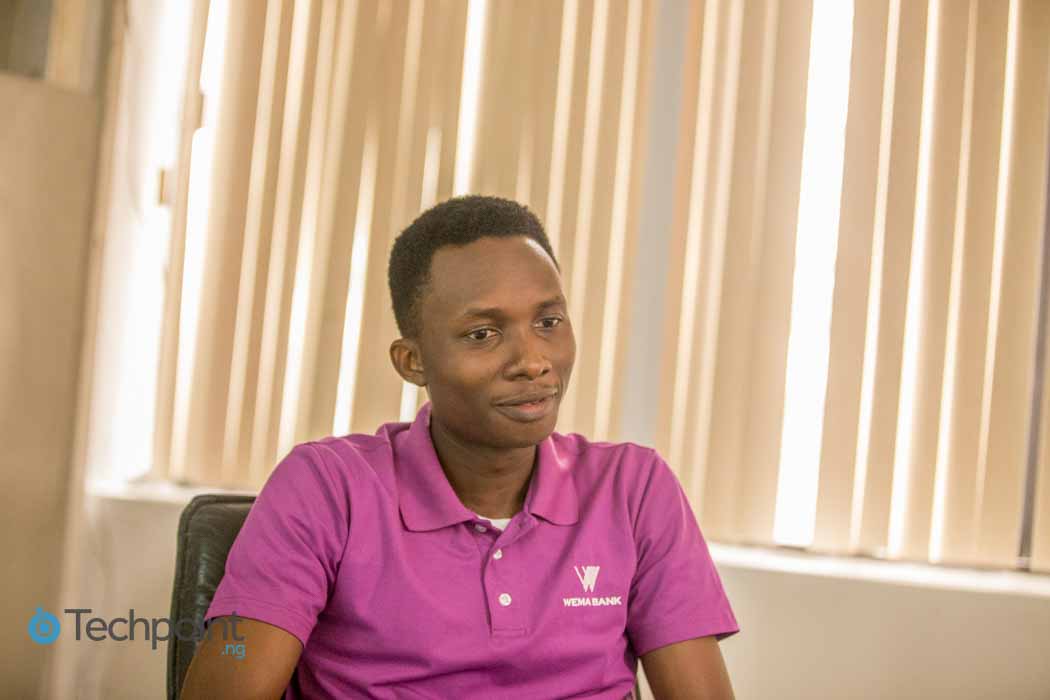 EO

: Did you venture into entrepreneurship while in school?

PE: Yes I did. In Covenant University, everyone liked the first generation iPod Touch. Together with my friends, we saw a business opportunity with the non-availability of the iPod on campus for undergraduates to purchase. My friends and I got together and decided to sell the iPod to students who agreed to make payments in installments. Together we raised N60,000, formed a company whose business was buying and selling gadgets.

There was a constraint on students' movement outside the university premises. So we found that people would like to have the devices on campus within the shortest possible time. We had to build relationships with both the porters and the Computer Village merchants. We got partners in Computer Village who could do same day delivery. We didn't pay the Computer Village merchants until delivery was made to campus. We actually made a lot of money while in school, up to ₦700,000.
EO

: Did you venture into freelance after University?

PE: It was a combination of freelancing, certifications on networking and security and also looking for a job. I started applying for jobs while I was still at the university and one of the interviews I attended made me realize that, even though some of them were ready to employ me based on my performance, Nigerian companies would not employ a graduate that hadn't completed NYSC.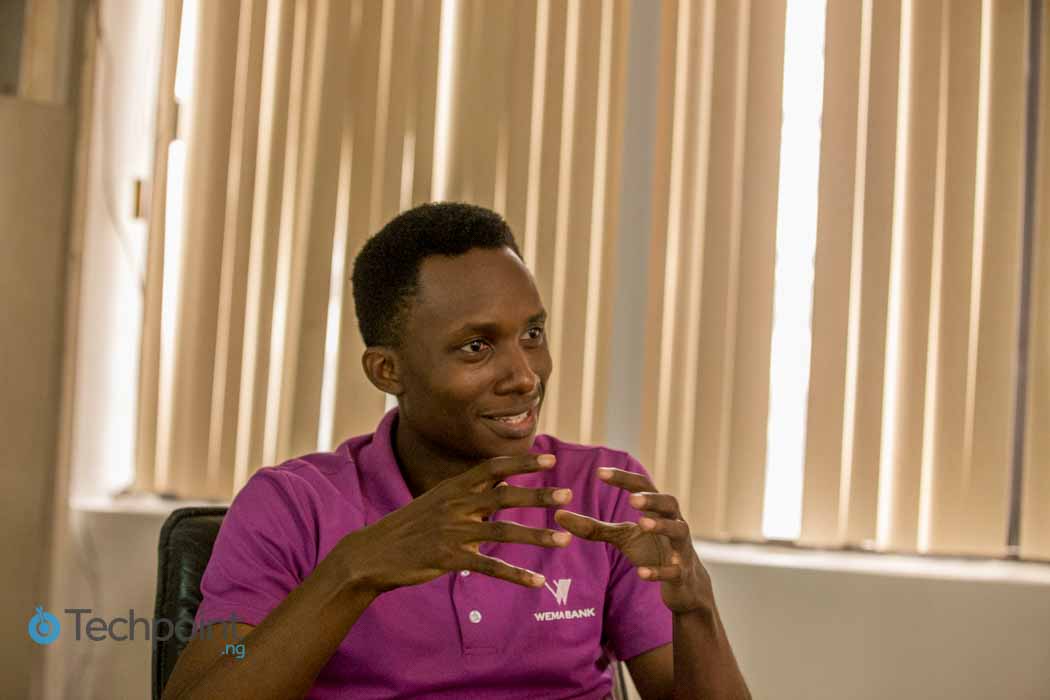 EO

: What was your first job out of the University?

PE: I worked at New Usual just after university. The founder, Dare Adeyeri at the time had just retired from GTBank as CIO and he set up New Usual looking for smart people that could help build the company. Working with Dare changed my perspective about business because he employed young people, trained us and gave us a lot of responsibilities. I spent about 6 months in New Usual and then I moved to Soft Solutions, which is a security consulting firm.

The company is about 22 yrs old now and it has retained a startup culture. It was more of security consulting for banks, oil and gas companies. At Soft Solutions I was a Product Engineer. Before graduating from the university I had done my CCNP and some special security certifications. Also I had attempted the CCIE lab twice and failed largely because of a lack of experience, so at Soft Solutions I got the required field experience but I ceased to pursue the CCIE certification. I was responsible for some big banks. I spent exactly a year at Soft Solutions and then I moved to WEMA Bank.
EO

: What was your first desk/position at WEMA?

PE: First, I was recruited as an IT officer. The bulk of my work was IT Security related and it was easy to catch up because I had gotten some experience from my previous employments. Considering that I started working outside university in a startup, I got used to working on different things at the same time.

Getting to WEMA, though I started in IT, I was always asking questions on how we could make more money and how we can better the services we provide to customers. So I got used to making documentations about those problems I was solving, packaging them and sending each idea to the Business Manager in charge of that area. This led to my getting moved from core IT to e-Business, where I was able to do innovative things, experiment with ideas and then passing on the validated ideas to the business to scale.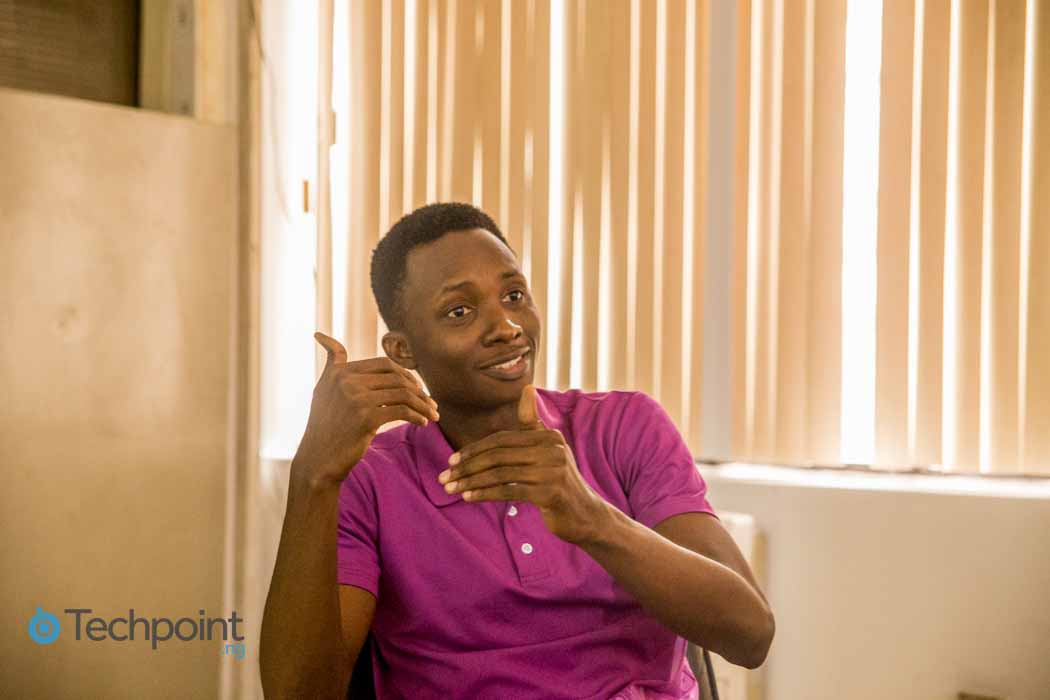 EO

: Apparently, your problem solving side kicked in and you were moved to the e-Business department. So how did you become head of innovation?

PE:  It all started with an email to the MD. After I had responded to one of his mails with opportunities that the bank could leverage on, I was introduced to an Executive Director in the bank through the MD. This ED, Moruf Oseni, charged me with developing more innovative products. While all of this was going on, the bank decided there was a need for an Innovation Lab that would help generate ideas or take up existing ideas and develop them. The lab would be void of corporate bureaucracy that could limit those working.

Considering my previous engagements with some of the Managers, I was moved from what I was doing in core IT and placed under Dele Adeyinka who is the head of the e-Business unit of WEMA. This was done considering the need to scale ideas that were being worked on. The Innovation Lab created the need to empower smart and innovative individuals working at the bank with a facility and a place that is isolated from the regular day-to-day banking operations and that's how we got here.
EO

:  The notion that WEMA is for the old people and not the young, do you see that changing?

PE:  Yes. One of the things we are fully aware of is our brand being regarded as old. The new management that took over saw this 7 yrs ago and changed the culture from the inside. They put the bank on track to being profitable by down-scaling the business to focus on the money making side of the business.

So WEMA went from a national bank to regional bank and now we are back to being a national bank and are expanding our reach using technology and quality innovations that we will launch soon under the guidance of Dele Adeyinka, the EDs and MD and with the support of the entire bank.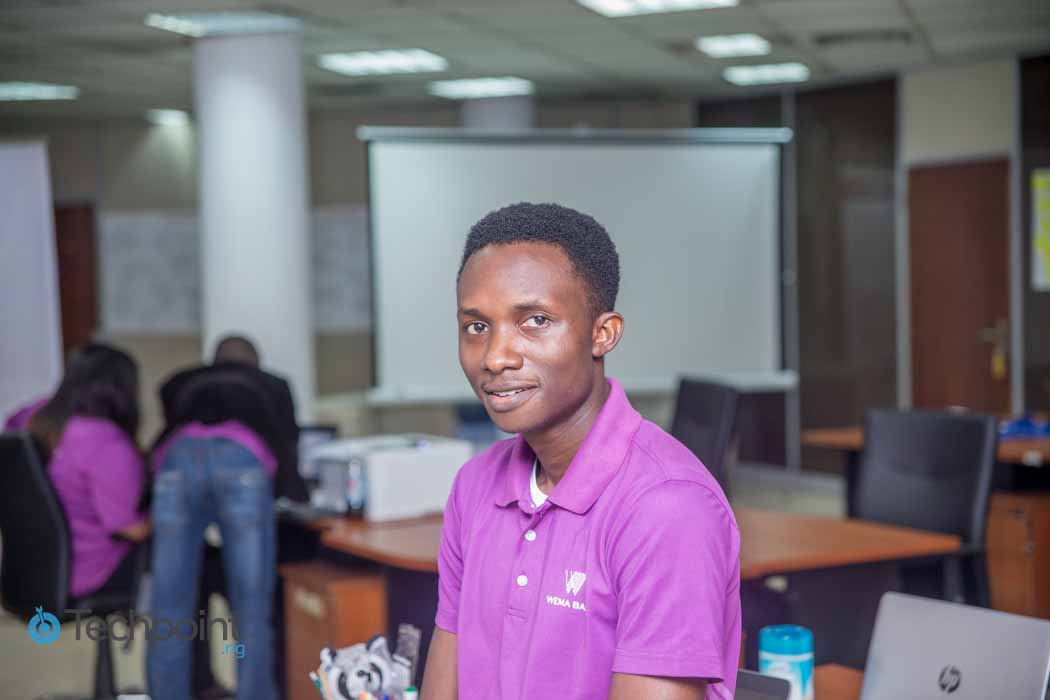 EO

: For those considering careers in the IT space, what is your advice to them?

PE: Before you choose a career, expose yourself to as many experiences as possible. I knew I had acumen for complex things but I didn't know I would like security related challenges in IT. Due to exposure to experiences in IT related tasks I was able to discover myself.

Don't be too pressured in making decisions, once you find experiences that resonates with you irrespective of the field, find out everything you can about what makes up those experiences. Find out what it takes to be good at that thing. If it requires getting certifications. Go after it and don't think certifications alone can help you, practice everything you are learning even if internships without pay is the answer.