A recent study has shown that Lagos, Nigeria is the 12th most expensive city in the world to launch a startup. Based on accommodation -- office and residential -- the study puts annual cost per employee for Lagos at $45, 817.89
---
Suggested Read: Lagos ranked 12th most expensive city in the world to launch a startup
---
As a resident of Lagos, there is no difficulty imagining price hikes and the exorbitant hype that comes with the cost of anything that has a special tag to it.
But as expensive as Suya and beer can be in some fancy parts of Lagos, I still find it hard to wrap my mind around how and why the city is ranked above Accra or Johannesburg in terms of cost expenses for startups; especially office and accommodation.
There is really no straightforward method way to clarify the depth and veracity of these claims as estimates will be tailored to individual needs.  But to get a general feel of what the current cost of office and accommodation is in Lagos, I made some inquiries.
Yaba, Surulere, Ikeja, Victoria Island and Lekki are some of the prime spots for locating businesses in Lagos, so these places were my areas of concentration.
Yaba
The presence of two major tertiary institutions -- Yaba College of Technology and University of Lagos -- has always been an incentive for businesses to set up shop in Yaba, so there is an unending supply of them.
Yaba also bears the burden of being touted as Nigeria's "Silicon Valley" and the physical representation of the semblance of an ecosystem that we have. So all these factors meant things have never been cheap around these parts.
Office space
Coworking spaces in Yaba are in abundance. Most of them exist in the few technology hubs sprinkled around.  And the cost of getting a space for a single member of your team costs between ₦75,000 --  ₦150,000 quarterly.
Normal serviced offices that can accommodate a team of five to seven has an annual price range of ₦800,000 -- ₦3,000,000. 
Accommodation
A 3-bedroom apartment in the Yaba area goes for ₦700,000 -- ₦1,000,000 inclusive of an agent's commission. Most of the houses in the area are old, so the new and renovated ones cost a lot more than the older houses.
Ikeja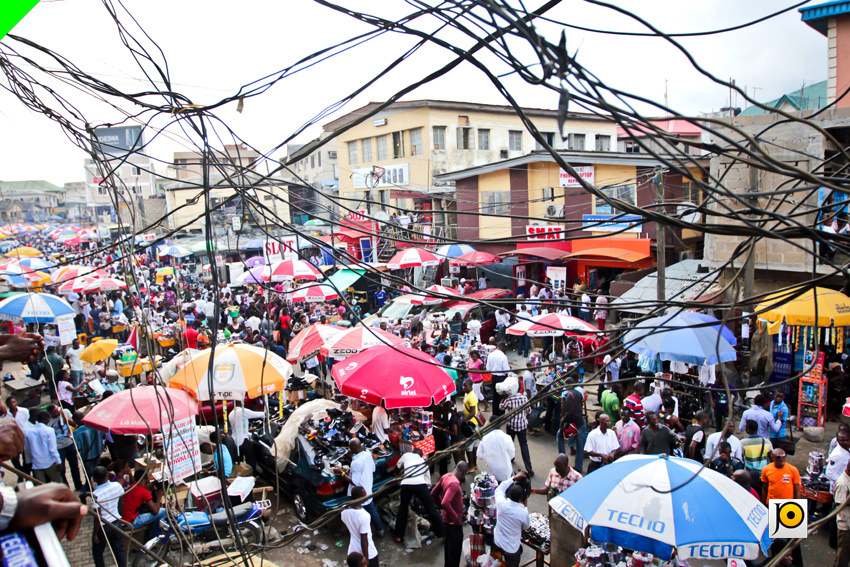 As the capital of Lagos State and home to the Computer Village Market, Ikeja has long been a  choice location for startups to set up shop.
Office space
Ikeja does not have  serviced offices in abundance, except in the Government Reserved Areas (GRA) of the town. And most of them are charged on an individual basis.  The prices range from an expensive ₦70,000/member for a month to a downright exorbitant ₦250,000/member monthly.
Accommodation
A decent 3 bedroom apartment in the town goes for ₦1,000,000 -- ₦2,000,000 per annum depending on proximity to the heart of the town.
Victoria Island
"The Island" as it is fondly called is NOT a place for small businesses hoping to cut down on operational costs. But pocket depths differ, and 'expensive' is a relative term.  Startups can leverage on the presence of diplomatic missions and foreign embassies of various countries as a networking tool. As the hub and playpen of the affluent, it is truly the economic and financial vein of Lagos State.
Office space
For a minimum of 5 staff, a serviced office in the heart of Victoria Island start from ₦2,700,000 per annum, and that is around the cheapest you can get.
Accommodation
A 3 bedroom flat in 1004 Apartments is around ₦3,500,000. That is the base price, which can extend to the ₦33,000,000  flats on Adeola Odeku.
Lekki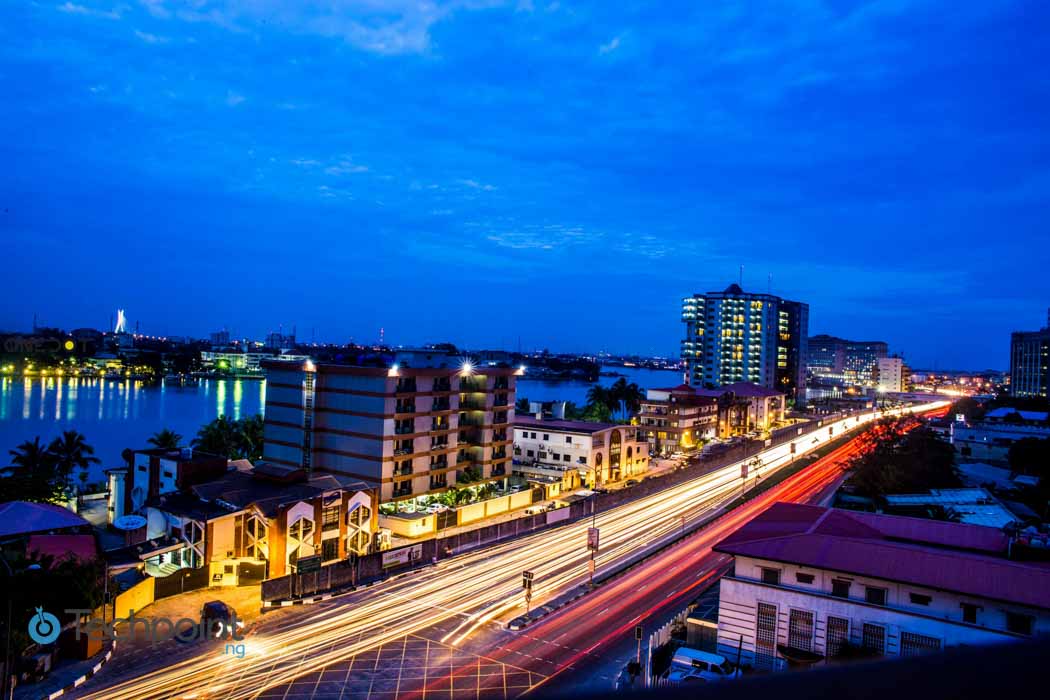 Lekki is still largely under construction as most of it is undeveloped land. But the fact that it is adjoining Victoria Island and Ikoyi has made it a big deal of sorts.
Office space
There's a coworking space in Admiralty Way Lekki that costs ₦50,000/per person per month and that is about the cheapest there is in the whole area. Private service offices that can accommodate a team of seven cost anything from ₦500,000 to ₦5,000,000 per month.
Accommodation
Away from town; somewhere in the Badore/Ajah axis, a 3 bedroom flat can be gotten for ₦650,000 -- ₦750,000. But Badore is a little bit far from the commercial hub -- and where your office will be -- even though it is an estimated 16 minutes drive to Lekki without traffic.
But as Lagos traffic is not a worthy daily gamble, a location closer to town is advisable.  Around Chevy View Estate, Osapa and environs, ₦1,500,000 -- ₦5,000.000 should be what you will be willing to shell out for a 3 bedroom house.
Surulere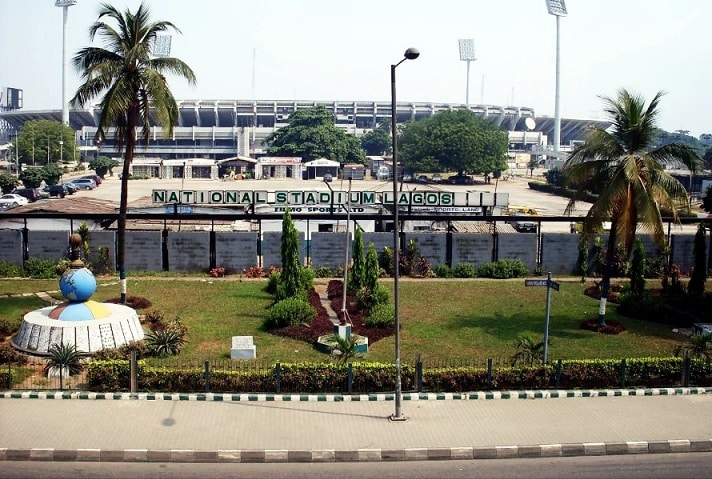 Ojuelegba in Surulere is one of the busiest places in Lagos and the environs might not appeal to anybody as an ideal setting to locate a startup. But it surprisingly is home to plenty small businesses who leverage on the abundance of people around, i.e e-commerce and logistics startups.  The location of the Lagos National Stadium there is another attraction.
Office space
Serviced offices are not very popular in the Surulere axis, but they exist. The existing ones are mostly residential properties and warehouses that have been converted or allowances made to accommodate offices. Prices are mostly in the  ₦1,500,000 range.
Accommodation
The cost of renting a 3 bedroom flat in Surulere for a year  falls between the ₦750,000 -- ₦1,800,000 range depending on location with the areas closer to town costing more. These prices are inclusive of agency fees and other charges. However, they are not serviced.
In conclusion,
The general price point was reached by using a median value of the cumulative prices. The lowest cost for accommodation and office space per employee being $891 ( ₦281,250)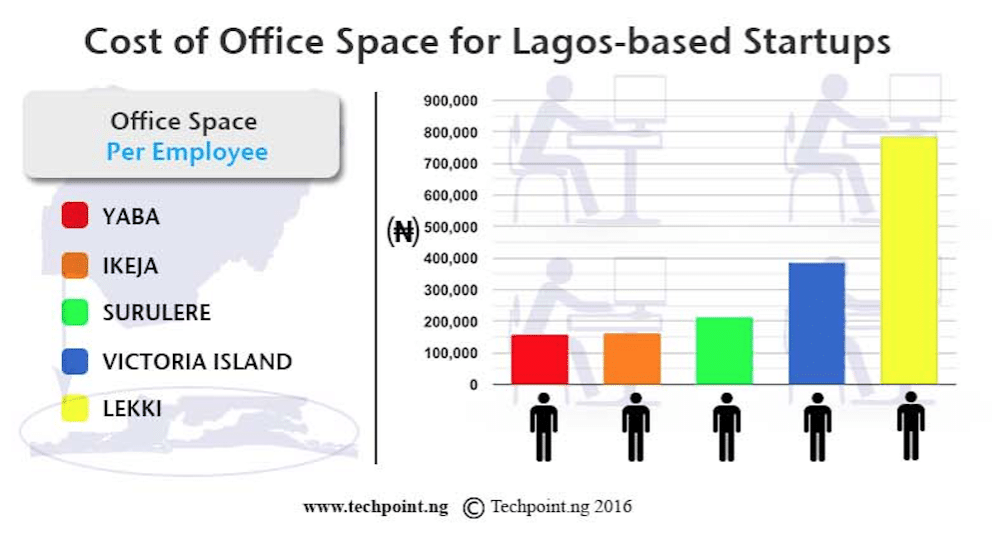 And the highest being the Victoria Island area at $9,479 ( ₦2,992,857)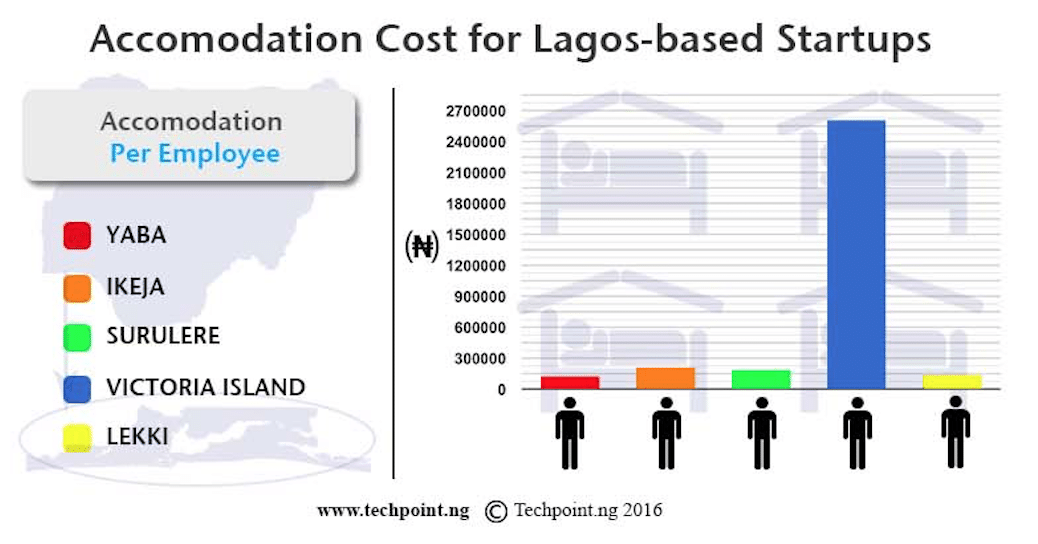 When all these costs are considered, the aforementioned study is incorrect and way over budget as it doesn't take other welfare costs into consideration like transportation, health checks, feeding, and other essentials.
But please note,
The prices stated above are not foolproof and are subject to change at any time.
Serviced offices were used as a parameter as they are cheaper to maintain because of operational costs.
Serviced offices have electricity supplied by the administrators throughout the day (or for an agreed period of time).
Not all offices in Lagos offer internet as part of the service package.
As earlier stated, considering operational costs, Victoria Island is -- obviously -- not the most advisable location for your startup.