UPDATE: Following our publication, Aso Villa Demo Day appears to have been postponed indefinitely from September 1st. The website has been updated to display just "2016" as the date for the finals.
---
A random visit to the Aso Villa Demo Day (AVDD) website today revealed September 1st as the new date for the grand finale of the pitch competition. Interestingly, no official announcement has been made to this effect.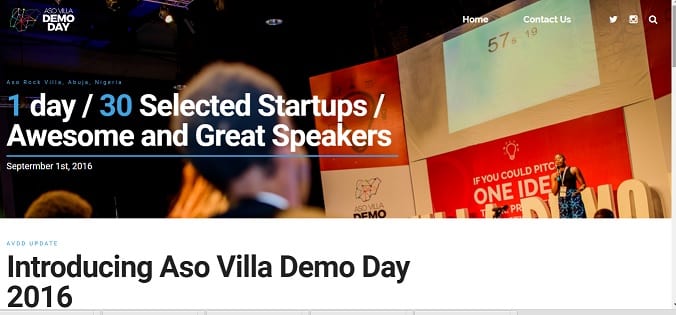 After several failed attempts to reach out to the organisers to confirm this date, we finally got through and the feedback was in the affirmative.
However, this is where it gets confusing. I immediately got in touch with a number of the finalist and they were just as shocked to hear it for the first time. So it is safe at this point to say that the organisers didn't deem it necessary to communicate the date to any of the founders, even after inconspicuously updating their site.
Following the announcement of 30 finalists, the organisers took the entire process to the next level by creating #AskAVDDFinalists on Twitter to engage each of the finalists in a question and answer session.
The exercise which was supposed to engage a total of 5 startups weekly saw Foodstantly, Redbank, Tembe, TalentBase and RecyclePoints partake in the first week. We are supposedly in the third week running and if calculations serve me right, the whole exercise should be concluded no earlier than the 5th of September, 2016.
As at the time of penning this post, only DoctorsOffice.ng, FuelVoucher and Cedar's Seed Foundation have joined the previous 5 in the twitter question and answer session. This brings their total number to 8.
With all of these uncertainties, one wonders if the Aso Villa Demo Day will likely take place on the September 1st as planned