Facebook is the largest social media platform on the globe and loved by nearly every internet user. In recent times hackers have continued to attack our beloved platform and the obvious targets are we the users.
This guys ain't making Facebook fun any longer, they seem like a worm/virus that have eaten deep into the system. From the long list of scammers to hackers. The scammers can still be easily avoided and ignored but the hackers seem to love getting on our nerves daily.
They hack into our accounts then post nude pics, porn videos, change user name, comment for us and all other annoying things. We ain't gonna run or bow to this scoundrels, no, we are gonna put up a fight by protecting our accounts.
So here is a list just to guide us on how to protect our accounts.
Click Carefully
This might seem a though call but if followed trust me your account is going to be as secure as the Pentagon. As much as you love to click fun stuff on Facebook, you need to be careful. Your friends aren't immune to spam. If a friend posts a suspicious link or "shocking video" or sends something strange in a message, don't trust that they're doing it on purpose.
Be Vigilant
Always check your Active Sessions (go to Account settings -> Security -> Active Sessions in your Facebook app). If you notice any unfamiliar location or device, it means your Facebook Account is at risk.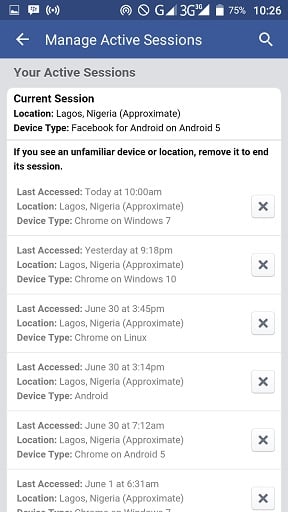 Just click on 'End Activity' and don't forget to change your password after that.
Protect our Password
How many times does this happen in a year? I'm logged in on my Facebook Account, I see an attractive link, then click on it suddenly I find myself on Facebook login Page again. Well this happens about 1001 times a year and when it does all you need to do is, run, run, run. If you stay too long and login, you just gave one faceless hacker your password for free.
Beware of free W-Fi
Free Wi-Fi is good but at times it might be detrimental when used with social media. I can't go into the tech details but when you using a free Wi-Fi, avoid using your Facebook cause an amateur hacker can easily view your Facebook login details once he connects to the Wi-Fi, let alone Pros.
Avoid using the "remember password" feature on public computers
You walk into a cyber cafe to check your updates on Facebook then the 'remember password' pops up on the desktop, you just need to avoid it cause you don't know who the next guy to use the system is going to be.
Make use of Facebook security settings
Like I said earlier Facebook has invested a lot into security and it would be unwise of you to ignore the Facebook Security settings. There you would find cool stuffs like login notification, secure browsing, login approvals and lots more. So why not give it a try today.
I hope the above suggestions have been helpful. Thanks for reading.
Photo Credit: Kate Dreyer / JeepersMedia via Compfight cc