After what seems like forever, since the teaser was published a little over a year ago, Gamsole has finally launched Gidi Run, the made in Nigeria game that is positioned to perpetuate the same 'endless running' genre that Temple Run birthed and Subway Surfers solidified.
Gidi Run is set on the streets on Lagos; you get to play as a number of street-wise characters -- a bus conductor, a policeman and even a Danfo (commercial bus). Trust me, it is equally as weird as it is interesting to see Danfos jumping over obstacles.
The game is fun enough to be addictive. There is even a championship mode where you get to pit your skills against your Facebook friends. Gidi Run has a certain Subway Surfers feel to it, but with a very local touch. But what I find most interesting about Gidi Run is how Gamsole has chosen to launch it.
The Monetisation Conundrum
If you've been following the mobile gaming space in Nigeria for a while, you will understand how difficult it is for game makers to monetise. In the earlier days, you couldn't even publish paid apps on Android, from Nigeria, until Google opened it up. Months before that, Nokia (before Microsoft swallowed the name) saw the opportunity. In a bid to foster Windows Phone adoption, Nokia proposed to offer local developers telecoms operator based billing, with a whooping 70% of the revenue cut. It never kicked off. Needless to say, between Nokia's failed promise and Google's not-so-promising proposition (opening up merchant registration was no panacea to Africa's debit/credit card penetration problem), monetising local games is no walk in the park for local developers.
These set of challenges are exactly what led me to wonder out loud if ChopUp had finally cracked game monetisation, with the release of Jagun. I thoroughly enjoyed the game but seeing as they only got a couple of thousand downloads since then, I was probably a minority. You have to wonder how many in-app purchases they were able to seal with Jagun.
So why is it so difficult for local mobile game developers to breakthrough? The reason for this is not far-fetched; the Google Playstore (which happens to be the primary distribution channel) is saturated as it is. It takes a huge amount of funding to market yourself enough to even start receiving massive downloads, let alone make revenue. But it is this very challenge that Gamsole founder, Abiola Olaniran used as a fulcrum to build his company. At a time when the Windows Phone platform newly launched, Olaniran saw the opportunity to fill the void of gaming titles with a focus on building replicas of popular Android games for Windows Phone users globally. 15 million downloads after, Gamsole is arguably Africa's biggest mobile gaming company. But now, the Windows phone market has become equally saturated. So in a move that on the surface seems counter-intuitive, Gamsole is gravitating towards Android -- the platform, not the Playstore -- by way of MTN's new gaming platform called MTN Game+. 
The MTN Connection
#GidiRun can be downloaded by texting GIDI to 2200 or click here https://t.co/zTug3wTGt9 to get started#TechTuesday pic.twitter.com/TpNelB5vkk

— MTN Nigeria (@MTNNG) June 28, 2016
"You cannot successfully monetise mobile games in Nigeria without telco involvement", Abiola told me at the Gamsole office in Victoria Island. He appears justified; since it launched on MTN Game+ a little over a week ago, Gidi Run has already been downloaded over 3400 times. And it's easy to see why.
Gidi Run has been licensed as the flagship game for MTN Game+, which is why you will see it conspicuously featured on the landing page.
What MTN might be trying to achieve is the same kind of effect Mario had for Nintendo, or Sonic had for SEGA. To signup for Game+, subscribers have to text 'GIDI' to 2200. They get a link to download the Game+ app and the Gidi Run game for free. They also get 150mb complementary data of which, interestingly enough, Gidi Run takes about half of that data allocation to download.
While I get the sense that Gidi Run might have been a bit rushed to meet up with MTN deadlines, I am expecting to see more improvements as the game gets more successful. With the kind of weight MTN will be putting behind this, things can only get better. I can expect TV commercials (unprecedented for any mobile game in Nigeria), YouTube ads and celebrity integrations and endorsements.
Are our gamers excited already?😊
See the #GidiRun Teaser video below👇#TechTuesday pic.twitter.com/Vm5mViEg1w

— MTN Nigeria (@MTNNG) June 28, 2016
This is not MTN's first attempt at an app store of sorts. The practically inactive NextApps store comes to mind. Game+ is already seeing more backing from MTN than NextApps ever did. Obviously, MTN is hoping to ride on the success of the Music+ platform; a source tells me MTN made over $20 million in revenue last year. Really, anything to ramp up data usages will do. According to Olaniran, MTN is firing on all cylinders to increase data usage and gaming appears the most promising to achieve that. Last year at the Tech+ event they hosted a FIFA gaming competition. It won't be much of a surprise if this year it's Gidi Run.
The timing couldn't be more perfect; the data war is still on and MTN has taken the biggest hit so far. If this pulls through for MTN, it will be inevitable that other telcos will follow suit. I hear Etisalat already has its own gaming platform in the works. Are we beginning to see a trend of telcos helping app developers monetise and Gamsole leading?
The devil is in the details
In a country with a measly 0.1% card penetration, getting people to pay with their cards online is a tall order. But if you meet them via a channel which even the most financially illiterate already use - mobile airtime - monetisation becomes an easier play. Up untill now, most local game makers have taken the easier path of advert-based revenue but as Olaniran points out, it is not sustainable. That's saying something, considering his company was practically built on ad revenues from the Windows Store. But he does have a point. The average game hardly get enough downloads to make ad revenues a viable monetisation strategy. This is coupled with the fact that advertisers pay far less for audiences in Nigeria (no thanks again to low card penetration). Gamsole made a huge chunk of its revenue from a global audience. But like I mentioned earlier, even the Windows Store is now saturated, especially as big names such as King (the studio behind Candy Crush) have since made their entry. Hence Gamsole's gravitation towards Android. Such a move in itself would seem like moving from frying pan to fire. Which is why Olaniran, would rather not leave anything to luck.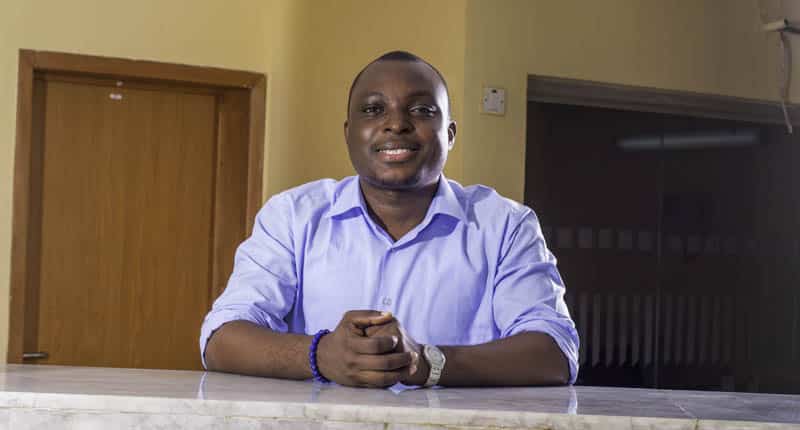 "Like Nintendo1, we are leaving luck to heaven", Abiola comments. "I don't believe in luck. You can't say you might get lucky with downloads on the Play store. Due your due diligence and analysis.
His analysis tells him that telco backing is the best approach. And he has data to prove it. Before signing the deal with MTN, Gamsole already had an agreement with Tracfone USA, the first telco they partnered with, to provide Java games (which apparently is still a huge market even in the US). A failure by Gameloft to supply games for Tracfone became an opportunity which Gamsole snatched. The move fetches them 5-figure revenues (in dollars) every month. This is why telcos are important for mobile developers. The App store and Playstore have tons of barriers to entry and monetisation. The only barrier to entry with telcos is the numbers. And those numbers Gamsole has - over 15 million downloads on the Windows Store and counting.
The future of African gaming
Is telco integration the future of gaming in Africa? Definitely. Especially as it is still the present for big entities in America. Gameloft and Activision, some of the most prominent in mobile gaming globally, have been using telco integration since as far back as 2009 (at least that's when I first noticed). Way before even Nokia tried to bring it to Nigeria, Gameloft already activated local telcos to implement operator billing. It's the same model they employ all over the world. Seeing as Gameloft recently set up shop in Nigeria, it is obvious they make a lot of revenue from this. Gamsole might sure face a challenge in them.
For now it is still humble beginnings. Gidi Run is the only Nigerian game given the spotlight on the MTN Game+ platform. It is an exclusive deal for a year. If Gamsole manages to pull this off, it is very likely that more of this will follow with MTN and other telcos. I like the prospects.
The future of mobile game monetisation is finally here and Gamsole is at the forefront
---
Nintendo is commonly assumed to mean "leave luck to heaven"