If you have been an ardent follower of the #StartUPFriday movement, then this announcement wouldn't be a surprise. The 4th edition is set to hold on the 1st day of July, 2016.
StartUP Friday is a component of the StartUP CAFÉ programme designed to bridge startup growth gap by enriching the development processes of new tech-driven businesses through meet-ups with successful entrepreneurs, investors, mentors, technology buyers and enthusiasts in major tech clusters across the country.
The past 3 editions of StartUP Friday have had in attendance 1,120 participants. StartUP Friday has received tremendous feedback from the attendees. 4 startups have been penciled to showcase and pitch at Gulf Information Technology Exhibition (GITEX) in Dubai in October and 6 startups from StartUP Friday have been recommended by Office for ICT Innovation and Entrepreneurship (OIIE) to pitch at SpeedUPAfrica Ghana, a one week accelerator and boot camp event to pitch before big venture capitalists and investors like Tim Draper.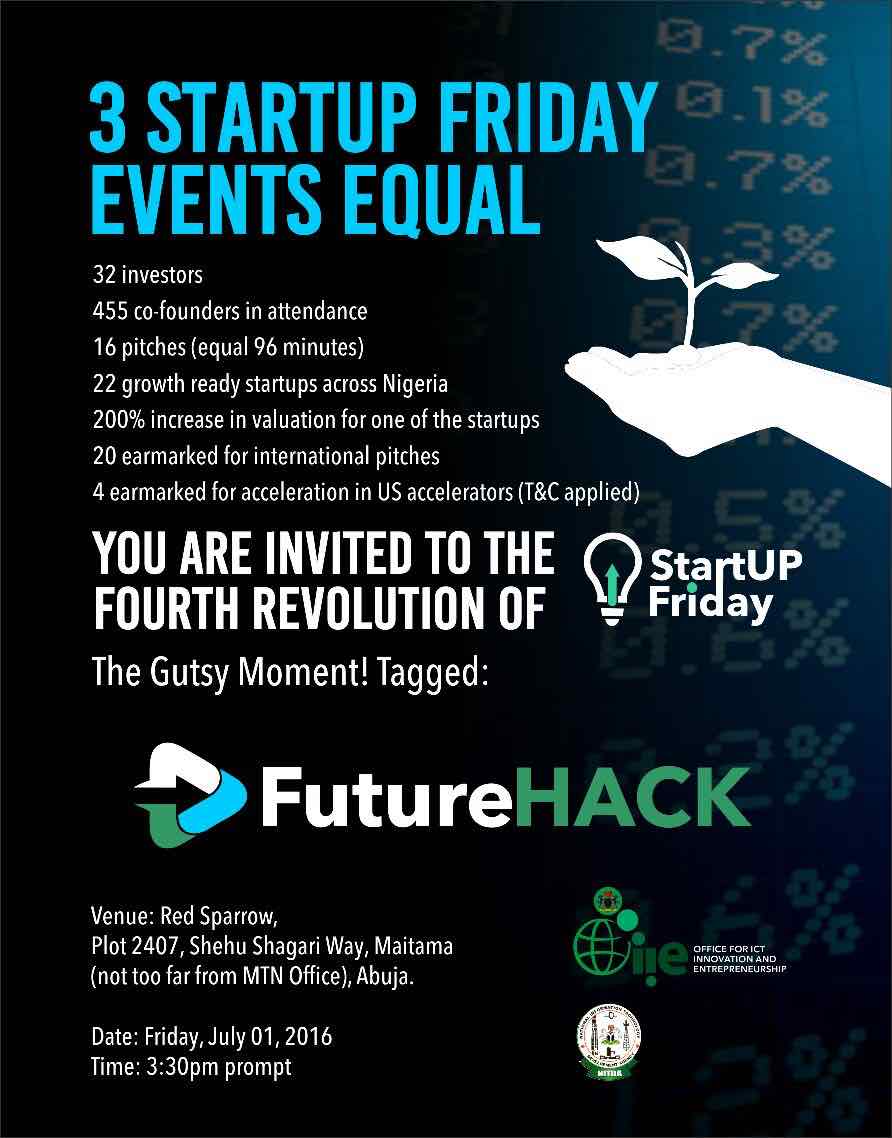 The 4th edition of StartUP Friday comes with a new twist. In partnership with Lagos Angel Network (LAN), the organizers are bringing more investors to this edition. There will be focus meeting with LAN as part of the steps towards creating Abuja Business Angel Network (ABUBAN).
This edition is introducing a new segment titled 'The Future Hack', an open innovation segment. This segment is a journey to the future 2025. FutureHACK! is sectoral, looking for not just ordinary solutions but innovative solutions to deep challenges of the future (solutions with growth potential).
There will also be 'ShowUP-to-Pitch' session which will see innovative startups will pitch their products/solutions, 'Fireside Chat' on Sourcing and Investing in Deals and Networking Session amongst startups, investors and ecosystem players.
The programme will hold on the 1st of July, 2016 at the Red Sparrow Events Centre, Maitama, Abuja, from 3:20 pm. If you missed previous editions you can relive them here.
Following the startup engagement and value in the Abuja ecosystem gotten so far this year, OIIE is looking to scale the programme to other Nigerian cities in 2017 by collaborating with ecosystem players (i.e. hubs, academic institutions, state government etc.) through a franchise model.