Air, food, warmth, shelter, sex, and sleep are all "basic level needs" identified by Abraham Maslow in his famed five-stage mode classification of human needs. Following after that are "safety needs". If you're familiar with that subject, you should know that things like protection, security, order, law, stability etc makes up the subcategory.
The need for security of lives and property has been emphasised in various contexts and institutions in a way that is just as important as any other basic need. Looking at it from a perspective, a lot of investment has gone into ensuring and enforcing both safety and security laws around the world. Regardless, security situations deepen still (especially third world countries).
In our technology-fuelled world, filled with breath taking innovations, it is unlikely that there aren't safety systems or apps designed to give warnings prior to occurrence of these event or even render certain safety protocols. However, the problem with these safety systems is that they require the user to prompt an action in order to trigger an emergency help. In a situation of extreme duress, fear, stress or even an attack where the user is unable to prompt the action, what becomes of the safety systems? If one gets mobbed on the streets of Lagos (or any dreaded spot around the world), the first thing that'd be taken from you will probably be your mobile phone. Without a mobile phone, how do you call for help?
What if there was a system that actually doesn't require you to take an action before getting emergency aid?
Enter Telfone
Having had a bad experience while in final year in University of Nigeria, Nsukka (UNN) with a group of miscreants at gun point, Richard Opara who later went on to become the Founder of Telfone survived that incident without any gun shots. But not before losing every valuable material he had on him; including his phone. "This episode lasted for almost 30 minutes," he narrated.
At least he was lucky. Many weren't. That incident, the #BringBackOurGirls campaign in Nigeria amongst other security-wise related issues inspired Richard to find a solution to the problem of personal safety.
Telfone is a personal safety network designed to keep you safe in any emergency. It is a simple web app; no need for app downloads or a smartphone, just a proactive text message alert to keep you safe before emergency strikes. It alerts your family and friends in emergency, goes further to locate you and proactively alerts the Police or security agencies near you for help in real-time.
Telfone basically works based on the user's inactions and acting on their behalf for help. It kind of pre-empt the user based on a set parameter before the emergency occur.
How Telfone works
The process of getting acquainted with Telfone is highlighted under 3 simple tasks;
Check In
A user simply sign up for FREE on Telfone's website to add their emergency contacts (these emergency contacts can be anybody on your phonebook) and "check in" their time interval (a designated pre-set time for which Telfone automatically checks up on you) of choice before; leaving home, going to work, embarking on a trip, taking a stroll, just catching up with friends or meeting up with a stranger.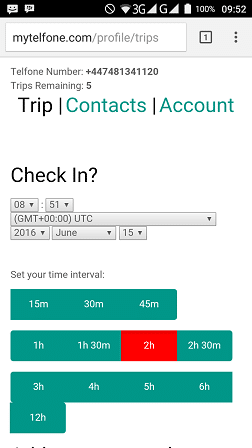 The user can always change their time interval on-the-go. In a nutshell, the entire essence of the "Check In", either as a new user or a returning user, is to set your time interval.
Check Up
Based on your set time interval, Telfone will "check up" on you with a simple text message to be sure that you are fine. You simply reply OK to the message to check in with Telfone and that is it. A response with an OK from the user simply means that they are fine wherever they are and as such will prompt no further action from Telfone. However if you want it to continue checking up on you on any other time interval, all you need do is keep setting/updating the time and it will do so. Although that may lead to a passel of text messages being received by the user in a short span, which can be occasionally disturbing.
To mitigate this, users can deactivate the notification so they don't keep getting the messages after every one hour (assuming that is their set time interval) or alternatively set their time interval for appropriate occasions; say when you leave the house, when it's time to go have lunch and when you're finally heading back home. In that way it gives users control over the alerts they receive.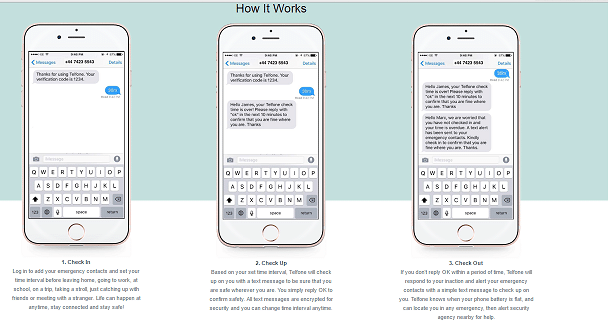 Thus far, when it comes to providing real value in terms of getting real-time emergency services on the go, Telfone still largely appears to be ordinary. But one will be too hasty with conclusions. And that leads us to the third phase.
Check Out
If for any reason at all a user don't respond OK within the period they get a message from Telfone requesting their status, Telfone will give the user a time frame of about 10-15 minutes and then send a second text message encouraging such user to please respond OK to confirm that they are fine wherever they are. If after about 10-15 minutes from the time of the second text message, the user still doesn't respond OK, Telfone will alert your emergency contact(s) with a simple "check out" message. These could be family members or friends who then try to explore every means possible to check up on the user or have ample time to alert the security agencies notifying them of the user's inactions.
But that's not all
Normally an emergency contact is supposed to reply OK upon receiving the message, but for now they only need to check up on the person when they receive the alert. This is partly because the product is still undergoing beta testing (since the 26th of May, 2016) and development. But the long term idea for Telfone is to have a technology which can track the message open rate so that the emergency contact need not reply OK. Going by this, the current system puts quite a lot of power and possibly the safety of the user in the hands of the emergency contact.
But what happens when the emergency contact does not check up on the user, but decides to go drink a bottle of beer at the expense of the user's safety? Good question you'd second. As a response to that, the "powers that be" behind Telfone are very cautious about sending random SMS alert to the security agencies based on a user's inaction for lengthy period (which may suggest that the emergency contact hasn't been able to reach the user). Regardless, they are looking at an average timed inaction of 1 hour from the user before contacting the security agency. Routing an SMS alert to the security agencies on situations like this can be very tricky. So rather than acting based on assumptions, Telfone also considers useful data and risk analysis of the user before acting. And with Google Maps/GPS Location, the system is able to include real-time information about the user's last location on Telfone in the SMS alert.
This is interesting nearly as much as you'd want to say it looks simple on the outside, and rightly so. However, there's a lot of technology works in the background. For instance, Telfone's algorithm is able to tell when a user's battery is flat or turned off and won't trigger any action that may play a part in raising any false alarm. If a user's phone is dead or turned off, the message system returns "undelivered" or "pending" and will redeliver when the phone is on. Text messages are encrypted so that only the intended recipient has access to it.
Safety and security go hand in hand, but both are without doubt a necessity. It is these things that have been considered by Telfone and thus ensuring the value chain span across several factor Richard considers to be of immense benefit to users.
Founder, Richard Opara puts it in perspective; "The first thing that came to mind is SIMPLICITY.  We are just trying to make sure that things are simple as possible. Another one is that a lot of people have loads of apps on their phones that they do not even use and there is no point bugging people to download apps when they already have enough they do not even use". In one word, the summary of the last point is ACCESSIBILITY.
Pricing
Here's one part I've been pressing to get to. Due to the product still undergoing beta testing, the pricing plans have been revised severally (from initial 4 different payment plans to 3) to suit demand. But we are looking at a possible situation where Telfone finally adopts a FREE plan and a paid plan, each having its own unique features. But ₦700 -- ₦1300 per month in my opinion (Dollar equivalent) may not be bad for a paid plan.
Funding
Aside from the fact the business has gulped about ₦3 million bootstrapped fund (which may rise to about ₦10 million when the product is fully developed), it is harmless to posit that Telfone works in partnership with other services. Telfone works with two APIs; The SMS services is made possible by Twilio (twilio allows for SMS services to anyone, anywhere in the world) Google Maps on the other hand for locating a user.
Challenges
The good thing about the beta testing is that it has enabled Richard and his team review suggestions and improve on the shortcomings. But there's an handful of satisfaction it gives you when it comes to the issue of finance.
"The challenge so far is that the business has been bootstrapped completely and, no external funding at all," Richard enthused without mincing words.
Prospects
"The idea is to do what none has achieved; which is to use a simple web app and grow it into a multi platform and by so doing growing from product to platform possibly within the next 12-24 months" says Richard.
You just heard the man. Did I also mention that Telfone is based in UK? Well, I just did.
While I've already hinted that the product is undergoing BETA testing, we may as well expect a launch sooner than we know it. The site, as it stands, is 90% ready. While works are currently ongoing to finalise the payment version, based on the feedbacks, the free option is completely working. So what are you waiting for? Sign up now.