Starta, the business support platform for African startups and entrepreneurs, is launching a Nigerian Startup Matchup competition -- an online game that is supposedly aimed at putting you in the mould of an investor, VC or an Angel investor and voting for a startup that is deserving of your fund.
As voters you will pretend to be investors and will be required to choose what startup you would invest in based on the matchup. The game appears to be a simple question - which of these Nigerian startups would you likely invest in?
"What the heck" was my initial reaction, but all that negative energy evaporated upon landing on the official page. Interestingly, 32 startups in Nigeria that have raised money in the last four years from VCs have been selected and paired together.
The selected startups include: Jumia, Konga, Paga, Dealdey, SimplePay, Jobberman, Wakanow, Hotels.ng, IrokoTV, Andela, Jovago, TravelBeta, Paystack, Metro Africa Express - MAX, PushCV, Printivo, SureGifts, Podozi, Prepclass, Delivery Science, Cash Envoy, TalentBase, Tutor.ng, Sliide Airtime, Kaymu, Carmudi, Lamudi, African Express Courier (ACE), Hello Food, VConnect, Social Lender, Pass.ng, TopCheck and Cheki.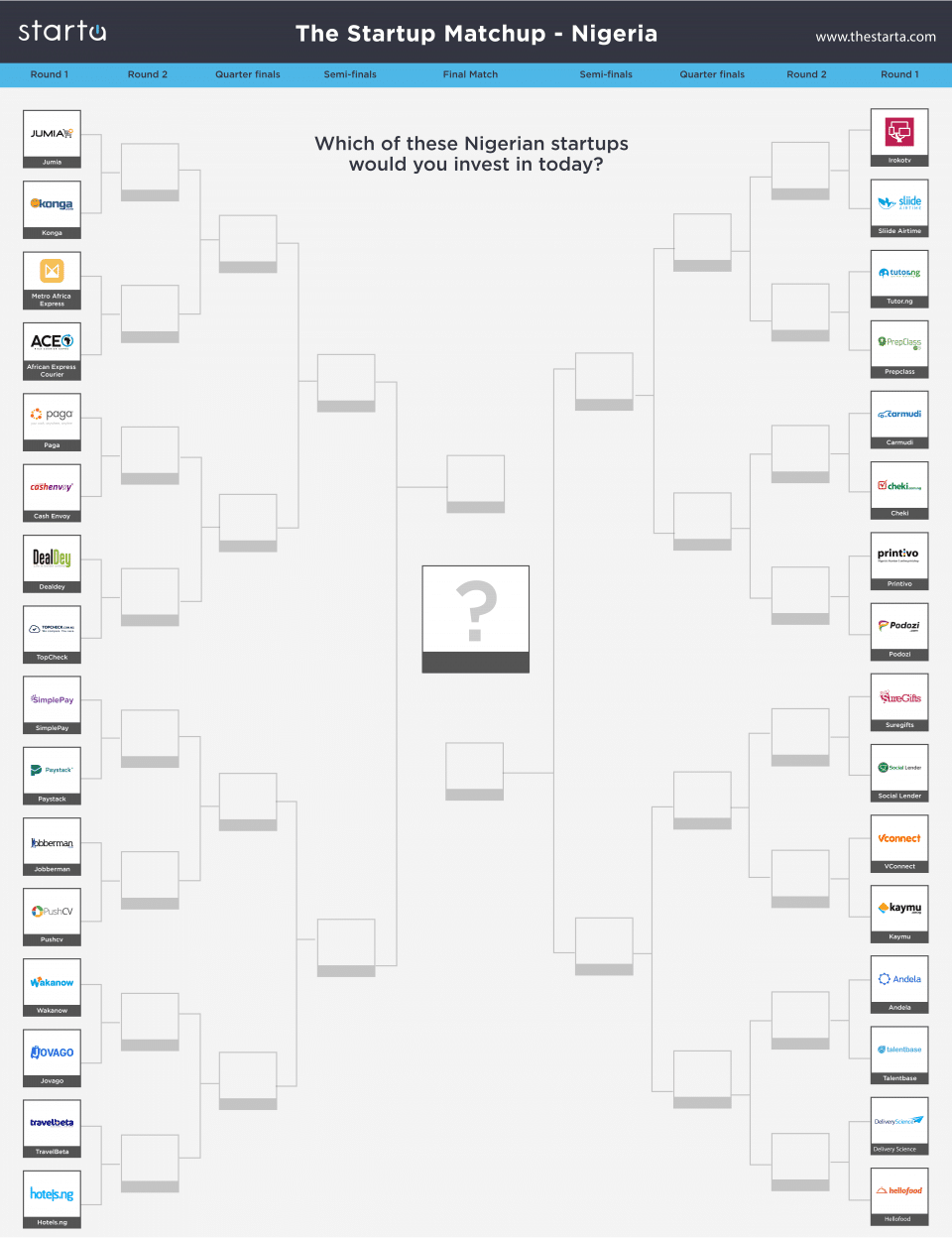 There will be 5 rounds in total. Each round will eliminate startups with the fewest votes in each pair, while the startup with the highest votes will advance to the next level in the competition until a winner emerges.
The results for each round will be announced via Starta's newsletter and the Nigerian Startup Matchup page.
If you will like to take part in the competition, kindly visit the competition portal and start voting for the startup you think deserves your fund. 1st round of voting ends on the 14th of June.