With the current data prices, Glo seems to be winning the Data Wars. Going by reactions gotten so far from Nigerians, I can say customers are more than happy with the slash in the prices of data but the real war started last year when customers began migrating between telecom operators based on service offerings.
A recent publication by the National Bureau of Statistics (NBS) and the Nigerian Communication Commission (NCC) reveals that MTN saw a lot of outgoing customers porting to other telcos. The share of outgoing porting activity accounted for by each provider in Q1 2016 was more stable than the share of incoming porting activity. MTN, with 31,036 outgoing porters, accounted for the largest share at 58.59%. Although this is slightly lower than the 32,226 outgoing porters recorded in the previous quarter (Q4, 2015). Airtel with 9,985 outgoing porters accounted for the second largest number of outgoing porters.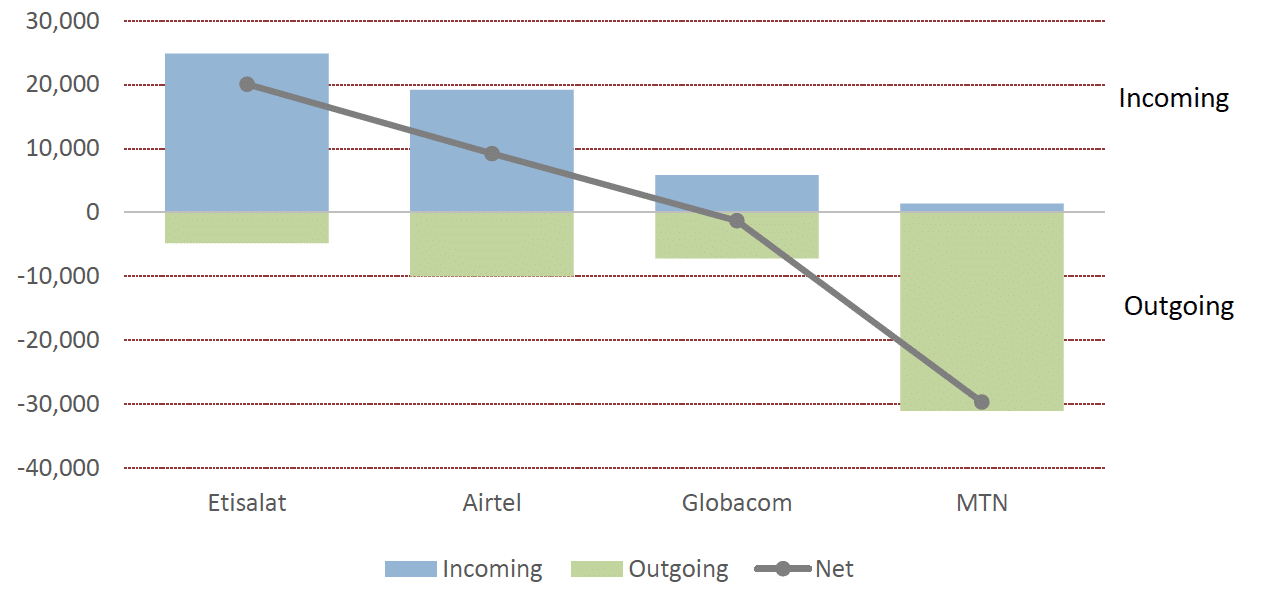 As of March 2016, the total number of GSM subscribers was 147,398,854, an increase of 5,756,018 relative to March 2015. Airtel and Globacom continued their uninterrupted upward trend in GSM subscriber numbers from January to March 2016 while Etisalat and MTN experienced a decline in the number of GSM subscribers leaving MTN with 39% of total GSM subscribers.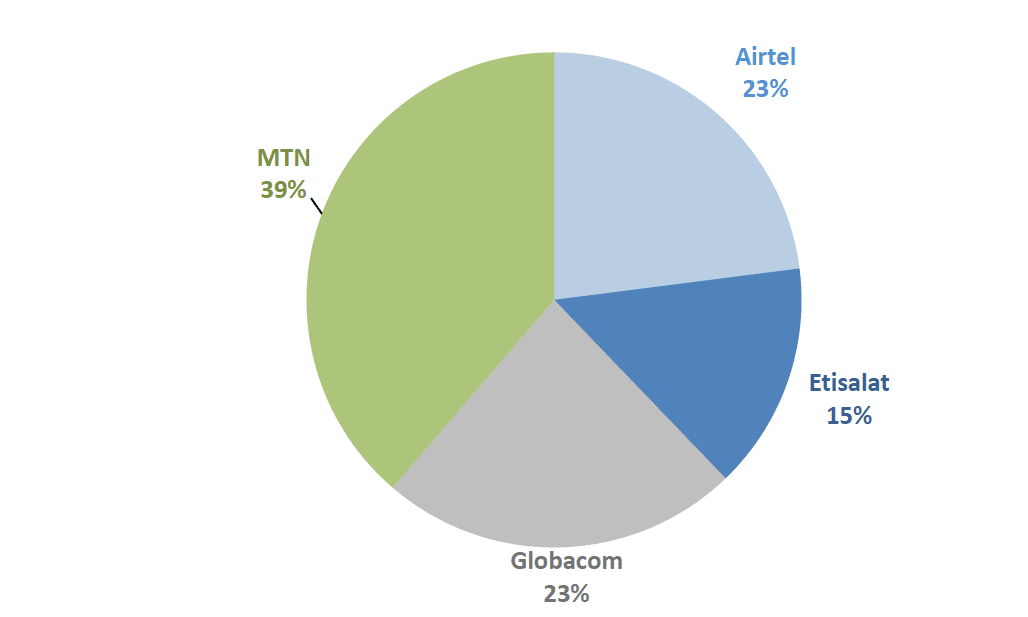 In fairness to MTN, the primary reason for the massive decline in subscriber share is not far-fetched. You will recall that the telco's perpetual tussle with the NCC caused it to lose 4.5 million subscribers in April.
Nevertheless, it is quite instructive that almost 60% of the outgoing ports in Q1 2016 were from MTN. All other providers increased in share. Airtel accounted for the second largest number of porters from MTN; their share increased from 18.70% to 18.85% between the last quarter of 2015 and the first quarter of 2016. Globacom's share increased from 11.64% to 13.50% over the same period, and Etisalat's increased from 8.39% to 9.06%. Etisalat remains the largest beneficiary of incoming porting activity, and accounted for 48.49% in the first quarter of 2016, just short of half of all incoming activity.
The MTN effect
But here's where it gets more interesting. According to the report, a total of 92,285,052 Nigerians had an internet subscription with one of the four carriers of Airtel, Etisalat, Globacom and MTN in March 2016. This is down from almost 98 million in November, 2015. The fall in the proportion of GSM users with internet subscriptions was caused entirely by MTN, which had 6,568,142 fewer internet subscribers in March 2016 than in December 2015. As a result, MTN's share of GSM internet subscriptions declined over this period from 39.90% to 33.36%, although this still makes it the largest provider. All other providers recorded increases, although these increases were not large enough to outweigh the reduction in MTN's subscriptions.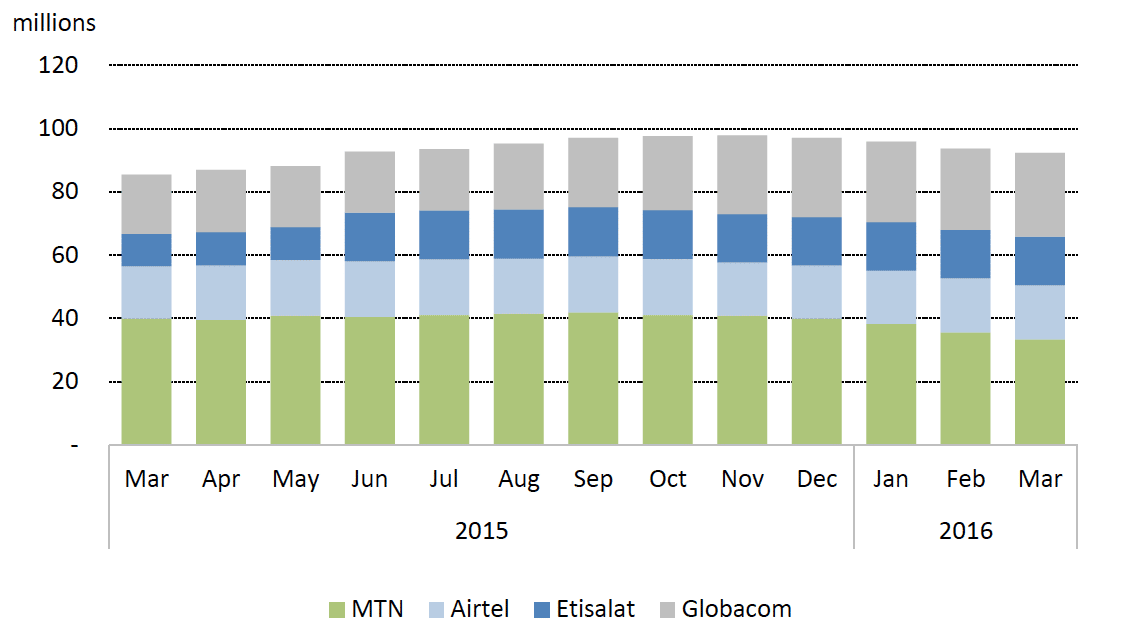 Given that Visafone (now acquired by MTN) dominated the CDMA internet subscriptions to a greater extent than the mobile subscriptions (accounting for 99.89% in March 2016) it is the main driver of total CDMA internet subscriptions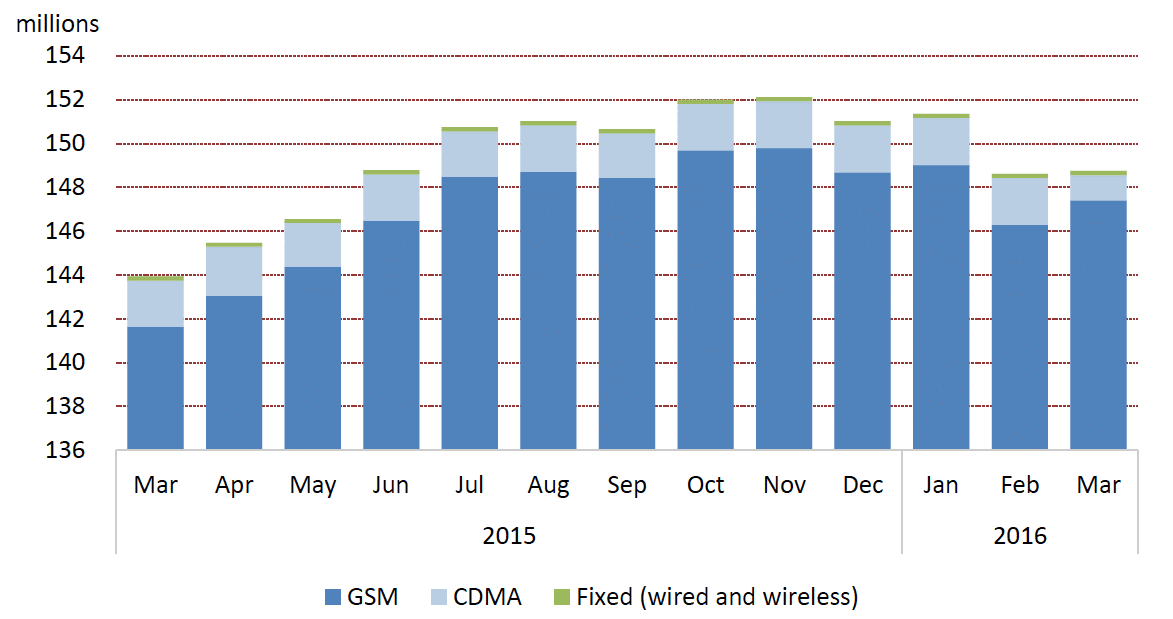 Although the ratio of internet to mobile subscriptions amongst CDMA providers is low relative to GSM subscribers, internet subscriptions remained stable from July 2015 through to February 2016. However, there was a sharp decline in March 2016, which led to a decrease of 18.09% relative to the previous March and of 16.80% relative to December 2015.
Data subscription distribution
It is interesting to note that Lagos and Ogun States account for the largest number of telecoms internet subscribers.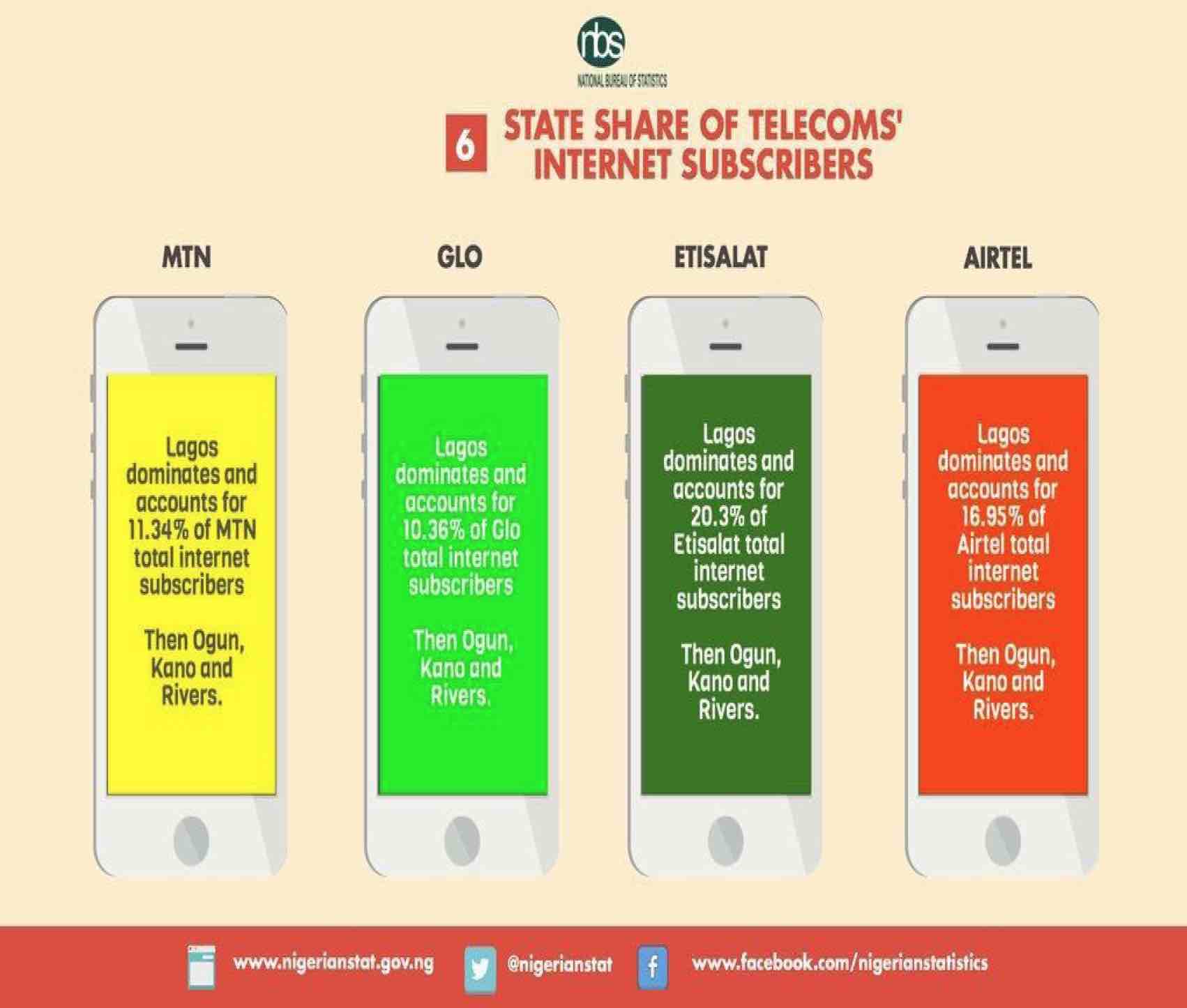 Lagos State accounted for the largest share of active voice subscribers with 19.04 million, followed by Ogun State with 8.53 million subscribers, Kano State with 7.81 million, Oyo State with 7.53 million subscribers, then FCT and Rivers State with 6.03 million and 5.84 million respectively. While Bayelsa (1.11 million), Yobe (1.40 million), Ekiti (1.42 million) and Ebonyi (1.43 million) had the smallest number of active subscribers as of 1st quarter 2016.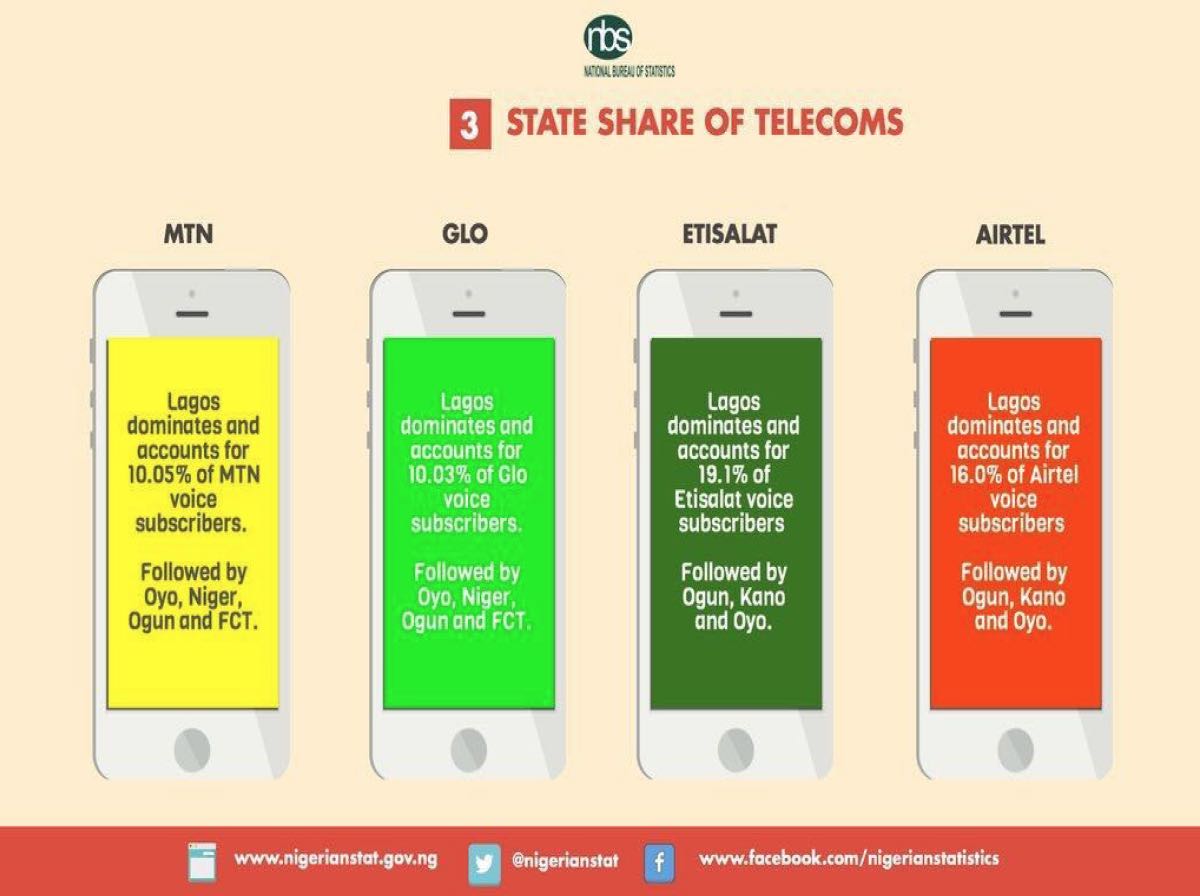 It is obvious that the real titans in this war are MTN and Glo having the largest internet subscriptions. But will MTN's secret weapon - Visafone - help in anyway? Going by the aggressive marketing strategies employed by Glo in making internet subscription cheap and relatively affordable I doubt MTN can hold their first place title for long.
The race of the telcos to be the number one supplier of internet service in Nigeria will avail techpreneurs the opportunity to reach the populace with their services. One thing I am hoping for is the establishment of more internet subscribers in the remaining 26 states of the federation ranking low with respect to the number of internet subscribers.