Over the years, the educational system in Nigeria has looked like a disaster as it is fraught with many lapses ranging from students absconding from seemingly difficult classes to even circumstances beyond students' control. Counting down to today I had nurtured this doubt about ever having a proper mitigative measure to nip these ills in the bud. Apparently I was wrong.
That is not to say that these problems aren't predominantly rampant today, but with less damaging effects I should add. Part of that is on the light of technology that is gradually being embraced and the commitment of certain organizations to see things change for good.
Now who says learning can't be fun provided the right tool and enabling environment are in place?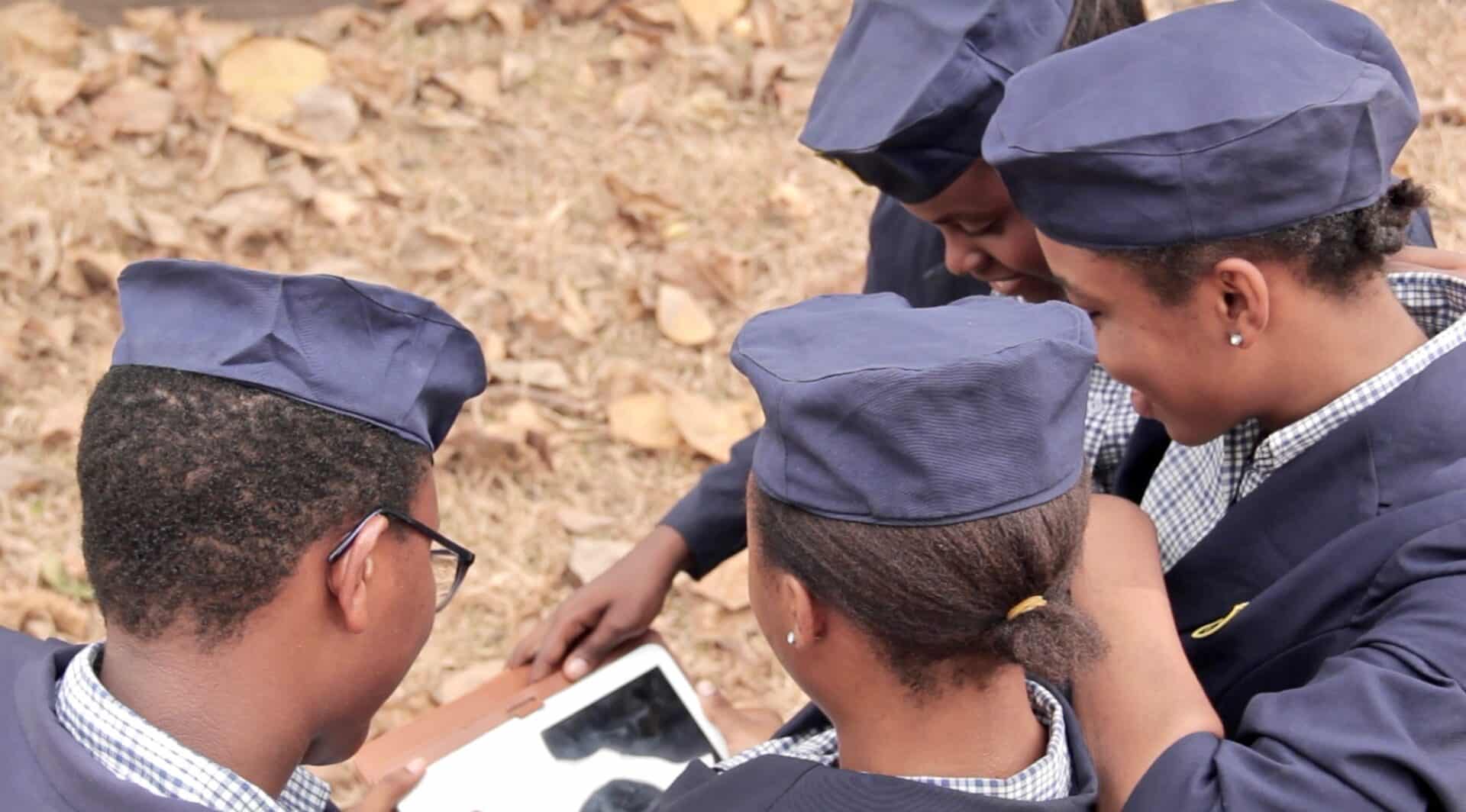 A new way of learning
Imagine a classroom where students no longer write long exhaustive notes or bother themselves about buying textbooks to stock their school bag. In another scenario, how would it sound if a teacher came into the classroom with neither of these things and yet delivers or anchors a very exciting and interactive classroom session? Is it actually possible you're asking yourself.
Well, with the right combination of zeal, passion and leveraging on the right partnerships, Skool Media has forged a winning identity of digitizing classroom learning. By so doing creating the ideal 21st century classroom.
Skool Media is an ICT solution based initiative that attempts to redefine the goals of education, to transform how learning is practiced and to expand the range of measures in student's achievement, all in order to meet the new demands of the 21st Century.
Information technology as we all know is changing everyday life; the way we work, live and do things. Education without a doubt is one of those things. However, in this part of the world, the idea of a 21st century school remains an abstract concept for many. It is on these strength that Skool Media, one school at a time, is gradually concretising technology in education in Nigeria and leading the revolutionary change in the educational sector. Altogether, the idea of a digital classroom will make the teaching and learning experience a collaborative effort for both the student and the teacher, classes become more visual thereby aiding better understanding of lessons and topics taught.
"If we seek change, we should be the change that we seek" says Moses Imayi -- project director at Skool Media -- as he passionately expresses how Skool Media uses technology to create an ideal 21st century school.
"We strongly believe that if we adopt the benefits of ICT, our educational system will be better off," Imayi says that technology has a lot to offer when it comes to solving several challenges in the educational sector.
Last year, Skool Media signed an MOU with the Federal Ministry of Education to digitize 104 Unity Schools in Nigeria. It also secured a partnership with Samsung as its partner for educational tablets which are deployed to the schools.  With a single touch on these tablets, students can have access to every material pertinent to their course of learning.
The tablets are pre-installed with approved student friendly learning software ranging from textbooks, videos, assessment to other relevant materials that cut across all subjects in all secondary classes. With that, students are geared up for an interactive, exciting and enlightening classroom experience. When teachers are teaching, it's no longer abstract; they can see and follow keenly.
In every school where the Skool Media project operates, there's a place of convergence, called a common room. This room houses facilities like internet, a dedicated laptop (that operates as a central server), and projectors to meet various needs of the students. Along with the fact that they are also painted in bright attractive colours, the common rooms can also serve as safety rooms — after school hours, students keep their tablets there.
In these common rooms, there is at least one IT instructor who assists students and teachers with their technology challenges. Through a partnership with UNITES Cisco, its sister organisation, about 230 staff are currently employed across unity schools in Nigeria. Consequently, creating employment for many Nigerian youths.
Teachers aren't left out
From a perspective, it would appear that the benefits of Skool Media largely tilt in the favour of the students, however the teachers are also not left out. For the teachers; nothing is more fulfilling than seeing their efforts validated through consistent interactive learning. The traditional way of learning is fraught with varying counter-productive processes, from managing several hardcopy materials to compiling and dictating lesson notes whilst simultaneously managing the students, which technology now reduces. And as a result, teachers can teach any subject with an almost certain expectation of deriving the desired results. Skool Media also organises capacity building training for teachers; especially those with little or no computer ability. Once they are IT compliant, they can handle the laptops, projectors and projector screens for teaching purposes in the classrooms.

"If we invest in education by default, we are already investing in the economy of our country," says Imayi as he explains the connection between quality education and the nation at large. The project which started with Queen's College and Federal Government Girls' College Benin, is in its first phase, spreading to 24 unity schools across the 6 geo-political zones of the federation.
Beyond just education
Enough of the tech jargons on classroom digitization, there are other sides to what Skool Media is doing that are equally fascinating. Skool Media's vision aligns with the idea of students having access to an enabling environment in order to advance quality learning. Bright colours are often believed to inspire creativity. With the adoption of several blends of fancy colours, Skool Media redesigns classrooms in a way that attracts students to learning.
In the words of Moses, "The beauty that you see here (his office) is a carbon copy of what you find in these classroom environments. This he said while comparing Skool Media's ravishing looking office and what is now obtainable in these schools.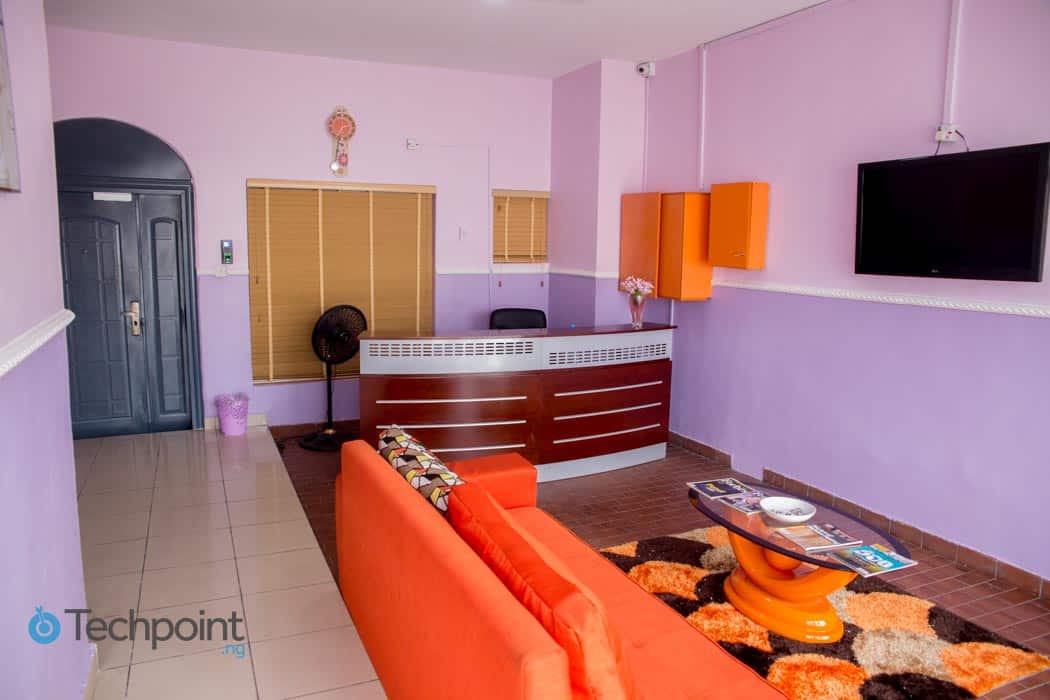 "We adhere to the concept of painting and redesigning classrooms and then putting technology into them," he adds.
Many may be worried about the costs of internet connections for this project. All Skool Media's learning content is completely offline; so students don't need internet. No worries of the distractions of the internet. Also the tablets come pre-installed with software that exerts a level of control on what students can access even if provided with the internet. Thus ensuring that students use the tablets for solely educational purposes.
Funding
Liquidity has been provided solely by Skool Media. According to Imayi, everybody is realising the need to be part of this innovation that will change the education space. As such, the platform has been built largely on "partnerships" ranging from hardware, content to software -- which have been the major leverage for Skool Media. The tablets cost ₦50, 000 each. However, without the tablets, students still have access to a laptop loaded with educational content stationed in each classroom. With liquidity coming from Skool Media's purse, they are however not to be confused as being so overtly charitable. Their services comes with a token fee which students are obligated to pay each term. My assumption is that these payments largely cover Skool Media's recurrent expenditure.
Challenges
It will not entirely be strange to find innovation with disruptive label welcomed with a little bit of hostility. "Change is good" they say, but better is it when embraced in totality.
Some teachers felt threatened by the project initially. But through a lot of engagement, partnership, interaction and alliances, Skool Media has been able to win them over. People who initially felt threatened are now Skool Media's greatest advocates, Imayi says.
Prospects
Skool Media has started incorporating technology into unity schools in Nigeria but it seeks to transform the entire education sector.
"Our goal is to build the biggest IT for educational organisations in the sub-Saharan Africa and the world, " Imayi says.
As an organization, Skool Media remains passionate about utilizing the benefits of ICT to address economic issues; particularly drive educational development. And it doesn't look like they are running out of steam any time soon. As long as the schools exist, Skool Media would stay with them and support them, Imayi says.
"This is not about today. It's about our country, our future and the future of the kids yet unborn," concludes Imayi.
That's about the basics of Skool Media's plans to digitize classroom learning and it's already well positioned to regenerate our ailing education system. One 'Skool' at a time I should add again.