While we slept, Private Messaging was creeping up the Social Networking trunk, and now the vine is so high up, it can't be ignored any longer.
During the wee hours of this morning, as I was scrolling through my Twitter timeline, I came across an article that interested me. It was written by Mark Schaefer and titled 'Are you ready for the mega-shift from Social Media to Private Media?' My initial reaction to the article's title was, "We haven't even finished cracking Social Media and there's already a shift?" But that's the world in which we find ourselves today. Things are changing faster than we can sneeze and we have to keep up.
"Over the past few months," says Mark, "I've seen a few trends coming together but I'm not sure I grasped the significance of what's happening until I heard a recent comment from my 16-year-old nephew." And what was the comment? "Oh, Facebook is dead. My friend posted on Facebook and we made fun of him. We only use Snapchat now because who wants to put everything in public all the time? This just connects me with my real friends."
Although I'm quite sure Facebook isn't dead - something Mark quickly pointed out, and it is not wise to take one person's comment and build an article of this nature on it, but the figures supporting the rise of messaging apps cannot be overlooked.
As public as Twitter, Facebook and Instagram are, there's a lot that goes on as private messaging that isn't visible to the public. Even brands, when they want to handle customer service queries, move conversations into the private.
After Facebook (1.5 billion), WhatsApp (1 billion), Messenger (900 million), QQ Mobile (853 million), and WeChat (697 million) have the highest amount of monthly active users. More than Instagram (400 million) and Twitter (320 million). Between the first and second quarter of 2015, the top four messaging apps surpassed the top four social networking apps and the figure has been on the rise since then.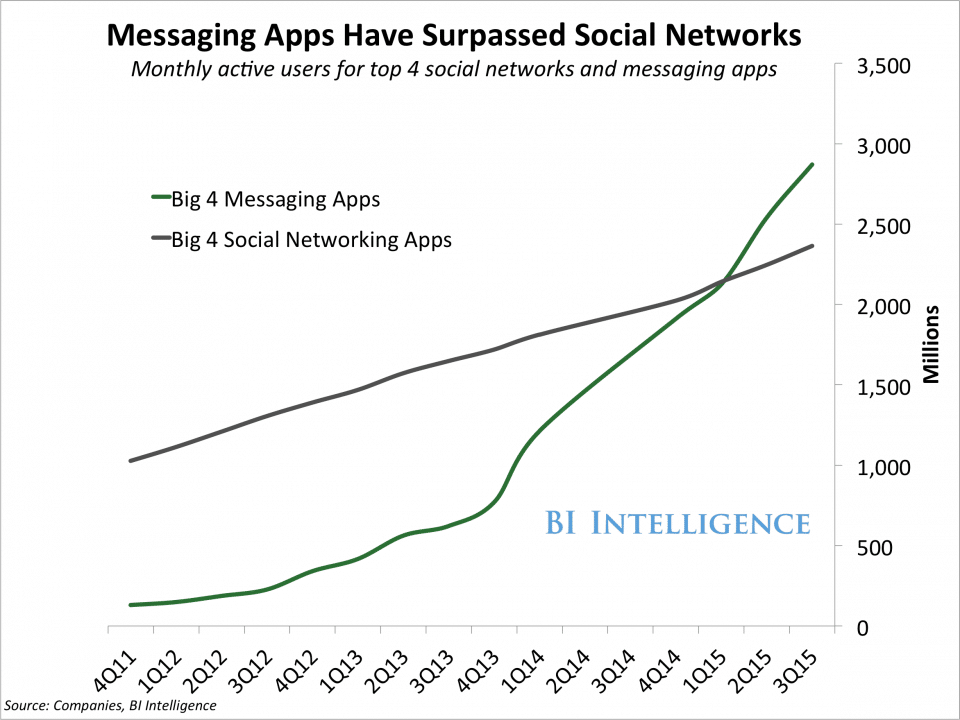 What does this mean for businesses trying to reach their audience?
Businesses can build private local communities
In an article for The Drum, Seb Joseph writes about Adidas's foray into this field:
"It's one-to-one messaging rather than one-to-many messaging that's dominating the digital space and Adidas is trying to get a truer sense of those intimate conversations with new forms of social listening.
"To gain that intimacy advantage and become "the most personal brand", the company is trying to track communications that are shared privately. There's a reason dark social is called dark - because it's currently very difficult to track, which is why Adidas is using WhatsApp to build hyperlocal communities in cities across the world… Members will receive news released through dark social before anywhere else as well as invites to events and access to Adidas' ambassadors, from athletes to artists."
Imagine popular football clubs, food and restaurant brands, and the like, creating private messaging groups and offering their fans or followers access to exclusive resources that aren't normally available to 'the public'. I know, in my heart, that I'd be willing to join an official Manchester United WhatsApp group and insult the life out of Louis van Gaal and his annoying players.
They can deliver custom content
Two days ago, Techpoint reported that the Financial Times is now on WhatsApp. For now, they are delivering one free story per day to their WhatsApp broadcast list, but I reckon it won't be like that forever. By the time more content providers come on board, even the ones that provide free content, this will change.
Instead of having to sieve through a shitload of content to get to the ones that really matter to you, you will soon be able to decide what type of content you receive without having to go hunt for it. Also, with time, the content you receive will be content that is more focused on improving your experience because it will be permission-based. You decide what is best for you and that is what you will get.
They can use bots to render quality customer service through private messaging
Now this is the scary and creepy part. How would you react if you learned that this whole article was written, not by me, David, but by an Artificial Intelligence programme? I know I would freak out. But that's exactly what is going to happen in the future.
There are already AIs that write entire articles and AP have robot journalists that write their own stories now. The future is not as far away as you might think.
So if AIs can already write stories, how soon before they start handling customer service conversations?
As Mark Schaefer said, "This is a fascinating new development and there are many, many future conversations we will have together on this topic."