---
Yesterday, Financial Times announced that interested readers will now have access to one free story per day via WhatsApp. The service is available for both Financial Times subscribers and non-subscribers.
Here's the official statement that they posted on a special page on their website:
"We are keen to reach FT readers in new ways and are launching a WhatsApp broadcast list. To be a part of this exciting new experiment, add the phone number listed below in the grey box to your contact list and send the message "start" via WhatsApp.

"We will only send you one story per day, a big story or analysis. Something that perhaps you might not have read otherwise, but that we think is worth your time. Whether you are a subscriber or not, it will always be free (outside of the FT's subscription paywall)."
I got to know about this news through their Twitter account:
The FT is now on WhatsApp, delivering you one free article every day. Sign up here: https://t.co/CZpq97kPZ0 pic.twitter.com/VXZs7upWpC

— Financial Times (@FT) May 17, 2016
I thought it was cool, so I quickly signed up for the service. I followed the instruction to click on the gray box so I could add the phone number to my contact list.

I added the Financial Times number to my contact list and sent the "start" message via WhatsApp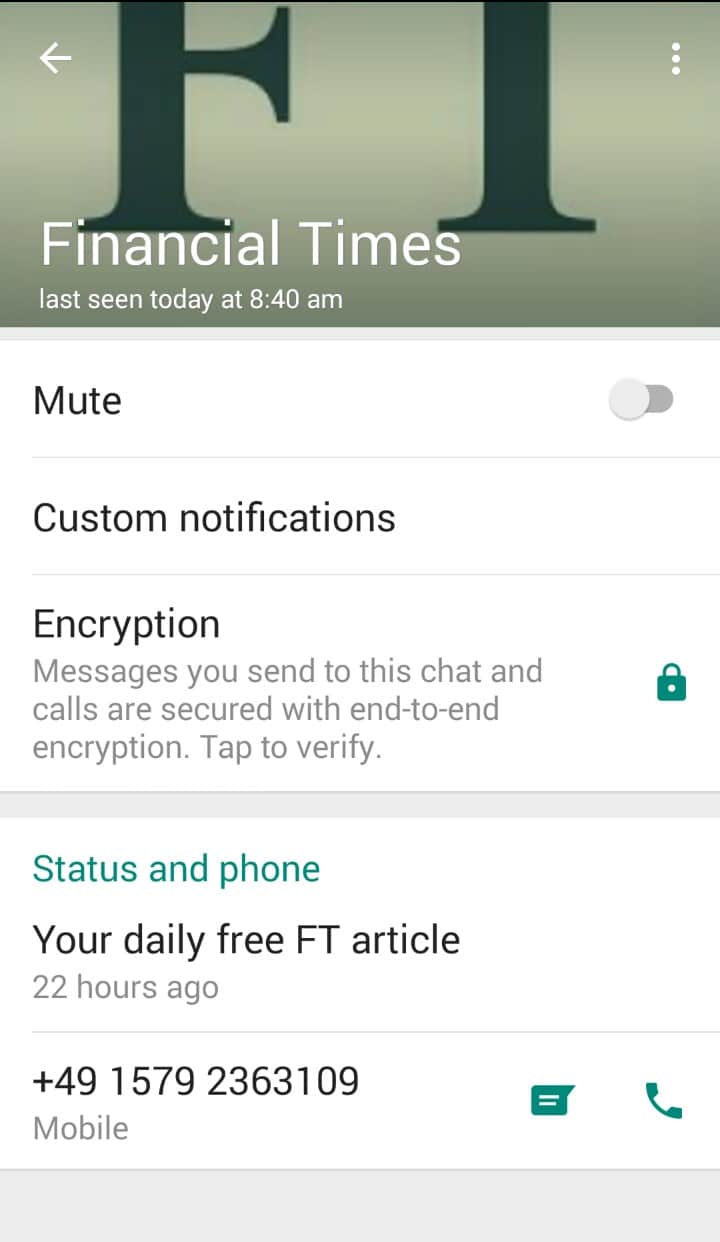 Then I got this response:
I'm excited about the possibilities this holds.
Remember in January 2016, WhatsApp abandoned their $1-per year subscription fee model. For the people wondering what their new business model was going to be, this was what the company had to say:
"Naturally, people might wonder how we plan to keep WhatsApp running without subscription fees and if today's announcement means we're introducing third-party ads. The answer is no. Starting this year, we will test tools that allow you to use WhatsApp to communicate with businesses and organizations that you want to hear from. That could mean communicating with your bank about whether a recent transaction was fraudulent, or with an airline about a delayed flight."
So you can see why I said this is an exciting development. WhatsApp is aiming to make it easier for customers to have one-on-one communication with the businesses they patronize or interested in.
If you're a WhatsApp user [with an updated version of the app], you must have noticed that the new update comes with end-to-end encryption. That means the app is now more secure. I think it was smart for WhatsApp to wait until the new security update was in place before kicking off this next phase of their development.
And as for Financial Times readers worried about what might happen to their phone numbers, here's a message for you, from them:
"The FT maintains the highest standards of data protection. We will use your phone number for the purposes of administering the WhatsApp broadcast list and to inform you if we set up a separate WhatsApp list about a different topic that you may wish to join. Please also refer to the privacy policy of WhatsBroadcast.com, who are administering the broadcast list on FT's behalf. Please also refer to FT's terms and conditions."
If you're interested in knowing more about this, check out the full statement on the Financial Times website.
What are your thoughts on this new development? Share them with me in the comments section.
Update: My first free Financial Times story has landed: