The blood is to the body as the CPU is to the computer. Without which, life is non-existent. Typically the body contains around 10 pints of blood, which is circulated throughout the body by the heart.
Stats have shown that Nigeria needs an average of 1.8million pints of blood annually to improve the medical condition of Nigerians, and only about an average of 1.2million pints of blood is collected. The disparity accounts for the numerous number of deaths encountered in the nation; including the deaths of pregnant victims, accident victims, cancer patients, sickle cell anaemia patients et al.
Bleeding (haemorrhage) for one has been identified as the leading cause of maternal deaths in Nigeria simply because pregnant women cannot access it when they need it. As a result, blood shortage remains a serious issue affecting our nation and killing both the young and old.
It is on this note that Redbank -- a startup that helps hospital and patients quickly and easily search and find safe blood in real time via SMS -- is collaborating with the Lagos State chapter of the Nigeria Red Cross Society and Lagos State Blood Transfusion in hosting a blood drive as part of its campaign to mark the World Red Cross Day. The fundamental principles recognized during the annually celebrated World Red Cross Day are impartiality, humanity, independence, neutrality, voluntary, universality and unity.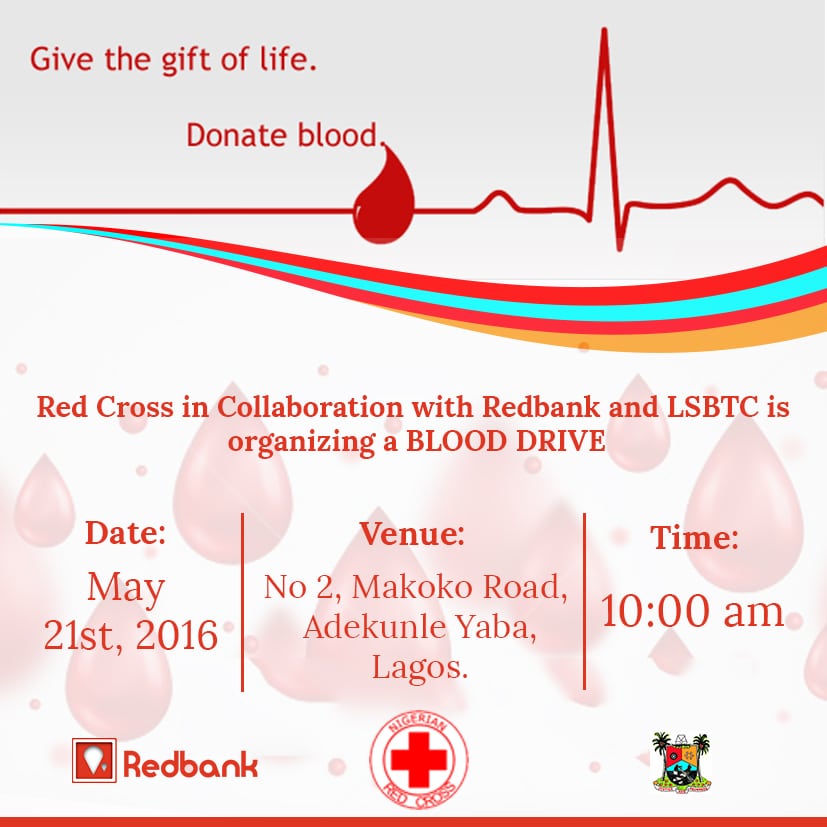 Kind-hearted Nigerians are hereby implored to come out and voluntarily donate blood to help combat blood shortage related deaths in Lagos.
Date: May 21, 2016
Venue: 2 Makoko Road, Adekunle, Yaba, Lagos
Time:  10 am - 5 pm. <a href="http://

" target="_blank">[Add to Calendar]
You could save a live.