The need for technology is fast springing up everywhere. As a result, there are more tasks within the ecosystem than what the current available hands can effectively handle. Which is why a lot has been said concerning how the ecosystem needs more developers to balance the odds.
As it stands, a lot of things aren't accessible right now. Some would be quick to point accusing fingers on the government's late intervention, in matters that concern the ecosystem, or the big money bags for not being supportive enough. Regardless, that is not to mean that government's recent interest for the ecosystem's well being isn't commendable. However if the self reliant/driven ecosystem has shown one thing over time; it's the fact that it wouldn't be advisable to put our eggs all in one basket.
As a result the onus has shifted upon the Hubs, VCs, key players and some startups to do their bit in order to have our tech space rubbing shoulders with the very best -- Silicon Valley. Andela for instance has been known for identifying high-potential developers from the African scene and transforming them to world class developers -- well maybe not overnight. Also, when I initially heard about the SCI initiative to train and empower budding developers to become world class in the space of one year (would be interesting to see how that pans out) my heart welcomed it with both feelings of joy and a little scepticism -- especially because it's becoming increasingly difficult to hold people accountable to their words.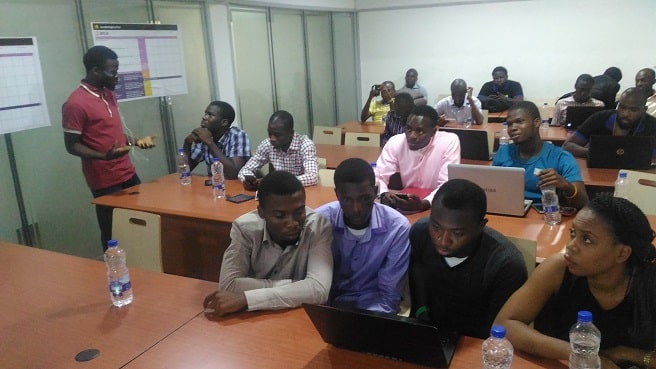 Just when I was about giving into my scepticism about the entire initiative, there they were on Tuesday the 3rd of May conducting the induction for the successful applicants that were enlisted into their programme. Apparently they meant every word, and that'd will go a long way to inspire confidence not only in the applicants, but also those looking to drive similar initiatives.
So we would be seeing these enlisted applicants show up everyday at the iDEA Hub -- which provided facility and a trainer -- for the next one year learning at their pace and perhaps defining the face of the next generation of software developers in the country. While that is yet to be seen, there seems to be this apparent paradox of anxiety and excitement for what the next one year would hold for these trainees as I got talking to a few amongst them. Deep within their minds they knew the next year would probably be the most challenging period of their lives in same way as it holds their biggest prospect.
For all its worth SCI are only doing their bit, the general idea still remains to build a supportive and a strong ecosystem and everyone has a role to play in that. It's high time we grew our ecosystem to the point where we can even export our own finished technology products to global reach. Can someone say Hallelujah to that. That is what I believe in.
Do you think the Nigerian ecosystem can attain that height in a short space of time? Kindly share your thoughts.