From a list of the 50 richest men in Africa according to Forbes.com, 10 are Nigerians. Aliko Dangote, Chairman and CEO of the Dangote Group, is number one on the list with a net worth of $16.7 billion.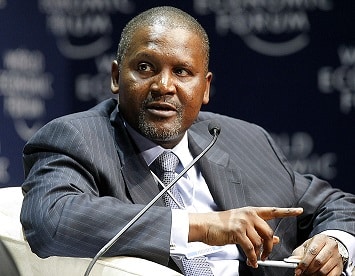 In the true Nigerian spirit, some have even gone on with speculations that there are people richer than Dangote in Nigeria. That speculation is for another day, but it goes to show you how many millionaires and billionaires are resident in Nigeria.
Regardless of these Nigerian moneybags resident in our beloved country, local startups  still hustle for seed funding in competitions all over the world. Why?
Before we go on to the all-encompassing question that forms the core of this article, I want to lay a foundation of sorts for our skyscraper.
I like to think it is an unspoken rule among the Nigerian Billionaire Boys Club (NBBC) that they would never invest in startups or, in one big man's words, "all these businesses that do not know exactly what they want to do". Whenever these Nigerian moneybags chill in a cluster of yachts, the program probably begins with a call; "Hope nobody has thrown a dime towards those startup boys?",  "No captain!".
Apart from the Tony Elumelu Foundation  that is doing a great job with its TEEP that is particularly directed at startups, no other Nigerian moneybag is loosening their purse strings for startups or even considering it.
Why no money?
Dear Lagos Big Boys, help the startups! Cash out daddy's Gclass or the Banana Island flat you got for Bday and become a business angel 🙂

— Marek Zmyslowski (@marekchinedu) April 25, 2016
This tweet somehow captures the current situation in 140 characters. A few years back, I prospected a juicy real estate deal in Ibeju Lekki  to a potential client, and he started running the astute business-man gauntlet; talking to lawyers, checking paperwork and doing background checks. Not that I blamed him for wanting to be thorough.
Two days after the piece of land came on sale, it went from ₦3.5 million to ₦5.2 million. A few people were lucky to have copped it at the initial offer price, that translated to nearly 100% return on the investment for them in just 2 days. After I informed him what his hesitation had cost him, the client told me, and I quote him verbatim. "I am not happy with you and would not be in a long while, but I would never forgive myself. "
So Oga Chinedu, the Lagos big boys would not cash out on certainty for uncertainty, even you would not do it in an alternate universe.
The average Nigerian millionaire/billionaire is a traditional businessman
Nigeria is yet to produce any private jet owner or member of the Nigeria Billionaire Boys Club(NBBC), who has gained membership from a startup or tech-oriented business, most of these people are oil magnates that have diversified into other sectors of the economy.
Chukwudi in Alaba International Market is the perfect model of the Nigerian millionaire/billionaire. If Chukwudi buys a fan for ₦5, he expects to sell for ₦6 at least and make ₦1. What do you mean by telling him to buy the fan for ₦5, sell at ₦4 just to keep clients coming back in the future? Bullsh**. Nna, money for hand, back for ground biko. 
All their lives, they have become accustomed to a business model that spells things out comprehensively and provides clear exit strategies, why gamble now?
https://twitter.com/afalli/status/724469586830172160
Oh, there are probably tons of successful exits, but the data is unavailable. I assure you Mr. Andrew, the fact that VCs still invest in startups is proof enough for me that there is meat on that bone.
On April 1st, we put out an April Fool's lark that the Dangote Group had invested $10 million in Mark Essien's Hotels.ng, Ol' boy I could feel the excitement from the comments section; obviously entrepreneurs have been hoping and praying for that day.
The need to spread the word
Until an investor comes out and publicly declares what he/she made out of investing in startups, the millionaires and billionaires that abound would never look this way.
The work of evangelising to make investing in startups a thing among the Nigerian Billionaire Boys Club(NBBC) lies solely in the hands of Venture Capital companies and Angel investors that are already in the game. It is not okay to be satisfied with the monies on ground, too much money for funding is a good problem that the ecosystem in Nigeria should have.
Do you know any other possible stumbling blocks to Nigerian moneybags investing in local startups? Please share in the comments section below.