Over the weekend, Nigeria's Vice President, Yemi Osinbajo delivered the keynote address at The Platform Abuja, a program directed at nation building; public education and enlightenment being the tools used.
This edition of The Platform, examined the unrealised ability in other assets the nation possesses besides oil, which are capable of growth and development that can generate surplus. The ideas discussed in this article aren't mine but excerpts from the speech given by Nigeria's Vice President who spoke extensively about the impact technology and innovation can have on Nigeria's economy.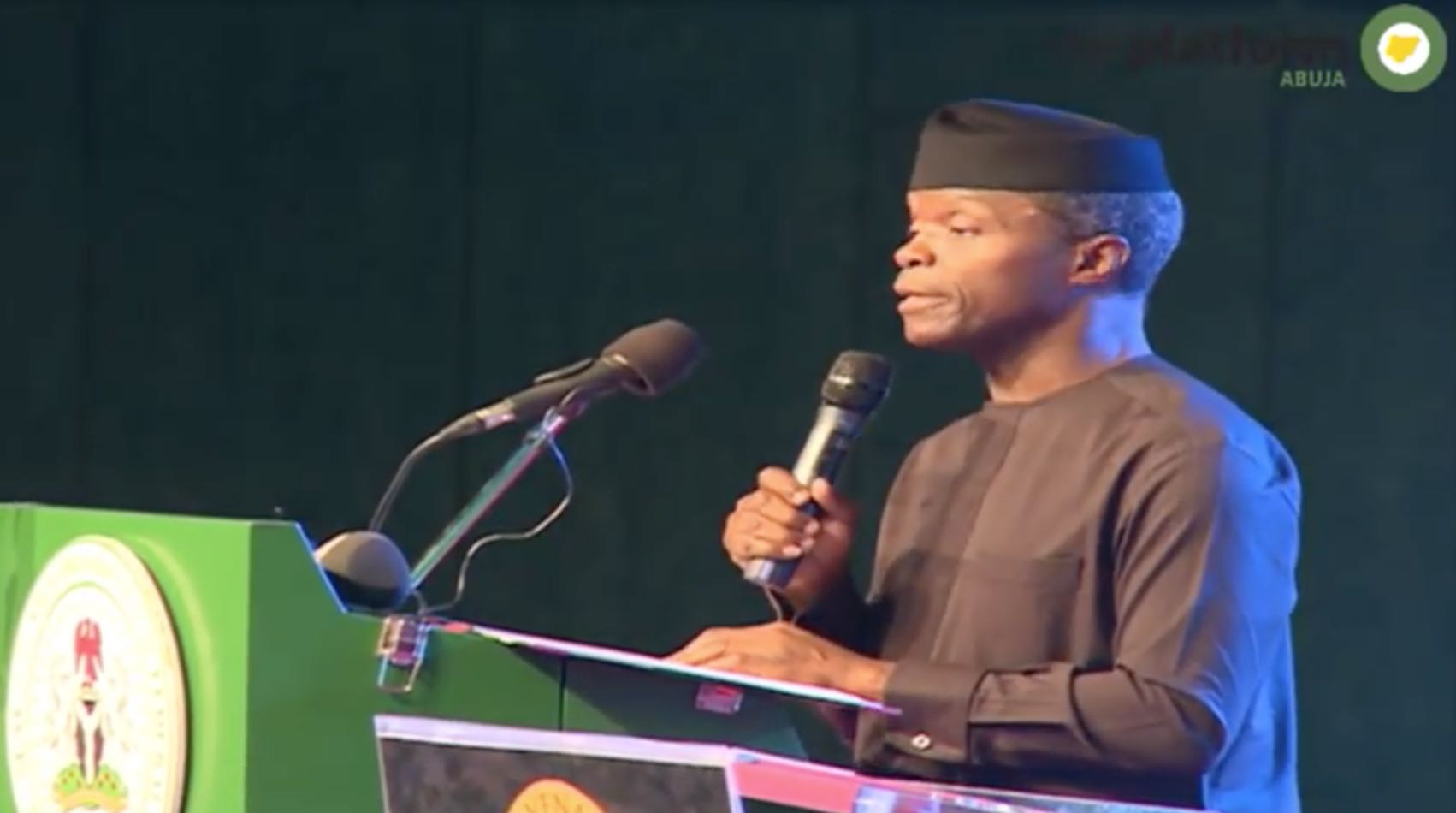 Nigeria's Animation Industry needs Federal Government support
Technology as well as entertainment can lead the grand expansion of the economy that is needed to provide opportunities to many young and talented Nigerians. The key to change and our future prosperity lie in innovation. We have a growing animation industry in Nigeria demonstrating creativity in producing educational, entertainment and other informative resources.
The challenge is the size of the animation workforce and infrastructure to render long duration and high end animation work. The answer is to fix the scale and enable investment in infrastructure to support the animation industry - Vice President, Prof. Yemi Osinbajo
Technology hubs are key to help drive innovative ideas
This year the Federal Government (FG) plans to establish innovation hubs across the country -- 2 'super' hubs in Lagos and Abuja with six regional technology hubs in the six geo-political zones. In partnership with several major technology companies the technology hubs will be fully resourced with infrastructure and capacity building tools. Each hub will be designed to produce relevant innovative technology solutions to a wide range of business, commercial and government problems.
Also starting July, 65,000 young Nigerians will be trained in hardware and software services. They will also be trained in more sophisticated services such as animation. This will mean that we will be building more local capacity to build hardware and to write creative programs. The FG also plans to focus on technology for media and entertainment.
We intend to create a reservoir of human capacity in technology that can be exported internationally. Nigeria can lead India as a market for technology and innovation - Vice President, Prof. Yemi Osinbajo
Innovative startups should be celebrated
On June 23rd 2016, the Presidency is launching a special Presidential initiative on innovative technology, 50 of the most innovative technology startups will be hosted at the Presidential Villa and they will be meeting with different technology and innovative companies as well as venture capital collaborating with the Federal Government to take their ideas to the next level.
On its own technology isn't enough because new technology is a tool that merely enables us to transform how services operate to serve citizens. It isn't an end in itself but it does unlock the doors - Prof Yemi Osinbajo
The FG, with the aid of the national Budget, which we hope will be passed anytime soon, plans to encourage innovative technologies to spearhead smart domestic production especially in agriculture. Extension services which will map and match soil data with best soil and harvest practices ensuring that farmers get relevant and tailored advice via cloud technology will be implemented. The FG also plans to provide bursary award to 100,000 Science, Technology, Engineering and Mathematics (STEM) undergraduates.
Some months back we got wind of the FG's plan to come into the tech space and help transform the sector by providing the necessary infrastructure. Now we have the Vice President assuring that the intervention is for the greater good and not to hinder the development gotten so far. Everything outlined by the Vice President is still based on the successful approval of the budget and that in itself is a major concern.
But there seems to be a light at the end of this tunnel and I hope that Nigeria's government truly embraces technology as promised.