The 3rd edition of StartUP Friday is some days from now and you are probably asking yourself if it is worth your time. For those who have been following the conversations around StartUP Friday, the 2nd edition got a lot of good feedback. The StartUP Friday survey tells us that 647 participants attended the event in Abuja, out of which 310 were startups, 22 investors and 12 innovation hub operators were involved in the program with satisfactory remarks from the attendees.
Attended @ngrinnovation #startupfriday earlier today. Very insightful, great #networking and amazing #startups pic.twitter.com/zDkdSfHHU4

— Mitun .D (@Omogelepa) March 18, 2016
#AboutLastNight Youth doing amazing things with tech and business! Inspired! #StartUpFriday by @ngrinnovation pic.twitter.com/uSXj0ZeuUu

— Adiya (@AdiyaAtuluku) March 19, 2016
Apart from establishing a network of entrepreneurs committed to growing and scaling their businesses, attendees were able to learn from each other and pioneers within the startup space. StartUP Friday was able to provide the required connections to investors for startups and hubs that are open to investment.
@true_monarch got an instant N1.5m seed funding from one of d investors, Dr. Aisha Audu, present at #StartUpFriday https://t.co/6wx5msTWxw

— Office for Nigerian Digital Innovation (ONDI) (@ngrinnovation) March 19, 2016
Mrs. Aisha Audu, angel investor promising seed fund to @true_monarch. @ChowHubHQ at @ngrinnovation #StartUpFriday pic.twitter.com/Vhm87BxwtJ

— Office for Nigerian Digital Innovation (ONDI) (@ngrinnovation) March 19, 2016
It is interesting to note that some of the pre-selected startups that pitched at the 2nd edition of StartUP Friday got some undisclosed amount of funds after the event. ArtNigeria, one of the startups selected is receiving a seed funding to enable it scale up its business. Wellahealth and Verge will both receive free business advisory services to re-model their businesses. Jara, the 4th startup will be monitored for the next 6 months, post-pivoting to ascertain the necessary support to render.
"We will provide essential support to ensure that the startups thrive. This support will include advisory services and early stage funding. It is an avenue for start-ups who are struggling in one way or the other and determine ways in which the OIIE can assist them in their business. For those that have commercially viable products, we want to bring them in contact with potential customers within and outside government who would listen to them, talk to them, invest in them or buy their products." - Bunmi Okunowo, National Coordinator of Office for ICT Innovation & Entrepreneurship (OIIE)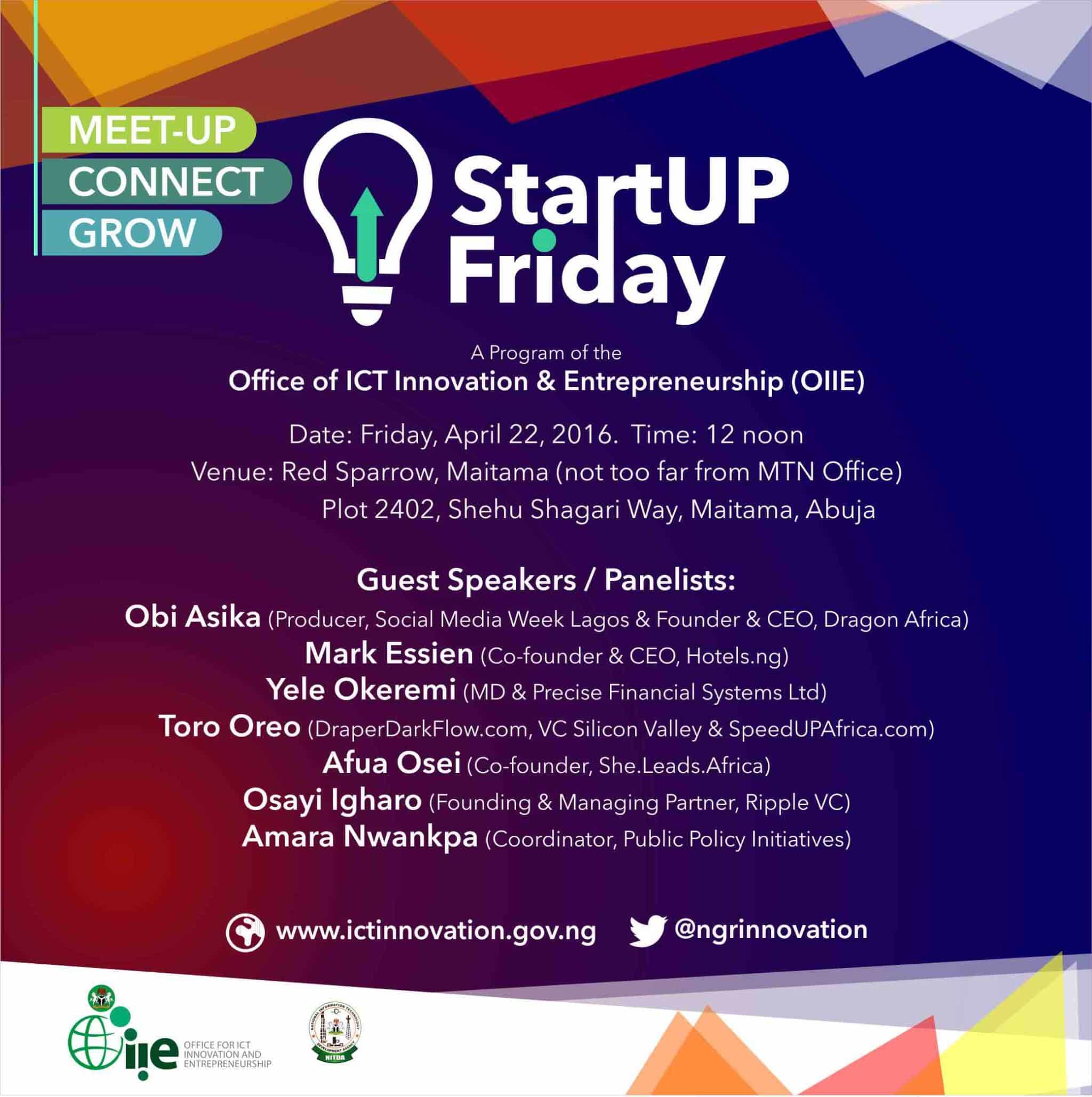 April's edition of StartUP Friday will have pitch sessions for pre-registered and pre-selected startups. StartUP Friday will be looking to provide funding to the tune of ₦1.5 million — depending on their business needs — for at least 3 startups. Judges from the hubs and investors will select the best to be considered for this seed funding. There will also be room for feedback from panel of experts to the pitchers. The event is supported by iPNX Nigeria Ltd, Galaxy Backbone, Intel West Africa, PlayNetwork Nigeria, eLPee Consults, PulseNG, Orodata amongst others.
You are probably thinking of cancelling your itinerary for Friday to join other entrepreneurs. To register for the event, kindly visit the official website to ensure your space is reserved and yes it is a free event.