StartUP Friday, a component of StartUP CAFÉ Program of the OIIE, which is designed to bridge startup growth gap by enriching the development processes of new tech-driven businesses through meet-ups with successful entrepreneurs, investors, mentors, technology buyers and enthusiasts in major tech clusters across the country, is set to host this month's event.
So Ifeanyi predicted that April's edition might happen in Lagos and he just lost the bet because the 3rd edition of StartUP Friday is set to take place in the city of Abuja, again.
It seems the organisers of StartUP Friday are getting better at this with every event. This edition will feature breakout sessions and a special cocktail ceremony in addition to the regular fireside chats with entrepreneurs, 'tell your story' sessions, pitches, product demos, exhibitions and networking sessions, all aimed at fostering conversations around business financing, marketing, pitch preparation support, tech products, services and so on.
This edition will feature Obi Asika (Producer, Social Media Week Lagos & Founder & CEO, Dragon Africa), Mark Essien (Founder & CEO, Hotels.ng), Yele Okeremi (MD & Precise Financial Systems Ltd), Toro Oreo (DraperDarkFlow.com, VC Silicon Valley & SpeedUPAfrica.com), Afua Osei (Co-founder, She Leads.Africa), Osayi Igharo (Founding & Managing Partner, Ripple VC) Rebecca Enonchong (Founder & CEO, AppsTech amd IOSpaces) and Amara Nwankpa (Coordinator, Public Policy Initiatives) as guest speakers/panelists.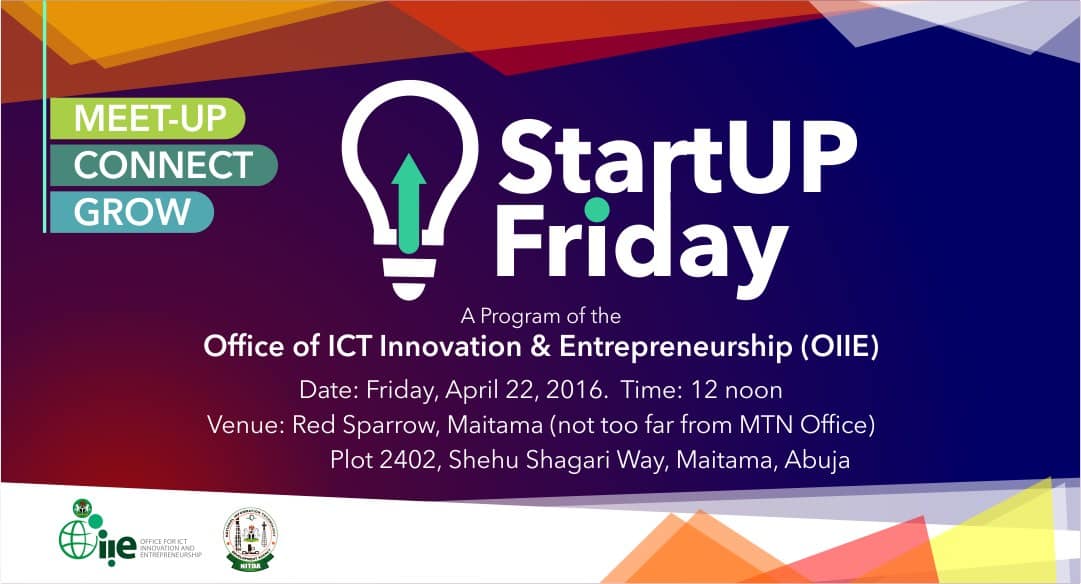 Like previous editions, this one is going to have interesting sessions. But due to popular demand it is going to start earlier than expected at 12 noon. Venue is still Red Sparrow Maitama and Friday, April 22nd is the day.
To register for the event, kindly visit the official website and if you want to have a feel of the last StartUP Friday event, you can enjoy the live coverage here.