If you wanted to acquire a land today in Nigeria, you'd probably have to go through a convoluted process of searching for reliable agents, hoping they don't stab you in the back when you're not looking. That's the exact problem Lands.ng is attempting to solve.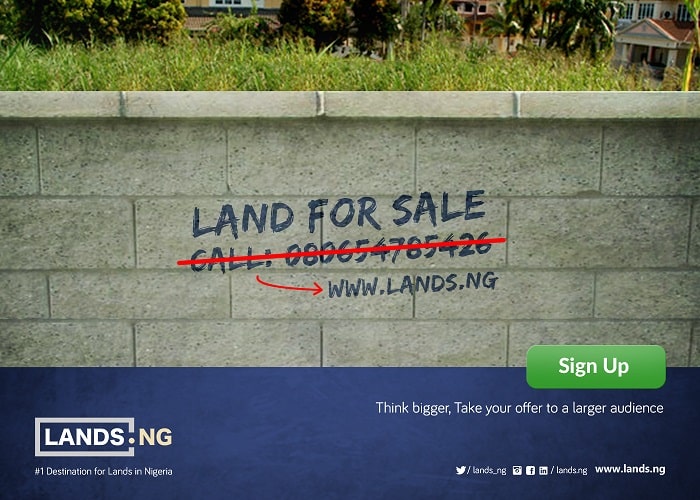 Lands.ng is an online marketplace solely for land listings and its associated services in Nigeria. With increased penetration of digital technology, and new owners and investors coming into the Nigerian land market, there is a need for a more robust offering for connecting investors, buyers and sellers. Lands.ng is addressing a largely undeserved market -- only about 25% of Nigeria's landmass has been developed --  a pointer to how big the opportunity is.
The platform, which went live as beta about 3 months ago, launched yesterday to much fanfare.
So far, Lands.ng claims to have amassed over 1.4 million plots of land uploaded, with more than 250 registered and certified agents, and multiple enquiries from over 12 states in Nigeria.
How it works
It all begins on the Lands.ng sign up page where you can sign up either as a professional agent or a personal user.
Agents can upload, free of charge, while intending buyers can search for lands by location and price range. Once you find a land you are interested in, you can contact the agent directly and conduct transactions outside of the Lands.ng platform. This of course brings up concerns about security and verifiability. Lands.ng has made provisions to curb this. For one, no properties go live on Lands.ng without prior verification by the admins. So users can be assured that they're conducting transactions on legit properties.
But what happens say if intending buyers are out of the country? Lands.ng offers a premium service to users who would prefer to have the whole process handled on their behalf. This is just one in many ways Lands.ng looks to ofer value to its users.
Mr Godwin Ani, Founder/CEO at Lands.ng, after an extensive career spanning 15 years across three different continents in the oil and gas industry as a manager in Schlumberger, he then ventured into real estate industry. He believes that "removing the barriers to land ownership starts with providing Nigerians the right information and a secured platform for interactions among land owners, agents and buyers."
"At Lands.ng we are using technology to revolutionise the way Nigerians think about real estate – land value chain in particular, and thus providing a long term solution to the home ownership challenges and the living standard of our society," he says.
Lands.ng is a product of a strategic involvement with ADE Digital Media, a leading Digital Marketing Agency in Lagos, Nigeria.
"The penetration of technology is far reaching and with the land market, we recognised the huge impact top notch technology integration will yield for the industry. Through forward thinking and a highly responsive and secure platform, Lands.ng  is offering a wholesome experience for land sellers, buyers and even investors, and is providing a greater chance of closing deals with reduced one-on-one customer contact," says Mr. Michael Ebia, Co-Founder/CEO of ADE Digitial Media.
Lands.ng significantly aligns the needs of the land market across Nigeria and will set the pace for new outcomes for the industry. With its niche offering and a strong movement towards innovating the land market, Lands.ng is poised to shape the future of the industry.