"I am a fan of a small team doing big things, even if those things get bigger", Tobi Obasa – founder and CEO DavtonLearn – said in a rather poetic rhythm that got me curiously waiting to hear his startup story – which lasted for a brief while -- even if it took all day. At the end of it, I wasn't disappointed.
Often times, people pass at the opportunity of acquiring a professional training certification for so many reasons. The common cases are their perceived difficulty, high cost of acquisition, and the fact that it barely affords them any option in terms of flexibility. However, by the time Tobi was done talking, I understood what prompted such audacious opening comment.
While spending the afternoon with him, I apparently discovered that his platform -- DavtonLearn.com -- pungently appeals to the conscience of his client such that those aforementioned worries are overlooked if not completely bypassed.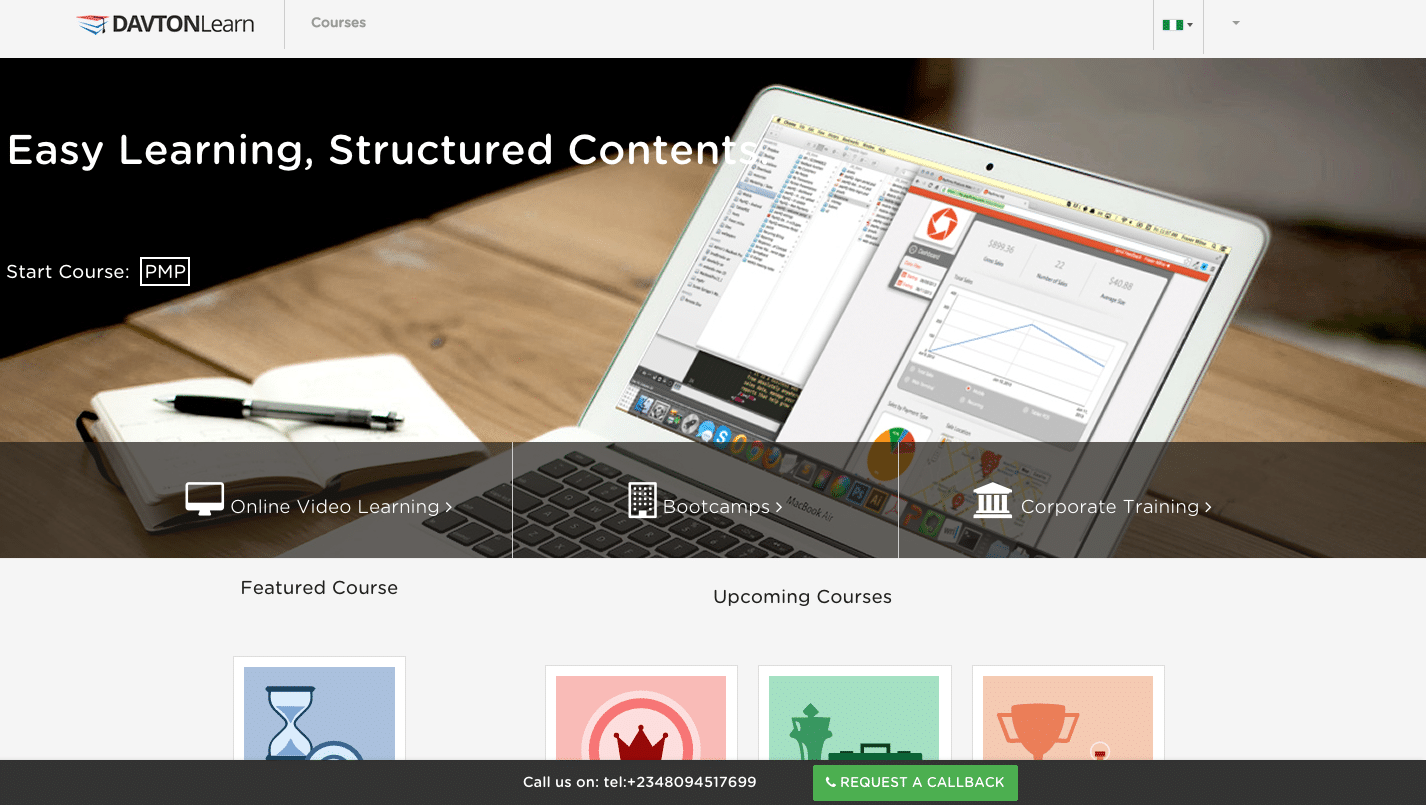 DavtonLearn is an online video learning platform for professional certifications. When you think of a Lynda.com for professional management certification training in Nigeria, then DavtonLearn.com comes to mind. Since its launch in 2015, DavtonLearn has been resolute in its mission to train and help people prepare for any professional examination, regardless of whether they are within the confines of their home or enjoying a quiet lunch break at work. It is basically taking that classroom training online.
The PMP (Project Management Professional) certification – one of the ten top in the world – is what DavtonLearn chose to launch with on its platform, and you can bet it has been delivering it the way Nigerians want it. DavtonLearn currently boasts of a variety of quality and original video content on  PMP, CCSP (Certified Customer Service Professional), HRBP (Human Resources Business Professional), Certified Business Analysis Professional (CBAP), environmental courses et al, thus justifying Tobi's claims of making "a business out of project management and making training cheap".
How DavtonLearn works
Going through the homepage of DavtonLearn.com, it's simple and attractive user interface is more than enough invitation to generate user interest and registration. Once registration and payment (as low as ₦20, 000 per month) is completed, users automatically have unrestricted access to their own customer-side platform where they can watch videos on different certification programmes and download course materials. Besides the purpose for which the certification training programmes are meant to serve, users can also test themselves to about 200 standard questions on each certification programme, and view their analytics on the dashboard to see how they have fared. So at this point, it would be logical to also say that DavtonLearn provides training, testing, and preparation for these certifications.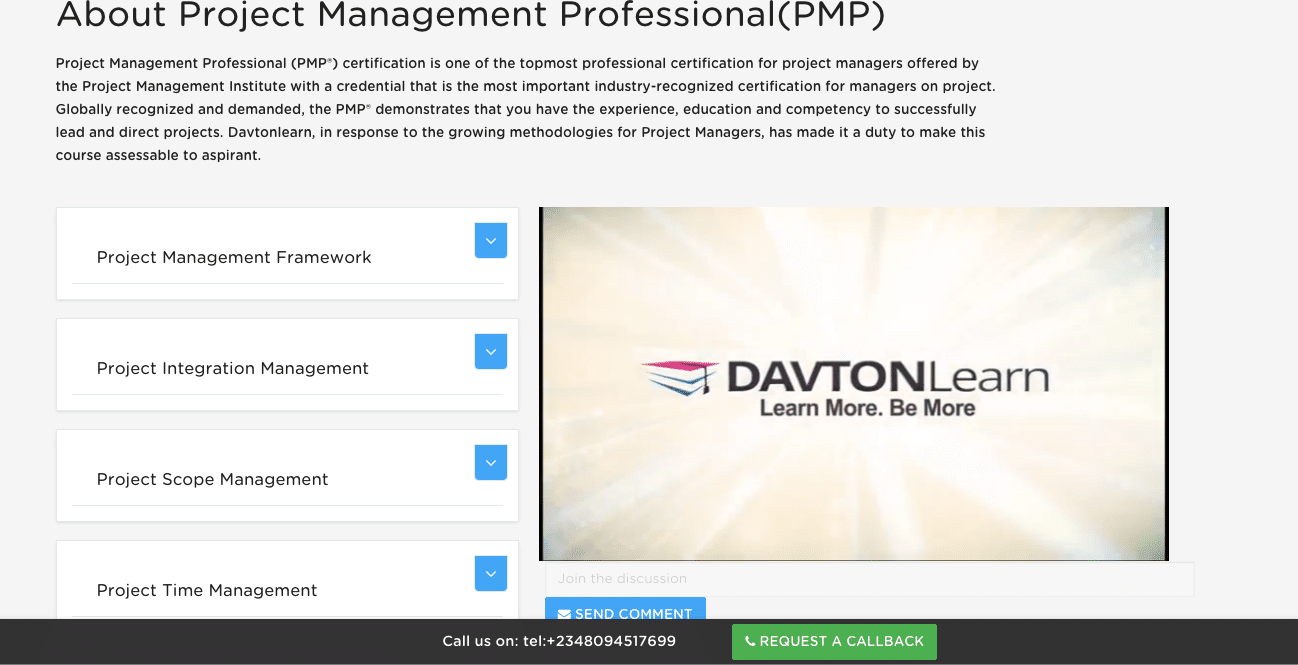 It would seem like ₦20, 000 per month for a maximum duration of 90 days (recommended duration to have user adequately prepared for any kind of evaluation) seems fair enough as a fee, considering the logistics that have gone into setting up the entire platform, including the sublime studio for shooting facilitator's client training videos. The beauty of it is that users are accorded the luxury of unrestricted access for 30, 60 or 90 days access depending on how deep pocketed they are. The only differential factor being the number of days subscribed to the platform.
Product uniqueness
I've witnessed quite a few video and studio productions, and the entire logistics that go into these productions aren't an easy task, so you'd probably understand why I think DavtonLearn marries both the internet (techie's kind of technology) and video production (a concept of technology that isn't so difficult to explain to a non-techie) in solving an educational problem at a unique flair for users. As an educational technology training company, everything under DavtonLearn is proprietary. It has its own infrastructure, and the e-learning software it built from the scratch.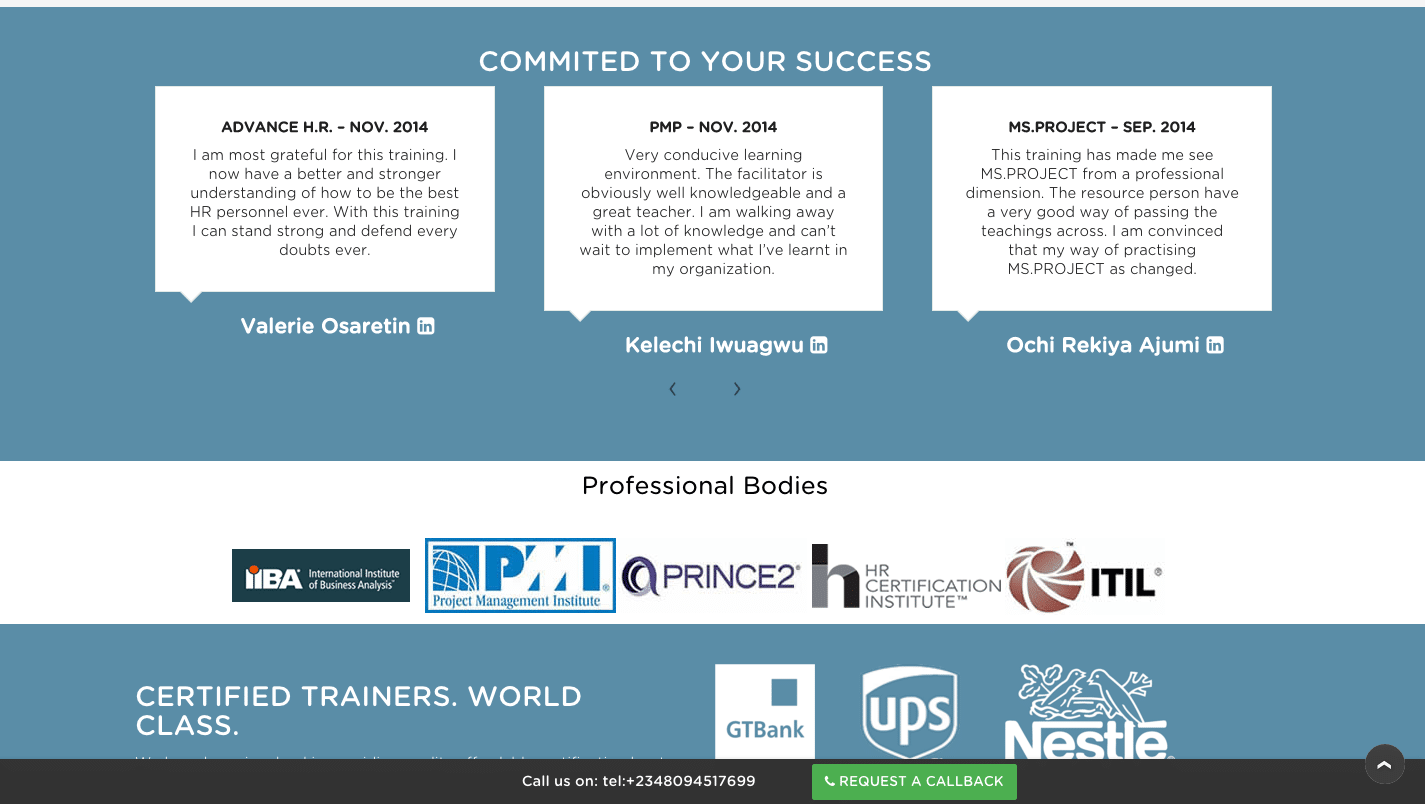 "It's not just about giving them test questions, they also need to be taught, and that's what makes us unique. We teach you, and then add training to the preparation," Tobi remarks while emphasising on his product differentiation amongst competition.
The manner in which the certified professional slowly counts their words while talking in front of the camera, you could almost certainly memorise the words. This in my opinion would very well come handy while you're preparing for that professional examination. Another noticeable perk is how the UI is such that a user can interact with other users to share ideas without having to interrupt video play.
Funding
The term "bootstrapping" is never far from a startup founder's dictionary. Despite starting up bootstrapping, DavtonLearn began to generate revenue within its first month of launch simply because it has carved a niche for itself as a training company. Not long after, it raised seed funding from investors who share the vision.
Challenges
If I learnt one thing about Tobi during the course of our chat, he is the type of person who doesn't shy away from audacious remarks. This is an attestation to that fact. "Technology is a major challenge," says Tobi, "we don't have a full-time developer, reason being that you don't want to use all your money as an entrepreneur to fund a techie guy" he also adds. However, as an educational technology startup, the need to sell technology is also important as selling the product. Therefore, a techie guy, however you look at it is very important. Very complicated you would agree.
Prospects
Tobi hinted about a certain product it intends to release soon through its platform. Even though the details weren't fully provided, the excitement on his face however gives the impression that the product is going to be disruptive. The platform is also planning to have 10 certification courses running on the platform at the end of each year. This it intends to achieve by shooting a new certification each month. DavtonLearn is also looking to give users more flexibility in terms of payment by allowing payments on instalments.
I could go on and on, but the list is just overwhelmingly unending. This small team of 6 members is indeed making big things happen.